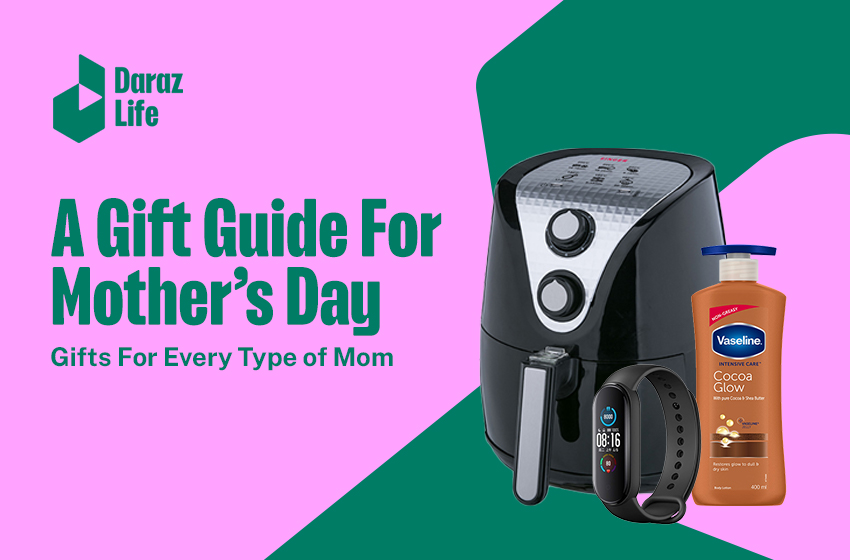 Mother's Day Gifts 2022: Make Your Mom Feel Extra Special
Today's blog is all about Mother's Day gifts 2022. So, check out our mother's day gift ideas for 2022 to make sure you gift your mom nothing but the best.
Are you in search of Mother's Day gifts for 2022? Ahead, we have listed gift picks for every type of mom to make her feel extra special on Mother's Day and the rest of the year.
Mother's day is fast approaching, and if you are hunting for the best deals on mother's day gifts, get on your Daraz app right now. You can get up to 65% off on gifts for your mom when you shop on Daraz during this week. Furthermore, the choices are unlimited, with over 5 million products at the tip of your fingers. Get the gifts delivered straight to your doorstep. Now let's explore our Mother's Day gifts 2022 without further ado.
Tech Gifts for Futuristic Mothers
Smart Bands
A smart band is a thoughtful gift for any mother. It helps keep track of information and lead a healthy and active lifestyle. A smart band will assist her in keeping track of basic information such as the number of steps she walked per day. In addition, it tracks the number of calories burnt, the number of hours of sleep, and much more.
Wireless Headsets
A headset makes a superb gift. After all, your mom can use a solid pair of headphones to cancel all the background noise and relax when she needs a break.
Wireless Chargers
Does your mom lead a tech-savvy lifestyle? Then, she will easily benefit from a wireless charger to charge all of her tech devices.
Rechargeable Fans
There is no doubt your mom would absolutely love this with the ongoing power cuts. This gadget will help her enjoy a cool breeze during hot and humid days. Get the best rechargeable fan Sri Lanka price from the Daraz Mother's day sale.
Trendy Gifts For Fashionable Moms
Fashion Jewellery
If your mom likes her jewellery, give her a little trinket to show your appreciation for everything she does. She would cherish it, and it will also remind her of you every time she wears it.
Dresses
If your mom is someone who stays up to date with the latest fashion trends, give her a trendy new dress! She can wear it to any special occasion and proudly admit it's her offspring's selection.
Handbags
Handbags are an all-time favourite mother's day gift. It's something that any mom would appreciate a lot.
Watches
Here is another favourite gift pick for mother's day. Find the best ladies watch price and amazing designs on your Daraz App. After all, what better way to say that your love for your mother is timeless and precious?
Health and Beauty Gifts For Mom
Skincare Essentials
Help your mom reach her skincare goals by gifting her some of her favourite skincare essentials. It can be something simple as just a moisturizer, toner or face wash. However, if you plan to go all out, put together a skincare bundle containing everything she needs to stay on top of her skincare game.
Body Lotions
Mothers do a lot for their families on a daily. So, encourage her to indulge in some self-care by gifting her a body lotion for women that will leave her skin glowing.
Face Packs
Speaking of self-care, you can put together some of your mom's favourite face packs so she can embrace a spa-like experience at home.
Thoughtful Gifts For Moms to Be
Baby Gear
Looking for gifts for expectant mothers? It's a great time to show the preggo mommas some love by gifting them with some practical items. Baby gear is one of them. They can make good use of these in the first few years of their lives as a new mom.
Diaper Bag
There's a lot to carry around when a new mom is on the move with a little baby. So, gifting a diaper bag can be a sweet gesture.
Nursery Décor
Most moms to be usually stress out about putting together a beautiful nursery for their little one. Help your expectant mom friends out a little by getting the right baby room décor.
Fitness Gifts For The Sporty Mom
Athleisure Wear
Does your mom work out? In that case, she will absolutely love it if you gift her a pair of stylish yoga pants or other fashionable workout gear.
Workout Essentials
Wondering what else you can get your sporty mom? You can always consider gifting her something useful like a yoga mat, exercise ball or fitness gloves. If she is into pilates or yoga, she would most certainly appreciate it very much.
Fitness Equipment
If your mother is totally focused on shedding pounds and building muscle, there are so many gift choices to suit any budget. If you are planning to go all out, you can get her a treadmill or exercise bicycle. However, if you are working with a smaller budget, there's still a lot of equipment you can gift your mom. Check out the range of exercise machines Sri Lanka and other equipment available on Daraz.
Gifts For The Organized Mom
Smart Organizing Tools
Is mother someone who like's to see things in an orderly and organized manner? In that case, they would surely love something that would help them organize the household. It could be a kitchen organizer, a dish rack, a toothbrush holder or even a shower shelf.
Space Savers
Organized moms love to make sure that everything is tidy around the house and the extras get stored away. Therefore gift your mom some space savers to pack away any extras that don't have immediate use.
Household Gifts For The Productive Mom
Robotic Vacuum Cleaner
Don't have the time to give your mom a helping hand around the house? It's ok as long as you can get her gifts to simplify her chores. For instance, it could be this robotic vacuum cleaner, or if you can stretch your budget way further, you can get mom some new appliances.
Air Fryer
Would you like your mom to have all the crispy, health benefits of eating healthy? Then, gift her an air fryer. An air fryer can be especially beneficial in times like this when the country has gas shortages.
We hope our Mother's day gift guide will come in handy when you shop for Mother's day gifts in 2022. If you are looking for beauty products and makeup in particular to gift your mom, check out our blog 10 Must-Haves in Your Makeup Bag to Keep Looking Fabulous.