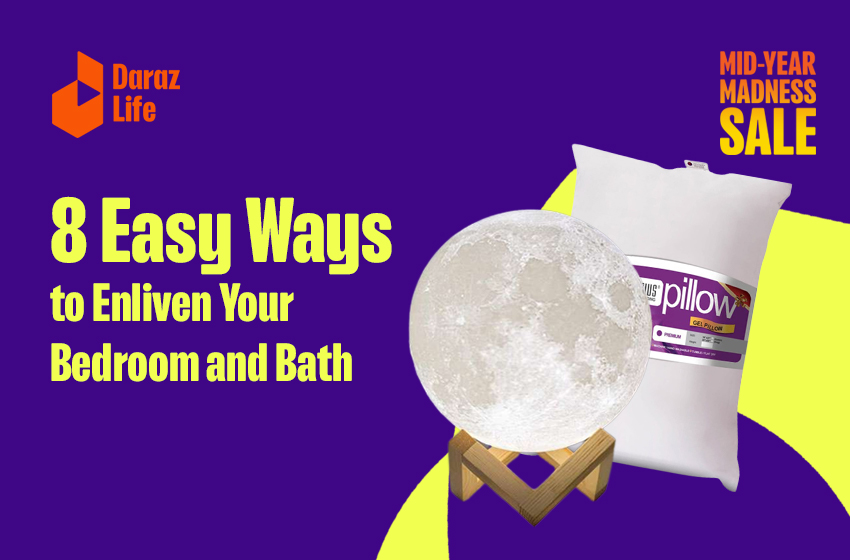 8 Quick and Easy Ways to Enliven Your Bedroom and Bath
If you want to spruce up your bedroom and bath, we might have some tips. Continue reading to find out how to get creative with bedding and bath accessories to enliven the bed and bath space in your home.
Are you wondering how to add a bit of enchantment to your bedroom and bath? Ahead, we have listed a few tricks that can easily help you beautify the space.
Furthermore, we have great news if you have a plan to upgrade your bedroom or bathroom!
Daraz Mid-Year Madness
Are you ready for the biggest mid-year sale of the year? Daraz Mid-Year Madness offers you the best deals with over Rs. 50 Million in discounts across 5 Million Products ranging from Electronics, Fashion, Lifestyle goods & Groceries.
Get ready to shop insane bargains starting from the 26th of July. You can get up to 50% OFF on your favourite bath and bedding brands; Celcius, The Bedsheet factory, southern smart, Linberry, Halcyon, Mirani Mosquito Net, and Gentelle. Stay tuned for free shipping and valuable gift vouchers, and save big while you shop for high-quality products in the market.
So, mark your calendar today, and get ready to shop till you drop!
Tips to Enliven Your Bedroom
If you are ready to add a touch of character to your room, we have a few helpful hacks that you can implement to instantly make your room more attractive.
'Pillowfy' That Bed
Did you know that the way you arrange the pillows on your bed can drastically change the look and feel of the room? If you haven't tried it already, you can easily make your bed look more elegant using pilows in a matter of seconds without a lot of effort. One way to make the bed space look more organised is to gradually decrease the size of the pillows from back to front.
All you need is about four to six pillows of different sizes. You can start by resting two of the largest pillows on the headboard. Afterwards, place two smaller pillows in front of the first two pillows. Then, you can add a finishing touch by placing two throw pillows in the front.
Choose Colourful Bedsheets
By far, the simplest approach to improve the appearance of your room is, to begin with, the bedding. If the bed takes up the majority of the room's space, changing the sheets is one of the easiest ways to upgrade the look of the entire space. Therefore, buy a few colourful linen sheets, and replace boring white sheets with trendy prints or vibrant solid colours. Even if you choose to use fitted sheets, make sure you get a few colourful ones that are vibrant and eye-catching.
Elegant Mosquito Nets
Mosquito nets are a staple requirement in every Sri Lankan household. Did you know that mosquito nets are also a great way to add a romantic touch to your room? Also, you can get mosquito nets with frames, so you don't need extra support to fix it to the bedpost. You can always opt for a canopy mosquito net to make the bed space look more attractive. Or, if you have bed posts, you can attach a mosquito net and interweave fairy lights to brighten up the entire room.
Decorate With Throw Pillows
Throw pillows can typically add an artistic touch to the overall look of a bedroom. They usually link a colour scheme together to provide visual appeal. Furthermore, throw pillows are perfect for giving your bedroom a new look without costing you an arm and a leg. So, if you want to make your bedroom look more exciting, simply open your Daraz App and get a couple of inexpensive throw pillows. Also, keep an eye out for Free Shipping so you can get them delivered to your doorstep for free.
Attractive Lighting Solutions
Another way to brighten up your room is to incorporate attractive lighting solutions. You can keep your overhead lighting; however, if it's your main source of lighting, you can do better. For instance, you can get a table lamp or a floor lamp to provide light from different angles across your home. Candles are also an excellent source of lighting to set a romantic or serene atmosphere.
Tips To Add A Refreshing Look To Your Bathroom
Don't forget that your bathroom could also use a bit of love and attention too. So, we decided to offer a few tips to enhance the look of your bathroom.
Eye-Catching Towels
A fresh set of towels has the incredible potential to add a refreshing look to any bathroom. Therefore, choose a beautiful colour scheme or stick to neutral colours or white towels to make your bathroom look more elegant.
Bath Mats and Rugs
Choose a bath mat and a bath rug to match the colour scheme of your bathroom tiles and fittings. They will not only prevent accidents like slipping inside the bathroom, but they also add a nice look and feel to your bathroom floor.
Bathroom Organizers
An organized bathroom not only looks cleaner but also helps you get ready faster when you are short of time in the mornings. One of the first things you would want to do is declutter the space and get rid of items you won't use daily. If you have a shower, you can use a corner shelf wall mount rack to keep all of the showering items. Additionally, keep the sink area clean and organized by putting the toothbrushes and toothpaste in a toothbrush holder.
We hope our simple tips will help to add character and enhance the look of your bedroom and bath. If you are on the lookout for cleaning essentials, check out our blog post Keep Your Space Clean with Essentials Under Rs. 500 as You WFH.