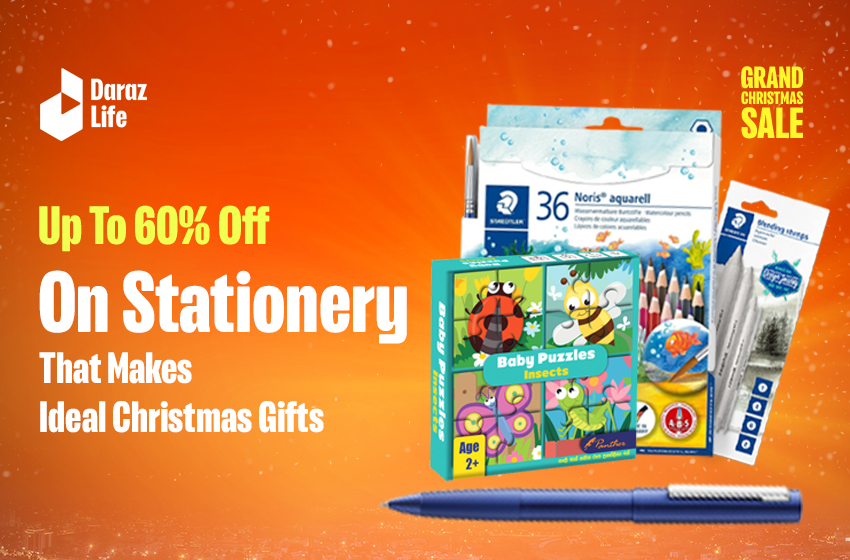 Up To 60% Off on Giftable Stationery Online
Stationery online can make the perfect Christmas gift for children as well as adults who are in love with stationery. If you are reading this we know that you are going to love what you're about to find out about the deals and discounts on stationery products.
Are you looking for stationery online to gift this season? Read on to find out how you can save on stationery and craft supplies during the Daraz 12.12 sale.
Daraz Grand Christmas Sale With Up To 60% Off on Stationery Online
Daraz is ready to deliver the best Christmas deals to your doorstep with the Daraz Grand Christmas sale. Shop from the 12th of December, and get up to 80% off over 5 million products ranging from fashion, lifestyle goods, phones, computers, and electronic appliances.
Save more when you use your credit cards and debit cards. Get an extra 12% off on credit cards and easy monthly instalment plans for up to 60 months. Save an extra 25% Off when you shop with your debit card (T&C Apply). So get your bank cards ready to shop till you drop.
Shop brands like ProMate, Staedtler, Atlas, Scan Lanka, Alston Stationery, Panther, Lamy, Best Paper, William Penn, Faber-Castell, Trickledown Private Limited, Casio, Innovate, McCallum Stationers (Pvt) Ltd, and smArts to get discounts of up to 60% and Free Shipping. Furthermore, collect discount vouchers from these stores to save more!
Collect Vouchers & Double Your Savings
Do you know the best way to get savings on top of savings when you shop on Daraz? Collect Daraz vouchers to get big discounts when you checkout your favourite products. There are four different types of vouchers available on your Daraz App.
Daraz Vouchers – Discounts under specific item categories, such as fashion, lifestyle goods etc, that can be used sitewide.
Shipping Vouchers – Gives you discounts on shipping fees
Bank Vouchers – Vouchers issued by specific banks that allow you to get a discount when you shop with one of their bank cards.
Store Vouchers – Offered by the stores on the Daraz platform to get discounts when you shop for products from a specific store.
When you collect all of these vouchers and stack them together, you are able to obtain the best discount at the checkout when you purchase your favorite products. So don't forget to collect vouchers before you head to the checkout when you make a purchase on Daraz.
Win Fabulous Prizes With 1 Rupee Game
How would you like to win an Apple MacBook Air, a Galaxy M10, or a valuable Casio Watch for just 1 Rupee? You read that right! Get on your Daraz App, play the 1 Rupee Game before and during the Daraz Grand Christmas sale and win amazing prizes. Check out the 1 Rupee Game home page to see the products you can win.
All you have to do is get on your Daraz App, choose the product you want to win on the 1 Rupee Game Home Page, add it to your cart, and checkout using 1 Daraz Point. Please note that you must activate your Daraz Points to participate in this game. So, get on your Daraz App and activate Daraz Points now.
Let's take a look at some stationery gifts online that can brighten someone's heart during this season.
A Diary
Christmas is the best time to gift someone a diary. It is sure to come in handy because the New Year is around the corner.
A Colouring Set
This is every artist's or creative soul's dream come true. Therefore, if you know someone who loves to experiment with painting and drawing, this colouring set makes an ideal gift. Also, this can be a special and valuable gift for any student who can use it for their school work.
Puzzles
Puzzles make excellent gifts for little children. These can actually help the developing mind of youngsters.
Designer Pen
Is there someone in your life who would value a quality designer pen? If you haven't already purchased a present for your boss or a mentor, a designer pen will make the perfect gift.
A Personalized Gift
Nothing can tell someone how much they mean to you more than the perfect verse. Therefore if you want to show someone how you feel about them this Christmas, get this personalized wooden frame with a suitable verse engraved in it.
We hope you will be able to get your stationery online this season at the lowest prices from the Daraz Grand Christmas Sale. If you are shopping for groceries check out our blog Order Groceries Online With Up To 50% Off.