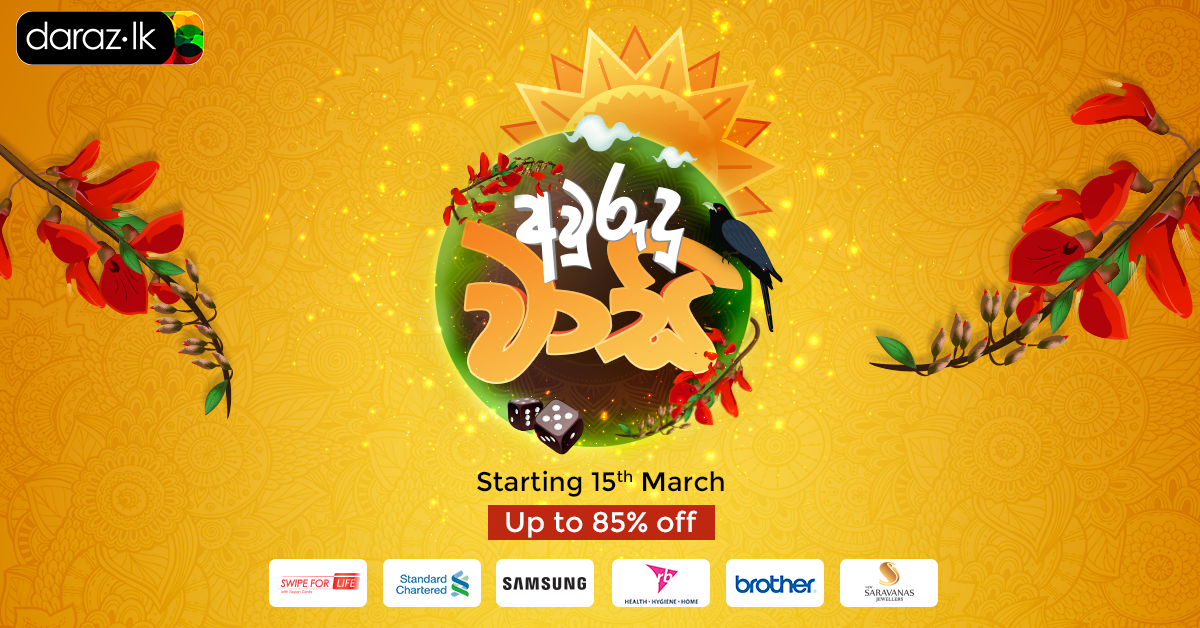 What is Avurudu Wasi? And how can YOU get ready for it? ;)
The Sinhala New Year, referred to as Avurudu; අලුත් අවුරුද්ද, is a time of joy and prosperity.
Celebrated on the 14th of April every year, the whole island brings in a mood of festivity with household preparations, games, food, and shopping!
The smell of sweetmeats
the sounds of the raban pada
and the cry of the koha, indicates that the entire nation is all set to celebrate the New Year!
So where does one go shopping? Where does one go to get the biggest discounts matched with undeniable quality?
Daraz.lk Avurudu Wasi! DUH!
Daraz.lk makes your අලුත් අවුරුද්ද celebrations, even BIGGER! Daraz.lk Avurudu Wasi is a 4 week Sale with discounts of up to 85% OFF involving deals from top brands and additional discounts from payment partners; Seylan Bank & Standard Chartered Bank!
What's super cool is that a new category of product deals unlock on each day, starting 15th March 2018, till 24th March, where all categories of product deals are unlocked, lasting till the 15th of April 2018!
An entire month for your Avurudu shopping!
Here's the agenda:
15th March – Grocer's shop unlocks!
16th March – Health & Beauty unlocks!
17th March – Baby, Kids and Toys unlocks!
18th March – Fashion unlocks!
20th March – Home and Living unlocks!
21st March – TVs, audio and Cameras unlocks!
22nd March – Computing and Gaming unlocks!
23rd March – Appliances unlocks!
24th March – Mobiles and Tablets unlocks!
All deals are unlocked between the 25th of March and the sale ends on the 15th of April!
The press conference, which was held on the 12th of March 2018, was a successful one, in which a brief of the sale along with a Q&A session was presented to the media and press!
You can watch the TV commercials below!
Social Media and TV stars showed us some love by posing with the Avurudu Wasi Mug! <3
It gets even more convenient as you can do everything on your smartphone with the Daraz App for Android/iOS!
You can check out the sale here: Daraz.lk Avurudu Wasi