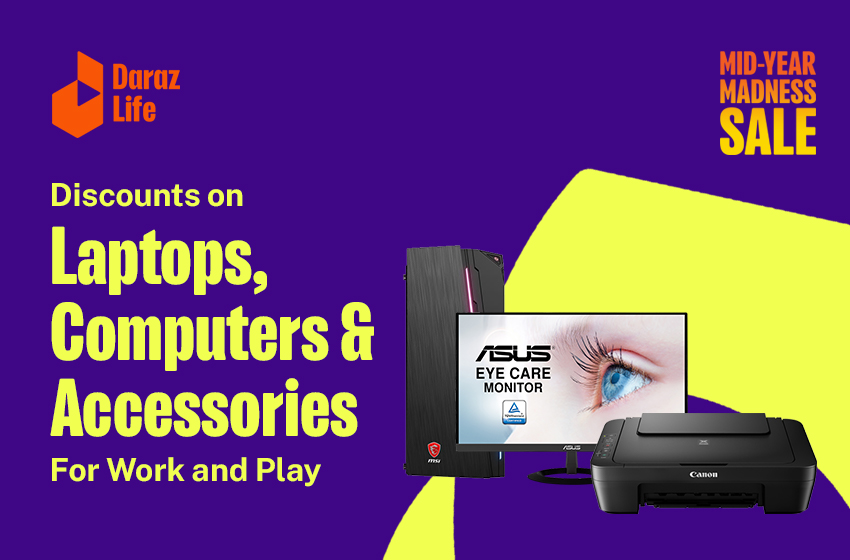 Best Laptops in Sri Lanka, Computers and Other Accessories
If you are shopping for the best laptops in Sri Lanka, you're in the right place. Continue reading to find out how you can avail of amazing discounts on the best laptops, computers, and accessories.
Are you looking for affordable laptops in Sri Lanka? Ahead, we have listed some of the most wanted laptops, computers, and accessories in the market that will be available at discounted prices during the Daraz Mid-Year Madness Sale.
Daraz Mid-Year Madness Sale: Best Deals on Laptops and Computers
If you are looking to grab crazy discounts on Laptops and other Electronics, this is your chance! Shop from the Daraz Mid-Year Madness Sale from the 26th of July and get deals so unbelievable that they will drive you insane! Over Rs. 50 Million in Savings across 5 million products! You can get an additional 12% off when you use a bank card.
Get ready for more giveaways and surprises. You get a printer FREE when you buy an ACER i7 laptop. Furthermore, save up to Rs.10,000/- on Canon Printers and up to 15% off on Cartridges. Also, watch out for Free Shipping deals to get them all delivered free of charge.
Also, get genuine products for the lowest prices when you shop at Daraz Mall. Daraz Mall has more than 450 brands on board. Additionally, you can get 100% authentic products with Faster Delivery and a 14-day easy return policy.

So, download the Daraz App and start browsing now. Let's look at some laptops and electronics you can get during the sale.
Computers
Do you believe that a desktop computer has no practical uses in this day and age? That isn't exactly right. Regardless of how big and immobile it is, the desktop computer will continue to be a popular choice for many people. It's a favourite among gamers—a heavy-duty, super-powerful gaming PC is every gamer's fantasy. A good gaming desktop computer will be less costly and more powerful. Furthermore, when games become more demanding, you can quickly update your computer. Additionally, most graphic designers and creatives love their desktops over laptops. Therefore, if you are someone who still loves a good desktop, check out the amazing deals on computers during Daraz Mid-Year Madness.
Dell Laptops
Are you looking for a low-cost laptop? The Dell Inspiron Dell Inspiron 3502 Intel Pentium N3050 is an excellent choice. These have a Full HD 15.6-inch display, and you can use them for a range of productive activities. Dell offers the most secure business laptops on the market, with industry-leading endpoint security features like complete encryption, strong authentication, and cutting-edge malware protection. Therefore this is an excellent choice for work or online learning. Additionally, you can use it for entertainment activities like watching your favourite show on Netflix.
HP Laptops
Searching for good laptops in Sri Lanka might be slightly challenging given the diverse range of laptops available. This is especially true if you're working with a limited budget and want to get the most bang for your buck without sacrificing quality. Fortunately, HP is one brand that manufactures some of the top-quality laptops at a wide range of prices and specs for personal and business uses. The best part is they manufacture laptops that can fit any budget. So, if you are looking for a quality laptop that is also affordable, check out the HP store on Daraz Mall.
Acer i7 Laptops
Acer is a global corporation specializing in hardware and innovative electronic technology. If you're looking for a high-performance laptop, you should check out the Acer i7 laptop. It comes with attractive specs and a clear 15.6-inch FHD screen. Therefore, it has become one of the laptops of choice for many different uses. Also, if you shop for an Acer i7 Laptop during the Mid-Year Madness sale, you get a printer for Free.
MacBook Pro
Apple is a successful brand because its devices constantly evolve with the technological demands of the modern world. We wouldn't have iPhones and Macbooks if Apple hadn't innovated new upgrades and had a unique perspective about creating devices that make the latest technology accessible to its committed users.
The most recent Apple MacBook Pro includes a turbo chip for optimal CPU performance. The Apple M1 is a single chip that has a plethora of technologies that increases the device's efficiency. Therefore if you are looking for an Apple device with a super fast processor, Macbook Pro is an amazing choice.
Gaming PCs
Are you a gaming enthusiast looking for a reasonably priced gaming PC? You don't always have to break a bank to own your favourite gaming PC. Shop during the Daraz Mid-Year Madness sale to get amazing discounts on gaming laptops and computers.
Keyboards
Many individuals prefer wireless keyboards to wired keyboards because they are more comfortable with the portability of the accessory. Some of us are compelled to work long hours in front of a computer. In such instances, using a wired keyboard may limit our mobility. A wireless keyboard might be an excellent option in this situation. Wireless keyboards allow you to move your keyboard around and set it anywhere you want without being constrained to one spot. So, make the most of the Mid-Year Madness Sale and get yourself a wireless keyboard at discounted prices.
Gaming Mouse
You may question the distinction between a gaming mouse and a conventional mouse. A gaming mouse is made to be more precise and accurate, which is important in many high-speed games. The reaction time of a gaming mouse is approximately 1ms. This allows you to react faster than you would with a standard mouse. Therefore if you are searching for a gaming mouse, don't forget to check the Daraz App.
Hope you will be able to avail of the best discounts in the market through the Daraz Mid-Year Madness Sale, which is live from the 26th of July. If you are shopping for stationery, check out our blog Discounts on Must-Have Stationery Items to Navigate Online Learning.