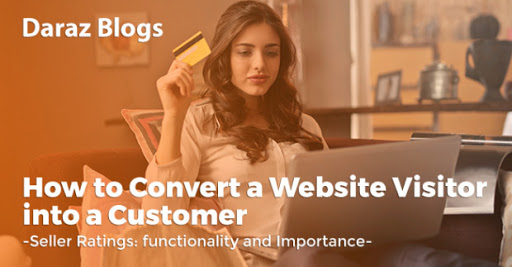 How to Convert a Website Visitor into a Customer
-Seller Ratings: functionality and Importance-
The majority of Daraz Sellers are not aware of the fact that Seller Ratings are the key to increase sales and visibility.
Current Seller Opinion vs the reality
The popular seller opinion is that, the number of orders a seller processes results in the growth of sales and visibility, wherein reality it's not.Most sellers think that they can have a good turnover if they give out attractive prices,discounts and deals.What they are unaware of, is that, seller ratings significantly contribute  in converting a website visitor into a potential buyer.Even if a seller has many deals and discounts in his store, if the number of cancellations are higher in his ratings, there is a bigger chance for a customer to not end up in buying a product from that store.Thus, it's quite apparent, that seller ratings play a prominent role in resulting a website visitor to end up in the checkout page.
What are Seller Ratings?

It is a simple yet powerful framework that engages customers and sellers in a positive feedback loop where good services are rewarded with good ratings. This system serves both sellers and customers on an equal basis. Sellers with higher seller ratings are often privileged with chances to increase sales and visibility. On the other hand, customers also get benefited because Daraz filters and displays products of highest rated sellers for each search, increasing the probability of having a better customer experience.
What affects Seller Ratings ?

Product Quality

– Before packing the products of an order, make sure the products are in a good condition.Good condition of a product can be measured in various terms.

 

If the product is the same as shown in the website without damages,color changes,expiration or any other malfunctions, it can be considered as a product in a good condition.

If the order has multiple products in it, the seller has to be cautious to include all the products in the package.

Constantly improve the content quality of the SKUs. 

Then the products be packed properly according to the Daraz Packaging guidelines.

Shipping time

– Before putting an order to 'Ready to Ship' the seller should make sure the package is packed according to the Daraz packaging guidelines.Most importantly,packages should be RTS -d within 24 hours after confirming the order.

Availability of the product

– Most of the Daraz sellers are physical store owners.The seller has to make sure there's a separate stock allocated for the Daraz store in order to avoid order cancellations due to out of stock. Every seller has to update their Daraz stocks at least twice a week.
Seller ratings are calculated according to the above matrices.If a seller has a rating of more than 80%,then there's a chance to increase sales to the climax soon!
Note: Your calculated seller ratings will be visible in the product display page i.e the Daraz web page. Therefore it directly acts as a deciding factor for a customer to go ahead with the purchase.
The homepage of the seller center will also give you a detailed overview of your seller ratings,hence the seller has space to improve.
Tips to be mindful about
Updating your stocks in regular basis is a must as it affects negatively on seller ratings if the order gets cancelled because the item is out of stock.

Seller ratings basically depict the trust

that a customer can place on you to process his or her order on time and ship out a quality product.