Are you Avu Ready? -Avurudu Wasi 2020
Ready for the New Year season full of Kavum-Kokis, Love and Laughter? For most of us today, Avurudu is all about the Vacayyyy.
Go digital this Avurudu with Daraz, to Spend MORE – time with family and friends and LESS – time standing in countless Shopping Queues.
What's Avu – Special on Daraz?
Be it your parents, siblings or the extra-extended family (you meet once a year), Daraz has everything you need for anyone.
Looking for the right gift for the bet prices? Daraz Avurudu-Wasi is what you are looking for. Stay on the Countdown to find out the latest jaw-dropping prices on Mega Deals and Flash Sales.
Get Lucky this Avurudu season and stand a chance at your favourite products on the Rs. 1 Game. All you gotta do is pick your favourite product, fill a survey and stand a chance to be the lucky winner.
Browse through to find out more exciting deals with the 199 deal and free shipping on selected products.
Not feeling Avurudu just yet? Shake Shake the daily stress from 7.00pm to 8.00pm and get ready to top up with more vouchers and discounts.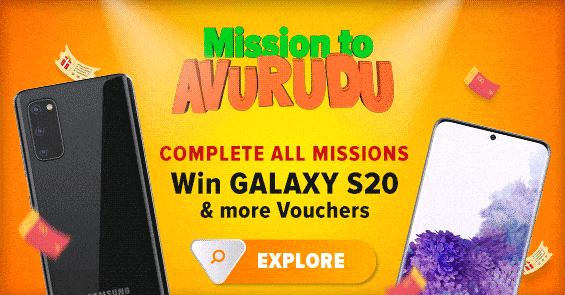 Go Digital this Avurudu Season and play exciting Avurudu Games made just for you to kindle your Avu-spirit.
Would you take up an Avurudu Challenge to win a Samsung Galaxy S20? Complete the Awurudu Mission and win exciting prizes.
Avurudu is definitely Wasi-full with all your favourite Brands and Banks offering you the best deals Island-wide!
How can you make Avurudu, Wasi – Full?
Avurudu is bigger and better with Daraz! Here is an Avurudu checklist to make it easier to have the Best Avurudu season.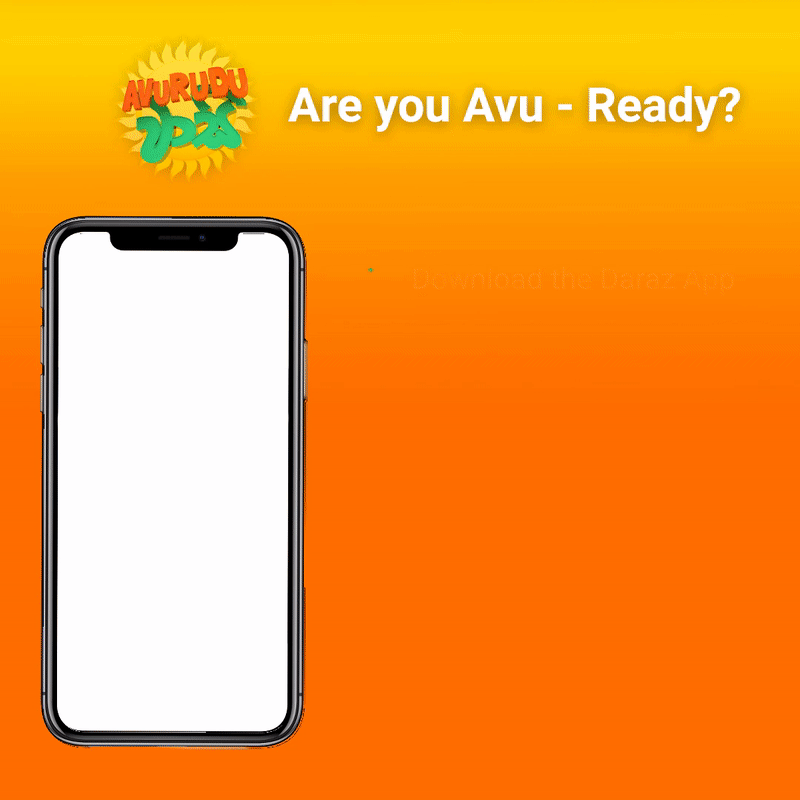 1. Download the Daraz App
Most of you must have got this step covered. The Daraz App makes it easier for you to customize your shopping.
2. Turn on Push Notifications to stay updated
Get the Latest updates on Flash Sales, Massive Price drops and Prompt challenges on Daraz. Keep your notifications on to be ready for the mission. Save Card information to make the process easier
3. Save Card information to make the process easier
Once you get the App ready to use, get the card details ready to use. Cash – on – Delivery is available as well, but let's go hassle free being hand free.
4. Add to Cart your favorite products
Unlike missing out on what you like when you shop-hop, add every product that you like to your wishlist. Once you pick the one's you need to shop for add them all to the cart at once and proceed to payment.
5. Clear all doubts by Instant Messaging the sellers
Are you new to Shopping online? Don't worry because Daraz makes shopping more human. Chat directly with the seller on any inquiries about the product. Make sure you have all the information you need before you are ready to purchase.
Once you place the order, Daraz also gives you the opportunity for all the impatient once to track your order.
Shop for you household goodies, family and friends this Avurudu Season and get everything you need right at your doorstep. Enjoy this Avurudu Season with Daraz. Happy Shopping!