Vegan Recipes So Appetizing, You'll Never Miss the Meat!
To Celebrate Vegan month, Daraz is bringing you some of the most amazing recipes. Skipping meat, eggs, and dairy doesn't mean skimping on deliciousness. These recipes feature veggies, fruits and a few easy substitutes to keep your meals vegan-friendly. We've rounded up 3 quick and easy plant based Vegan recipes to keep your tummy satisfied all day round.
Potato-and-Tofu Breakfast Burrito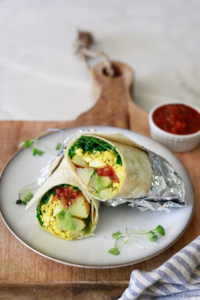 There's no better breakfast on-the-go than a burrito. Keep your tortilla treat on the healthy side with this Vegan recipe that features a tofu filling, potatoes, leafy vegetables, and sliced avocado.
Recipe
Ingredients :
Method :
Dice up the potatoes and pan roast it, you can also saute it with some onion and bell peppers. Once those potatoes are tender and golden brown, set aside. On to the tofu scramble.
Add a little Oil onto a pan along the crumbled tofu.If you like it a little creamy, stir in 2 tablespoons plain, unsweetened non-dairy milk. Let it sit for a couple of minutes. Remove from heat.
Time to assemble your burrito. Add your roasted potatoes and crumbled tofu, along with slices of Avocado and some spinach onto your tortilla. You can also add some spicy sauce if you want that Mexican touch. Roll it up and serve!
Chickpea and Sweet Potato Lunch Bowl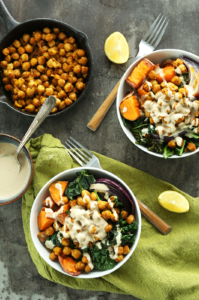 This Vegan recipe has 3 key ingredients but is so filling and packed with flavor. You will literally lick this lemony maple tahini dressing straight out of this bowl. Promise.

Recipe
Ingredients :
Method
Chop up the onion, sweet potatoes, broccoli and some spinach, and spread on a lightly greased tray, Drizzle with a little olive oil and salt + pepper. Place in the oven at 204 C for 10 minutes and remove.
While vegetables are roasting, heat a large skillet over medium heat and add chickpeas to a mixing bowl and toss with seasonings. Once hot, add 1 tbsp. of Oil and stir until fragrant and brown. Remove from heat and set aside.
The best part! The sauce. Prepare sauce by adding tahini, maple syrup and lemon juice to a mixing bowl and whisking to combine. Add 2 – 4 tbsp. hot water until a pourable sauce is formed. Set aside.
Let's assemble. Start by slicing sweet potatoes into bite size pieces. Divide vegetables between 3 serving bowls and top with chickpeas + tahini sauce. Is your mouth watering too?
Sweet Potato Enchilada Skillet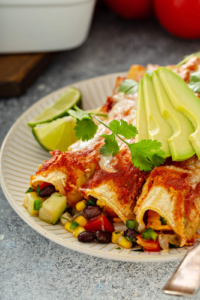 Dinner is made easy with this one pot Enchiladas skillet Vegan recipe. You can whip this up in under 30 minutes. Short, sweet, a little mess but lots of mouth watering flavors.
Recipe
Ingredients
Method
To make the enchiladas skillet, first, pan-fry corn tortilla strips until they are crispy and brown. Once they are lightly-fried, transfer them to a paper towel.
Add 1 tbsp. oil and sauté onion ,garlic, sweet potatoes and spices.
Cook until the potato is tender. Afterwards, Add some corn, crushed tomatoes, enchiladas sauce, and kale.
Combine your tortilla strips and sautéed veggies and sweet potato. The enchiladas will continue to take shape as they cool. Top with jalapeño, cilantro, green onions, Avocado and Dinner is served!
From green smoothies and sweet potato pancakes to quinoa bowls and tofu burritos, this roundup of plant-based meals has a recipe for every dish you can imagine. Cheers to Vegan month and all you Vegans living on the "Veg" of life. Daraz is sending you big Avo-cuddles.