7 DIY ways to say "I love you" – Valentines gifts straight from the heart!
Nothing screams Valentines day like gifts do. And the pressure is always on until you find the perfect gift that has to have your loved ones melting. But all perfect Valentines gifts can't be bought. Sentimental, crafty, thoughtful, that's your best way into someone's heart, also your best option if you're budget. We promise, these gifts will be no match to any store bought gift you can think of. Also, they're incredibly easy
Let's look at our top 7 Easy DIY Valentines gift ideas to dazzle your loved one!
"I Dig You" Treat Bags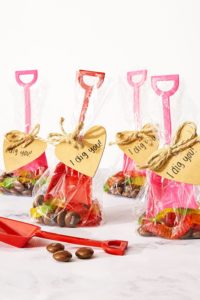 This one goes specifically out to make your kids feel included. Everyone will appreciate this punny goody bag, especially when they dig up the chocolate coins and gummy worms. And all they take are 2 very easy steps.
Method
2. Write a "punny" message on a heart-shaped tag (or cut your own from a brown paper bag), then attach with twine. And that's it! Your little ones will worm their way into their crushes' hearts in no time.
"You Mean the World to Me" Globe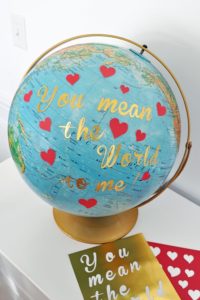 Yep, it's as cute as it sounds. This Valentines gift is so easy and packed full of love. We love that this craft is both punny and beautiful. Place it on your partner's nightstand for a welcome surprise on the morning of Valentine's Day!
Method
Print out wording online or purchase stickers at local stationery store of preferred color and choice. ( Red – to fit valentines theme if preferred. )
Purchase Globe and fit stickers to desired fashion. Voila!
Mason Jar Bouquets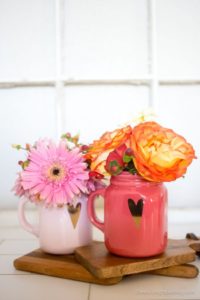 Stick her flower of choice — peonies, roses, you name it — in customized mugs for the ultimate last-minute gift.
Method
Print out stencil of shape or wording to replicate on Mug ie; ( Heart, quote, doodle)
Paint Mug and let sit for a couple hours to dry out. Add favorite flowers and place on table. Done and oh so beautiful!
Custom Candy Box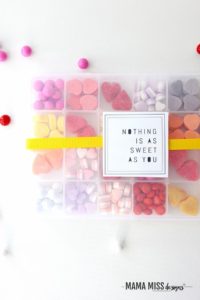 More creative than a boring box of chocolates, fill a plastic organizer with your loved one's favorite sweets for a more custom option.
Method
Add partner's small, favorite candy into different compartments in box
Print out label with cheesy quote as pictured above
Wrap with colorful ribbon. Paste note and gift them this sweet surprise!
Valentines Mason Jar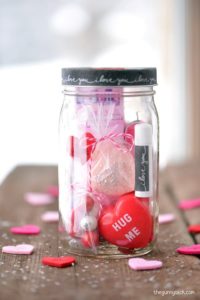 Love comes in many forms. In this case, it's a jar full of self-care essentials that will give your a valentine some overdue TLC.
Method
Pull out miniature self care items to fit into mason jar eg; ( Lip balm, mini scrub, moisturizer, soft toy, lipstick, candy)
Print out cute labels to paste on items. Decorate Jar with hearts and ribbons. And it's ready to gift!
Custom Printed tote bag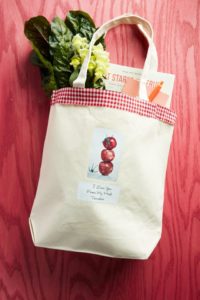 Make sure your loved one is the belle of the Good market by crafting her a custom market tote replete with iron-on imagery and a ribbon embellishment.
Method:
 On your computer, design imagery including punny sayings, if desired (ours says "I love you from my head tomatoes"). Print on iron-on transfer paper.
Cut out around imagery and iron on a canvas tote bag. Attach a length of ribbon to the top of the bag with Stitch Witchery. So easy right!
Lipstick Canvas Art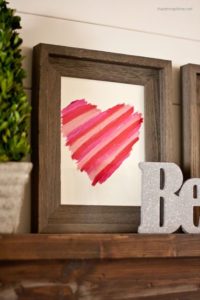 Have any old lip colors you no longer use in your makeup drawer? Use them to craft this canvas. Perfect to add to the theme of Valentines day and the perfect side addition to your Valentines gifts.
Stationery :
a variety of pink and red lipsticks
drawing paper
8×10 frame
pencil
heart template (optional)
Method
take your drawing paper and your heart template and and lightly draw a heart in the middle. Then start at the left side of the heart and begin to "color" your heart by using bold strokes. Keep doing that with different shades of lipstick until you're done.
Allow Print to dry for about 24 hours. Add custom note if desired. and frame it! D- Donee!
We bet you loved these simple at home DIY, Valentines gift ideas to whip up at any moments notice. Purchase all the stationery and candy to make these Valentines gifts on Daraz.lk now!