dMart is Better Than Before: Discover the Future of Grocery Shopping
Are you struggling with grocery shopping online Sri Lanka? Has it been tough to navigate the online grocery stores? Read on to find out how dMart has simplified online grocery shopping.
Health authorities caution people to continue social distancing and avoiding places where people gather a lot. One such place is your neighbourhood grocery store. Yet, groceries are essential for survival, so people had to turn to alternative measures to get their essentials. That was how grocery shopping online Sri Lanka started to become the go-to option for most people.
The ongoing pandemic has indeed resulted in several unexpected new challenges on consumers day to day lives. However, new demands require new solutions. Taking all these challenges into consideration dMart has revolutionized the online shopping experience. Daraz has integrated dMart into the Daraz app so that the consumers can shop, save, grab offers and redeem vouchers all in one place. All of this from the comfort and the safety of their homes.
Let's take a look at the new features on dMart that makes it better than before.
Over 5000 Daily Essentials, Unlimited Options At The Lowest Prices
The variety of choices are endless. So, whether you are looking for condiments, beverages, or skincare products, dMart has it all. Furthermore, we guarantee the lowest prices in the market. In addition, you can get special discounts during sales and promotions. Coco-cola, Nestle, Lipton, Prima, and Uniliver are just a few of the popular household brands available on dMart.
Express Delivery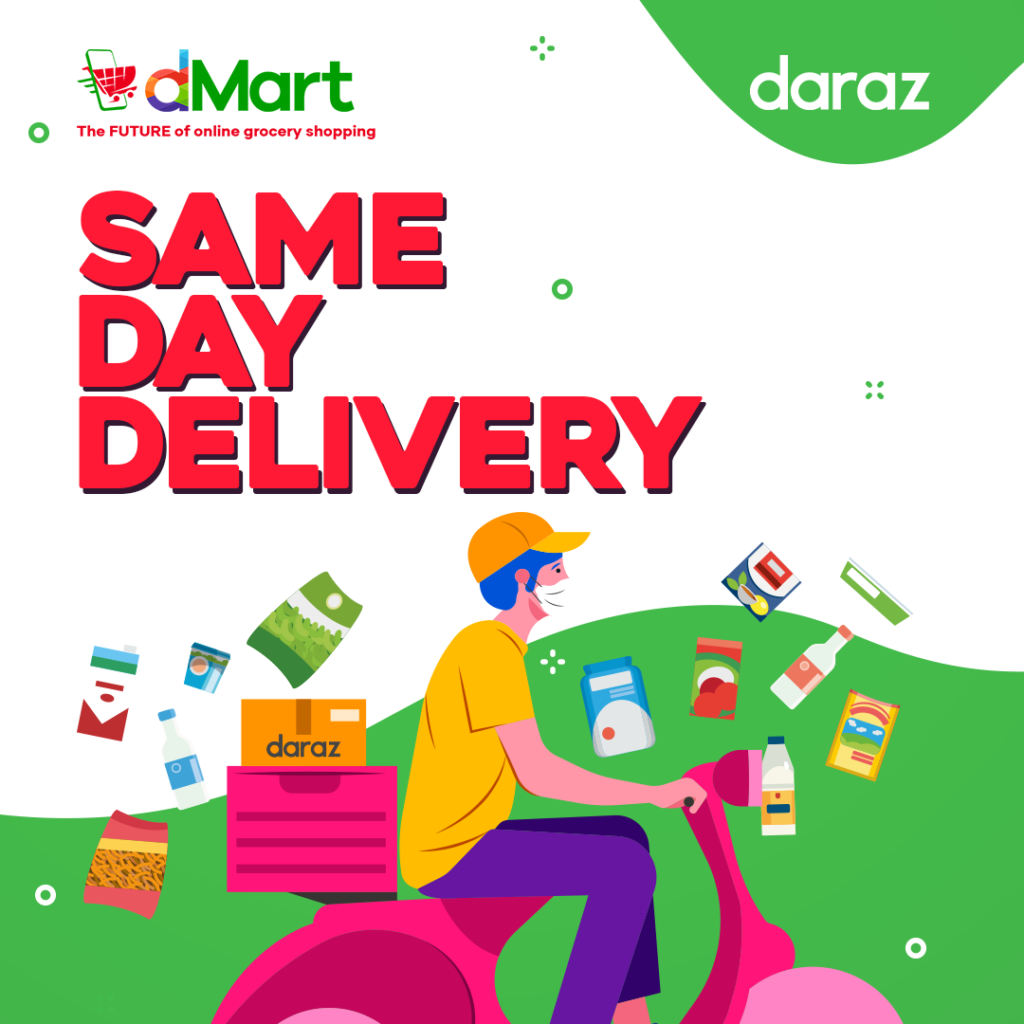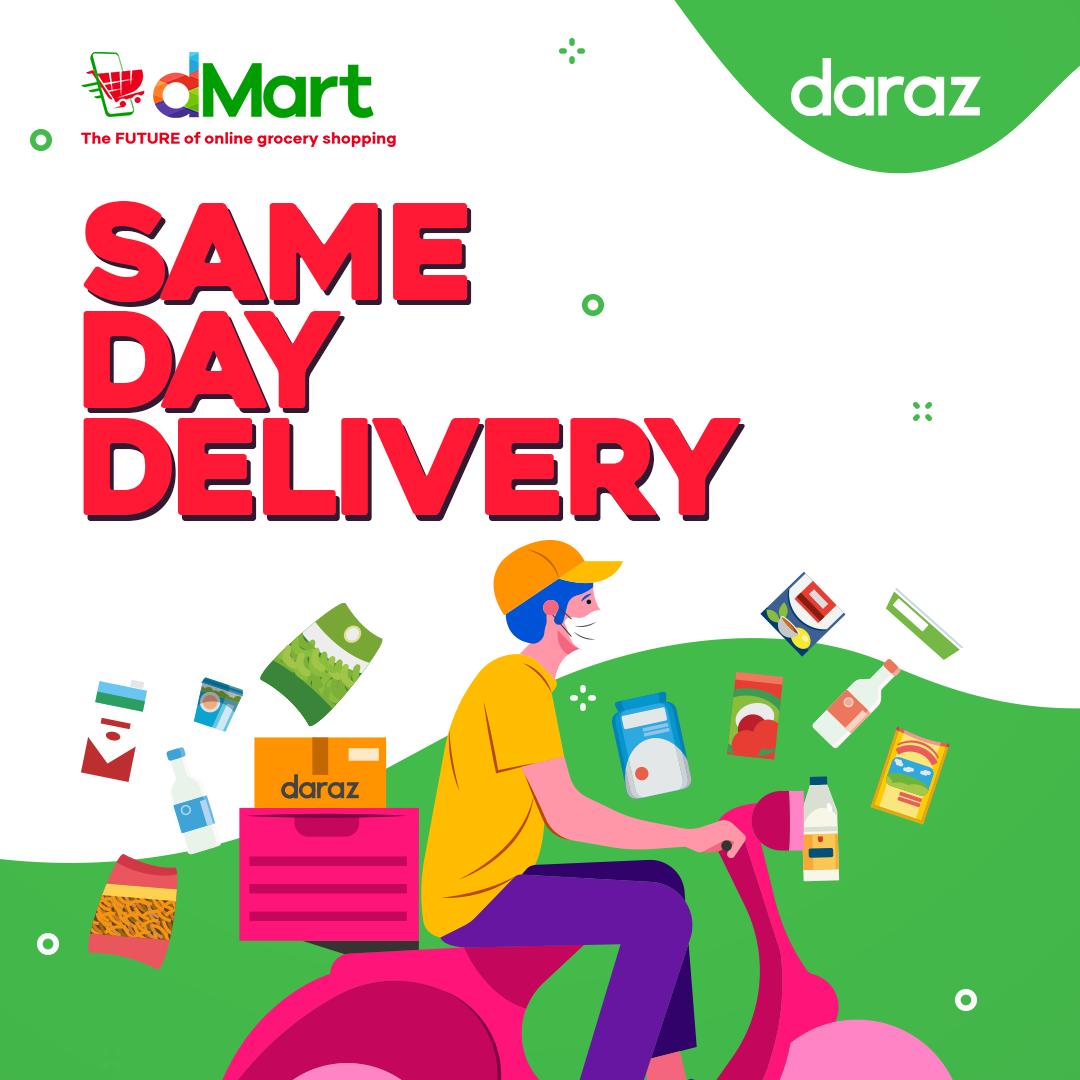 We don't believe in wait times and delay in processing orders. So, place your order before 3 PM and get your groceries delivered to your doorstep on the same day. Every product you shop on dMart is automatically eligible for express delivery when you order within the given time frame.
Rs. 99 Flat Delivery Fee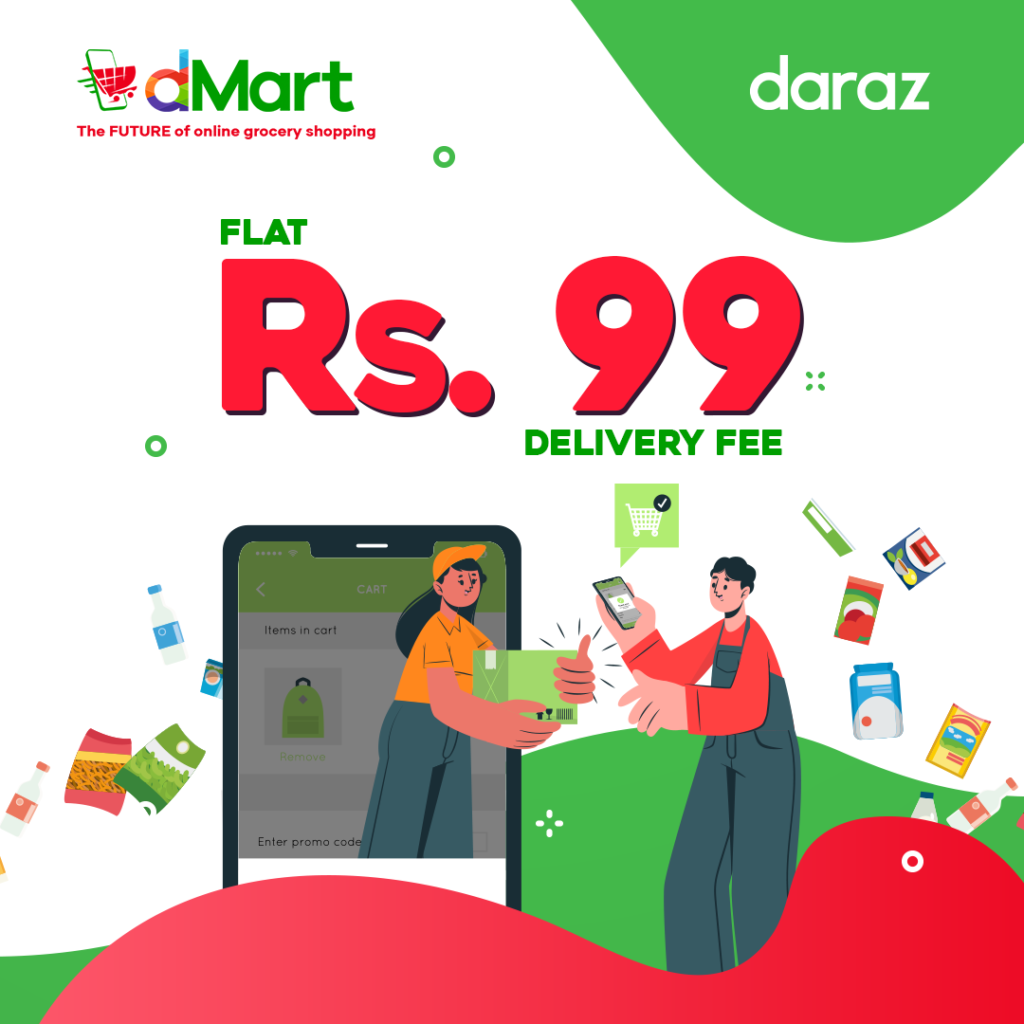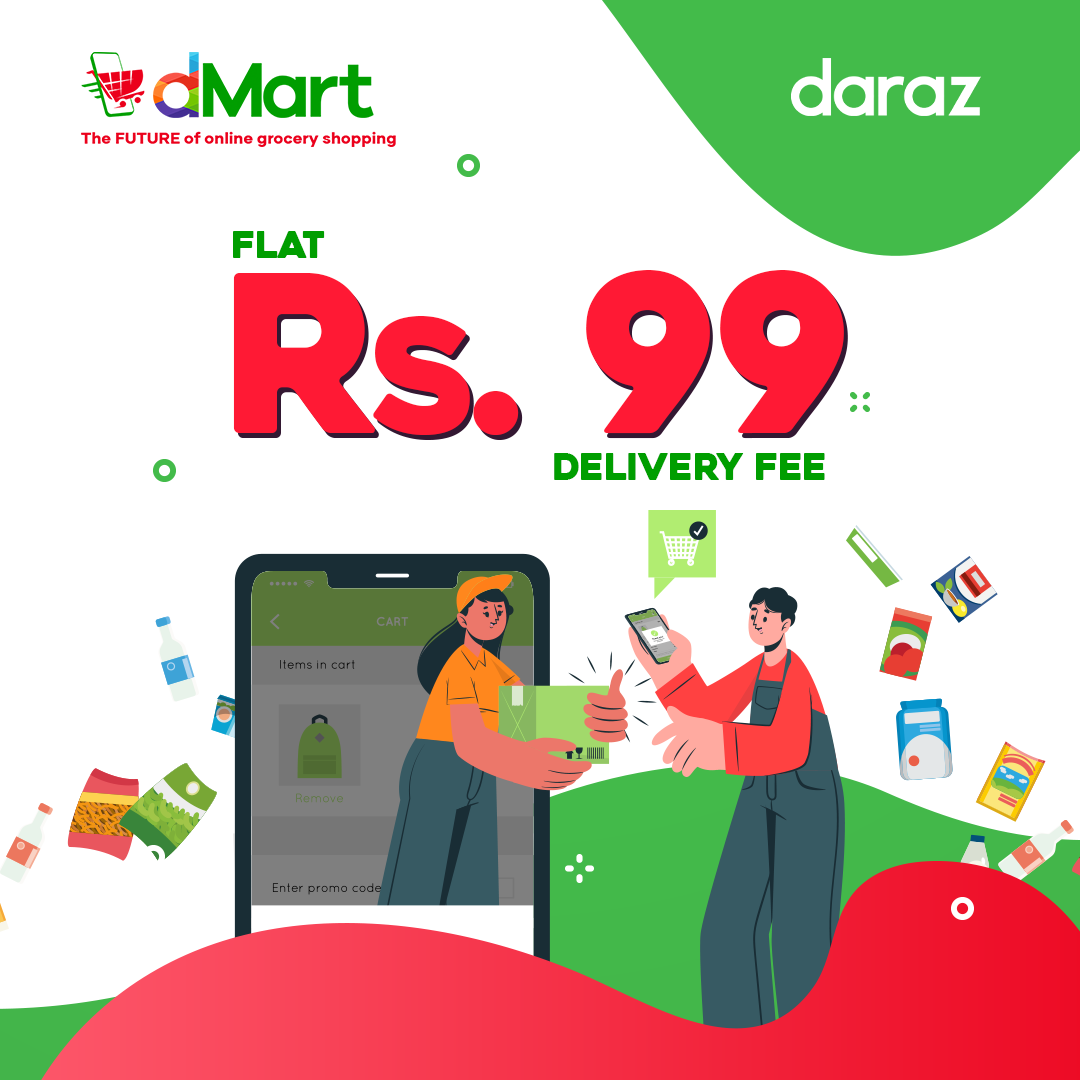 No matter how many products are in your cart, all of them gets delivered for a flat shipping fee of Rs. 99. So, whether you order just one item or one hundred items, all of them gets delivered to your doorstep at the same rate.
My List and Past Purchases
Are you sick and tired of writing grocery lists every week? Do you sometimes try to remember everything but miss out on an item or two when you order your groceries online? Now you can rest easy because dMart's got your back. Your previous purchases and lists are saved on the app. So, all you have to do is browse through your last week's grocery list and add the products to the cart. Shopping for your weekly groceries becomes as simple as that, thanks to the revolutionized shopping experience offered by dMart.
Display of Product Assortments Based on Buyer's Location
This means you get to see personalized deals available to your specific location. So, for example, if you live in Kandy, the deals and discounts will differ from what your friends in Colombo will see on their Daraz Apps. Therefore this feature allows the user to receive the best discounts specific to the area they live.
Display of Products Assortments Depending on User's Previous Search
This feature makes your shopping experience extra convenient. Thanks to this feature, you will not have to search for the same item repeatedly. Instead, the products that you search often will appear on your landing page of dMart, allowing you to simply tap and add it to the cart. It offers a personalized journey to the buyer, making their lives so much easier.
dMart In-Channel Search
Daraz is a platform with over 3+ million products. It can sometimes be slightly confusing to differentiate what is available on dMart and what products are available on other channels. Therefore once you go on your Daraz App and tap on the dMart icon, the products you enter on the search bar are items that are exclusively available on dMArt.
Also, don't forget to look out for the dMart sticker on the product's image.
So, what are you waiting for? Download the Daraz App, get on dMart and experience the future of online grocery shopping today!