Refresh Your Home With Modern Furniture Sri Lanka
If you are looking to upgrade your home with modern furniture Sri Lanka before the end of this year, you are in the right place. We are all about ending the year Big and beginning next year with a "new year, new you" mentality.
Are you seeking to refresh your home with Modern Furniture Sri Lanka? Then, continue reading to see how our furniture suggestions can help you to beautify, organise and rearrange your home, so you can welcome the New Year with "anything is possible" kind of a positive attitude.
With the 11.11 around the corner, you can acquire all the modern furniture Sri Lanka at the biggest discounts in the market.
Say hello to the biggest sale of the world starting 11th of November, 2021. You get over 50 Million in Savings across 3 Million Products. Additionally, you can grab Mega Deals, play fun games and win exciting giveaways. That's not all! Get an Extra 12% off on bank cards with up to 60-month instalment payment plans. So, Download the Daraz App and join the 11.11 Shopping Adventure!
Without further ado, let's take a look at modern furniture Sri Lanka that you can acquire from the 11.11 sale to add a refreshing new vibe to your home.
Add a Few Bean Bags
Looking for a warm, inviting, but light and stylish seating solution for your living room? Get a few beanbags.
Beanbags are in trend these days, and they come in a dazzling array of colors and designs that can fit the entire family. From the living area or lounge to the kids' playroom, bean bags may be utilized to adorn practically any area in your home. They are quite comfy and fluffy, making them an excellent spot to unwind and rest. A bean bag is ideal for sitting and getting comfortable, whether you're catching up with friends over drinks, watching a favourite TV show, or reading an enticing book.
You can get beanbags of various designs, colors and fabric online from Beanbag Lanka with up to 60% off during the 11.11 sale. Therefore, if you are looking to add a cheerful vibe to your living room and other areas of your home, this is a great opportunity to save up on your beanbag purchases. 
Organize The Footwear
How many times have you stumbled over a pair of shoes while walking around your house? We are sure it has happened to you more often than once. Your home deserves a shoe rack just for this reason. Not only would a nice shoe rack conserve your valuable footwear, but it will also make your home seem cleaner and more orderly.
So, if you are on the lookout for a shoe rack, this 4 tier shoe rack from Phoenix Industries will be an attractive option to consider. In addition, you can get many other plastic items that can help you maintain an organized household from the Phoenix online store on Daraz.
Add Some Wall Shelves
Did you know that shelves provide the best space to display your personality? So, add some wall shelves to your living room. Furthermore, a shelf has the power to transform an unused space into a stylish and elegant corner. You may choose from a variety of shelf choices and install them in a variety of ways.
The possibilities might be daunting with so many shelf designs in the market, but you can limit them down by considering the color scheme in your living room, the space available, and the objects you plan to put on top of the shelf. For instance, this contemporary wall shelf from VTEC HOME makes an ideal ornament rack that can display your artsy tastes. Also, if you decide to use the shelf to keep a few good books on display, this shelf can fit that purpose too. VTEC HOME has several contemporary, stylish furniture pieces you can select. So, get amazing deals from VTEC HOME online Daraz during 11.11 to add a touch of elegance to your household furniture collection.
Modern TV Stand For Elegance
A TV stand is essential for neatly storing and concealing all cables and organizing TV remotes, DVD players, and a home theatre system. It uses mount holes on the rear of the TV to keep the TV in place. In addition, a decent TV stand may help you organize your home by acting as a focal point of organization.
Choose a TV stand that matches the height of the chairs in the room. It should be at least one inch lower than the seats. If the TV screen is too large and further away from the sofa, it can be positioned a few inches above the seats. While selecting the proper TV stand for your home, bear in mind the rest of your requirements, such as the color of the stand and adequate storage space for other accessories.
If you are looking for the perfect and stylish TV stand to fit your home space check out the TV stands at V-TEC FURNITURE. In addition to TV stands, they have various other furniture pieces that can bring elegance to your home.
Fabric Drawer For Storage
Do you have more clothing than you can fit in your closet? In that case, this fabric drawer set can be the ideal storage solution for you. It's light, versatile and easily portable. Most of all, it can contain shoes, clothes or other accessories when you run out of space in your other storage areas. If you are on a role organising and redecorating your household check out minigood Sri Lanka for some attractive and useful accessories.
Versatile Wardrobe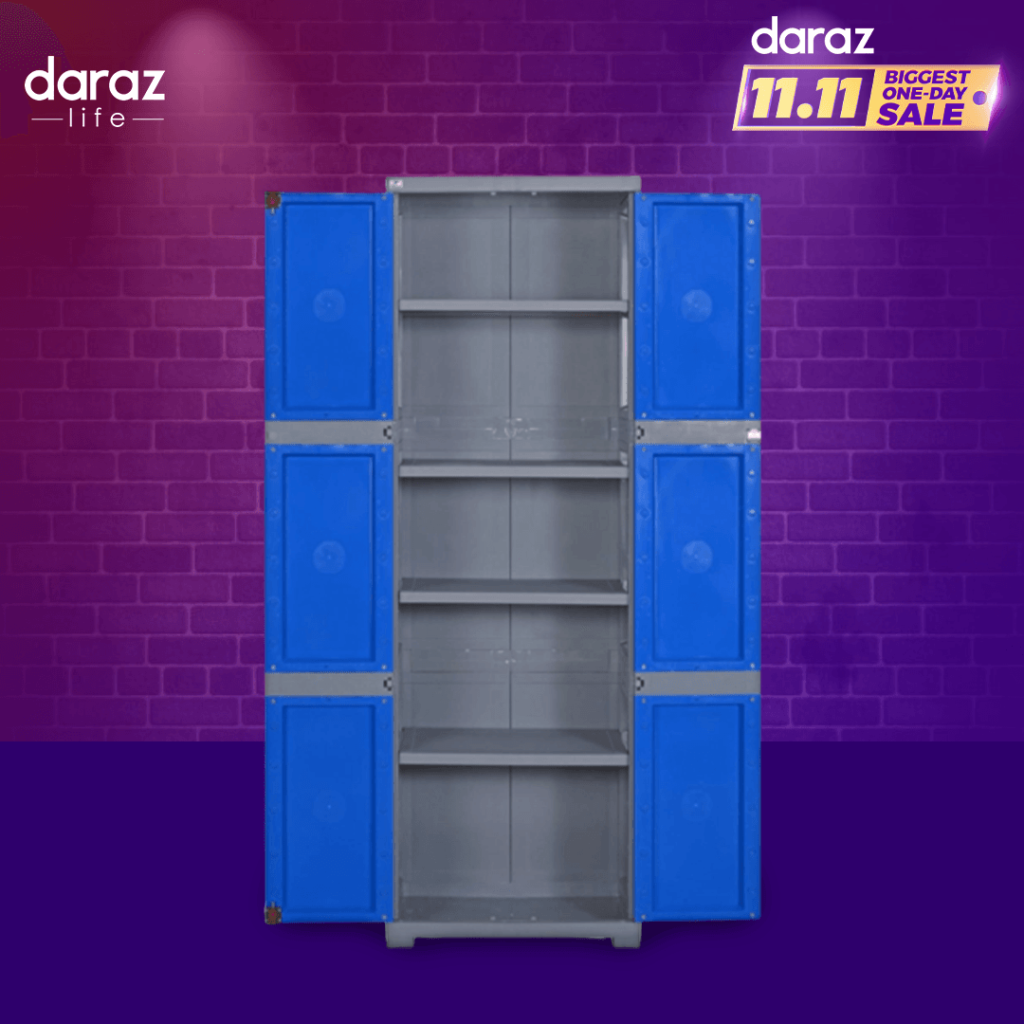 Gone are the days when you have to deal with hefty wooden wardrobes. Get yourself an easy to handle and versatile plastic wardrobe. You would be surprised at how amazingly handy a plastic wardrobe can be. If you are someone who moves around a lot and is tired of heavy furniture, you should definitely get yourself a plastic cabinet and a few other pieces of plastic furniture. Take a look at the furniture available at the Nilakamal store on Daraz. Grab amazing discounts up to 60% off with free shipping and valuable vouchers when you shop at Nilkamal during 11.11
During 11.11, the biggest one day sale of the year our brand partners Arpico, Beanbag Lanka, Phoenix Industries, Sofa Factory Outlet (PVT) Ltd, VTEC HOME, V-TEC FURNITURE, minigood Sri Lanka, Nilkamal, The Concept Store offer up to 60% OFF, with free shipping and vouchers. So, make the most of this sale and add some new furniture to refresh your home before the end of 2021.
Also, if you plan to buy home appliances during 11.11, don't forget to check out Make your house a beautiful home with the best home appliances brands!