How to Save Big on Media, Musical Instruments and Books During 11.11
With 11.11 approaching fast, make a list of Media musical instruments and books you have been waiting to buy throughout this year. Grab up to 50% off from the biggest brands in town. You can save big on guitars, guitar tuners, piano keyboards, percussion instruments, English and Sinhala story books, story books, and so much more.
Are you ready to Save Big on Media musical instruments and books during the world's biggest one day sale? In that case, let us point you in the right direction. Just imagine, there is 50 million in saving across 3 million products. So, let's take a look at the stores on Daraz that offer the biggest discounts on Media musical instruments and books.
Yamaha Music Center
Yamaha is a Japanese multinational conglomerate and a global giant that offers a diverse variety of products and services. The sounds produced by musical instruments and motorbikes can both move people, and many people link the Yamaha name with music and mobility—which should come as no surprise. Yamaha Corporation and Yamaha Motor are both subsidiaries of Nippon Gakki Co., Ltd., which produces musical instruments and motorcycles.
It's no exaggeration to claim that Yamaha's invention of portable pianos altered the game forever. Imagine having access to beautiful music at your fingertips at any time and from anywhere on the planet. The Yamaha P125 is one of the latest midrange piano keyboards in Yamaha's portable series. This compact and lightweight digital piano is ideal for anyone, whether they are beginners or virtuosos. You can get massive discounts on portable pianos, guitars, home audio systems, Subwoofers, and many other instruments and audio solutions when you shop at Yamaha on 11.11.
Mike Audio
Mike Audio, established in Sri Lanka in 2007, provide a range of musical instruments and audio equipment of top quality. They are the authorized distributor in Sri Lanka for several world-renowned brands. The type of instruments they hold includes string and percussion. In addition, they sell bass amplifiers, microphones, amps, PA systems and much more.
So, if you are on the hunt for any of these instruments of audio solutions, don't forget to check out the Mike Audio store during 11.11 for discounts up to 50% off and free shipping and valuable vouchers.
Sky Music Center
If you are looking for music instrument carriers and other accessories, you should definitely look at the Sky Musci Center flagship store on Daraz. Additionally, they have several musical instruments ranging from portable keyboards, guitars and drum sets. So, if you are trying to replace the strings on your guitar or trying to find a specific accessory for your drum set, Sky Music Center is sure to have it.
Expographic Books
Do you enjoy reading books to your children? Or do you have children who are avid readers? Then you ought to definitely browse through the range of storybooks and educational books available at the Expographics Books store online on Daraz. The books available online include English education books, local entertainment books, English Children's books, English Literature, and much more. So, if you are on a quest to improve your grammar or intrigued by Science and would like to read books related to Science and technology, you are sure to find something that might capture your attention. The best part is the affordability of books available on Expographic Books. So, get on the Expographic Books flagship store, shop and get up to 50% off on your purchases.
MD Gunasena
Are you fascinated by Sinhala Literature? Then, you can get your fair share of Sinhala reading books from M.D Gunasena this 11.11. They have an amazing collection of Sinhala literature, novels, romance and educational books. That's not all. You have access to numerous English books as well. You can even find New York Times Best Selling Authors listed at the most reasonable prices. In addition, if you are seeking local medium education books that would help your child to excel in their studies, M.D Gunasena has plenty of Science, religion, business studies and other subject related books available online.
Samudra Book Shop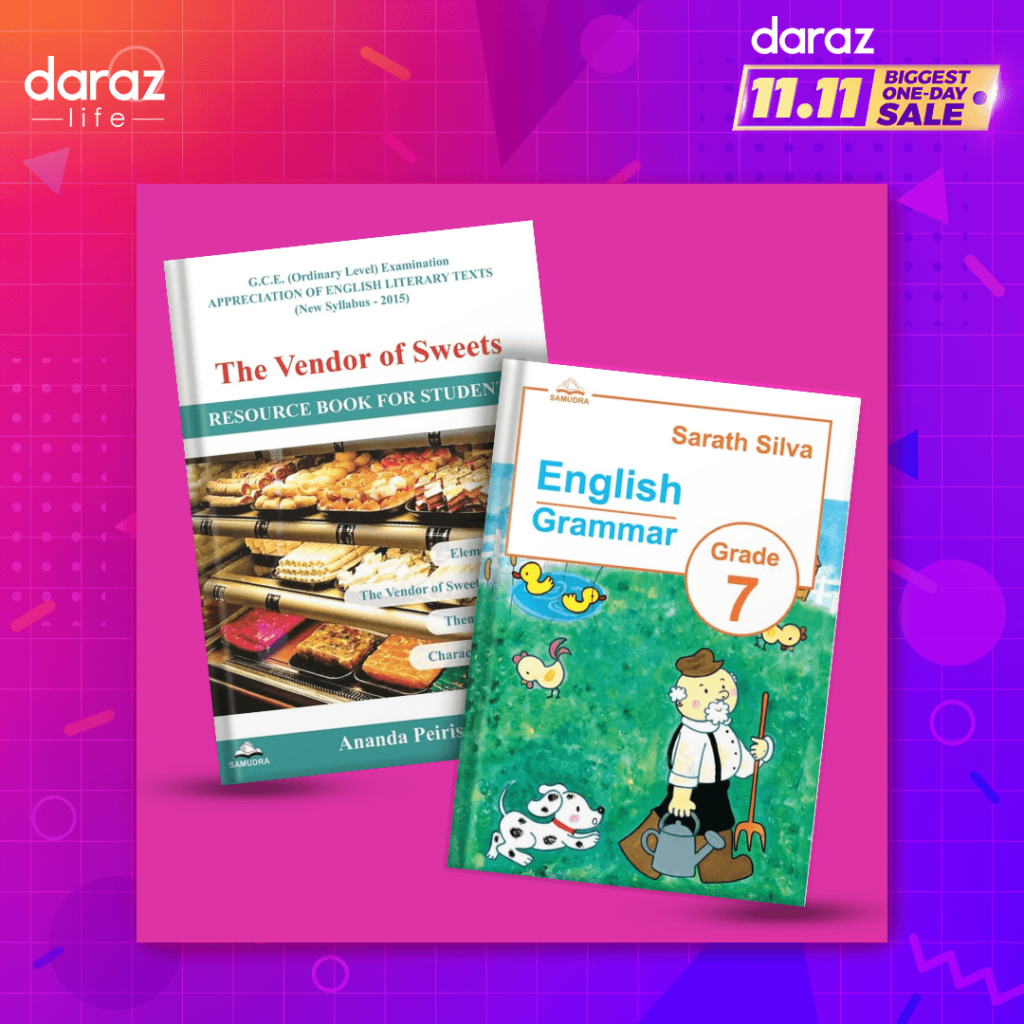 Samudra Book Shop has a variety of books ranging from English storybooks, educational books and past paper books for local examinations. In addition, they have other educational materials such as puzzles, STEM toys, and Board Games. If you or your children are into art, then there is a range of books on art as well as modelling and sculpting tools and other art accessories. So, shop at Samudra Book Shop during 11.11 and get up to 50% off on selected books and free shipping.
The Biggest One day Sale of the Year is Finally Here! Daraz 11.11 is back from 11th November with a massive 50 Million in Savings across 3 Million Products ranging from electronics, Fashion, lifestyle goods & groceries. You can Grab Mega Deals, Play fun games and win exciting giveaways. Also, Save big by shopping at Yamaha, Mike Audio, Sky Music Center, EXPOGRAPHIC BOOKS, M.D.Gunasena and Company (Private) Limited, and Samudra Book Shop. Get an Extra 12% off on bank cards with up to 60-month instalment plans. Download the Daraz App now and join the 11.11 Shopping Adventure!
Check out our blog post "Make your house a beautiful home with the best home appliances brands!" if you plan to shop for home appliances during