Modern Bedroom Ideas to Beautify Your Bedroom For the Holiday Season
The Christmas season is here, and there is no better time than now to implement modern bedroom ideas to bring seasonal cheer to the bedroom. So, continue reading to find out how you can re-decorate your room for the holiday season.
Are you ready to get inspired by modern bedroom ideas for the holiday season? Ahead, we have lined up a few clever modern bedroom ideas to bring the Christmassy feel to your bedroom.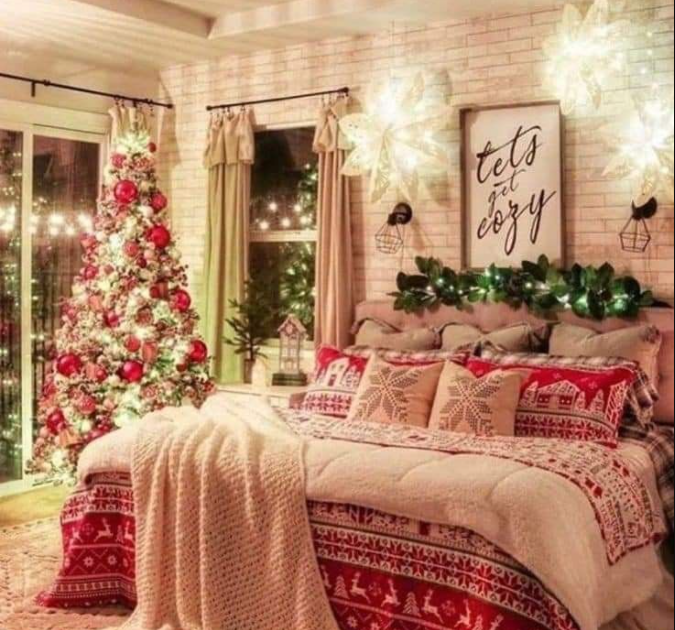 These must-have Christmas bedroom decorations will provide a solid foundation for bringing festive spirit into your bedroom or guest room. If you follow our bedroom decoration tips, your guests will think they've stepped into a Christmas fantasy.
Also, 12.12, Daraz Grand Chrismas sale is less than two weeks away. So, Daraz is ready to deliver the Christmas magic to your doorstep with massive deals and discounts on Christmas essentials and over another 3 million products, all in a one-stop shop. So, if you don't have the time to shop for gifts and rather spend that time catching up on your favourite Christmas films, the Daraz App is just a tap away.
Daraz Grand Christmas Sale 2021
Daraz is ready to deliver The Magic of Christmas across the nation with the Daraz Grand Christmas Sale 2021. Starting from the 12th of December, get up to 80% off from over 3 million products ranging from electronics, fashion, lifestyle goods and groceries. In addition, get a further 12% off on bank cards and easy monthly instalment plans for up to 60 months.
Enjoy Mega Deals, Massive Price Drops, Fun Games, Free Shipping, Free Prizes and Many More Surprises. Don't forget to rejoice by saving up to 50% off on your favourite bedding and bath brands like Celcius, Halcyon, Linberry, The Bedsheet Factory, Mirani Mosquito Net, Southern Smart, and CherryB. Furthermore, free shipping, valuable vouchers and free gifts when you shop in these flagship stores on Daraz. So, Download the Daraz App and Let the Holiday Shopping Begin!
Here are some modern bedroom ideas to decorate your bedroom for this Christmas season.
Add a Christmas Quilt
Add a touch of merriment to your bed by adding a cozy quilt. If you cannot find a quilt with a seasonal design, a quilt with a few selected holiday colours ought to do the trick. This is sure to add a touch of seasonal spirit from the minute you wake up, and right before you hit the hay.
Christmas Throw Pillows
It's an easy and inexpensive way to decorate for the holidays. Toss some colourful Christmassy looking throw pillows on the bed or on the sofa.
Decorative Floor Mats
It's the time of the season you should constantly feel the seasonal cheer. So, what better way to be reminded of the Christmas feel than stepping on a floor mat? Also, imagine walking into the room welcomed by a decorative rug. That is sure to put the jingle back into your soul.
Cozy Cotton Bed Sheets
Flannel Christmas sheets are a terrific way to remain warm while also decorating your bedroom for the holidays! They come in a variety of attractive Christmas designs to help you get in the holiday spirit.
Mini Christmas Trees
This is the ideal addition to your nightstand. Furthermore, these tiny  Christmas trees will add a festive touch to your bedside stand.  One might even be placed on a desk, on the dresser as well.
Christmas Throw Blanket
If you have a bedroom sofa or benches, you can add a dash of the holiday spirit by adorning it with a Christmas throw blanket. Furthermore, it wouldn't hurt to drape it over the end of the bed for a seasonal touch.
Christmas Wreath For the Door
If you want to go all out, it would be a fantastic idea to adorn your bedroom door with a simple but festive looking Christmas wreath.
We hope you grasped a few tips to decorate your bedroom this Christmas. If you are planning on purchasing some appliances during the season, check out Kitchen Appliances in Sri Lanka That Will Make The Perfect Christmas Gift.