Delivering Magic, This Christmas – 12.12 Grand Christmas Sale 2021
Join the magic during the Daraz Grand Christmas Sale 2021. The biggest sale of all the Christmas Sales 2021 Sri Lanka is finally here! Daraz 12.12 sale is back to offer you the best deals in the market. Shop across all your favourite brands and grab the best deals in town. Join in on the seasonal cheer with Daraz online shopping.
Special offers and free shipping deals!
What do you want for Christmas this year? An iPhone 13? A 75 inch Smart TV? Or a gaming Laptop? You can have it all during the grand Christmas sale, thanks to the jaw-dropping offers.
Imagine! Up to 80% Off on Over 3 million products
THE BIGGEST DISCOUNTS ONLINE!
On top of the biggest discounts in town, you get to enjoy an additional 12% off on bank cards. That's not all! You can opt for monthly instalment payment plans with 0% interest for up to 60 months, so you can buy everything you desire this Christmas.
Furthermore, watch out for Mega Deals and massive price drops during flash sales during the Grand Christmas Sale 2021. If you don't want to pay for shipping, you don't have to. All you have to do is stay alert for the hours when Free Shipping is available site-wide to buy everything you want to purchase. Then, get them delivered for FREE.
Shop during the Midnight Rush Hour on 12.12 @ 12 AM and get up to Rs. 30,000 OFF on Selected Products
Mega Deals Up To Rs 28000 OFF: Don't forget to collect the Discount Vouchers on the product page before you make the purchase.
Shop your favourite UNILEVER Products and get up to 55% off and FREE Shipping for orders over Rs. 1500.
Get exclusive discounts, vouchers and giveaways when you shop at Teleseen flagship store on Daraz.
Shop & Win a Laptop when you buy over Rs. 3000 worth products on Mead Johnson Nutrition Store.
Win a fashionable Crossbody Bag from P.G. Martin when you purchase products over Rs. 5000
Purchase Rs. 500 worth of Velvet products on Hemas and get FREE Shipping.
Get up to 12% Off on Bank Cards
Daraz has Partnered with leading banks such as Commercial bank, Sampath bank, HSBC, HNB, Seylan, DFCC, Standard chartered bank & BOC with a further 10 % OFF on credit cards. Furthermore, Master card is offering an Extra 12 % OFF on all master cards (T&C applied).
Win Big by Playing Games!
Play 1 Rupee Game and Stand a Chance to win an Apple iPhone 13, an ASUS Laptop and many other MASSIVE Prizes.
SPOT THE BUS!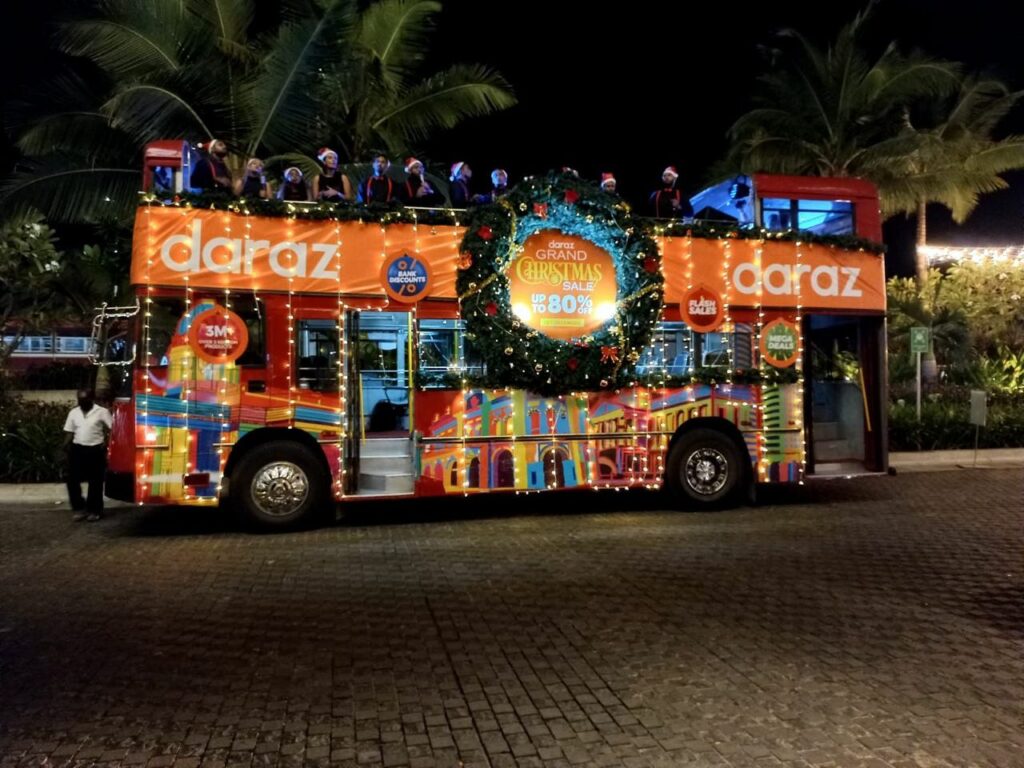 Daraz Caroling bus is going to jingle all the way across the cities spreading the Christmas cheer around the nation. Join in the merriment, snap pictures and stand a chance to win amazing prizes! Follow Daraz on social media for more info.
Who's on board? The Biggest Brands in Town
Most of your favourite brands are already on board for the biggest Sale in Sri Lanka. Daraz Mall has more than 500 brands on board. 100% authentic products, with Faster Delivery and a 14-day easy return policy.

Diamond Partners For The 12.12 Sale
Unilever
Vivo
Vantage
Teleseen
Hemas
Browns
Realme
Platinum Partners For 12.12 Sale
OPPO
HP
Hunters
P.G. Martin
Ebsaw
Multilac
Ready to grab the Biggest Deals this Grand Christmas Sale?
If you haven't got the Daraz App on your mobile phone, Download the Daraz App now!
Follow your favourite brands in town
Switch on your notifications and await the latest price drops, special offers and flash sales
Add to cart your favourite products
Save your Card for easy shopping
And get Ready Shop till you Drop!
Feel the Christmas Magic this 12.12 with Daraz. Enjoy free shipping with secured payment methods and easy return facilities on all your favourite brands. So what are you waiting for? Get ready for Daraz Christmas Sale 2021 and shop till you drop!