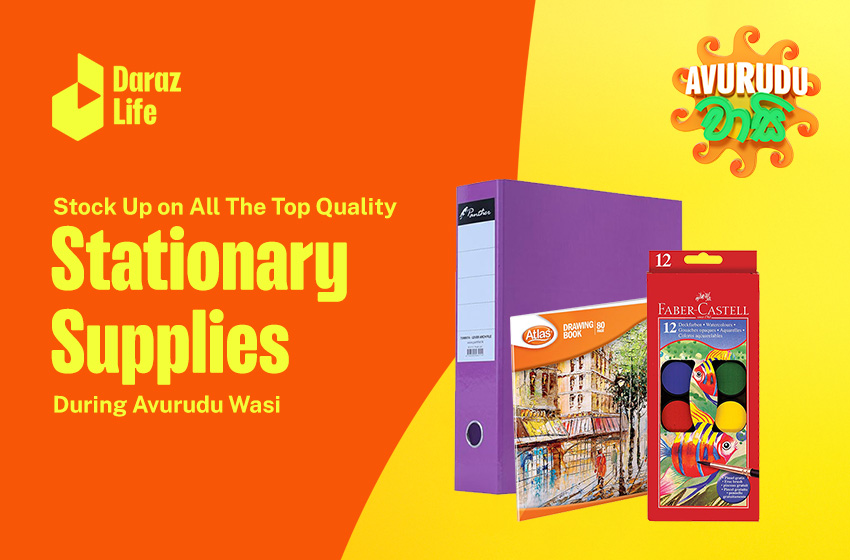 Stock Up on Your Favourite Stationery Supplies For the Entire Year
Stationery supplies run out quickly no matter how often you shop for them. Moreover, if you run an office or have a child who goes to school, pens, pencils, notebooks and exercise books seem to vanish right when you need them. Therefore, shopping stationery online to last for a while during a big sale is the smart move to save both your time and money. Thus, with a bit of planning and organizing, you can sort out your stationery requirements for the entire year.
Are you planning to stock up on your stationery supplies during Avurdu Waasi? Then, continue reading to see what Daraz has to offer during the Avurudu Season for everyone ready to order their stationery online.
Shop Your Way to Prosperity With Daraz Avurudu Waasi
Can you use some circumstance-changing deals in your life right now? Daraz Avurudu Wasi is back from the 25th of March, with up to 80% Off on over 5 million products! Grab an additional 12% off on bank cards and Instalment plans up to 60 months at 0% interest.
That's not all! Win an iPhone 13, 55″ inch Samsung tv, Innovex washing machine and an ASUS laptop simply by playing our one rupee game. Furthermore, Don't forget to watch Daraz live during the season and stand a chance to walk away with valuable giveaways.
If you are hunting for bargains on stationery supplies, this is one opportunity you do not want to miss. You can grab up to Up to 50% OFF, Free Shipping, Valuable Vouchers and Giveaways when you shop with our brand partners ProMate, Staedtler, Atlas, Scan Lanka, Alston Stationery, Panther, Lamy, Best Paper, William Penn, Faber-Castell, PILOT, Trickledown Private Limited, Weerodara, and Casio.
So, get ready to lower your Avurdu expenses and shop your way to prosperity! Download the Daraz app now and get ready for Daraz Avurudu Wasi.
Without further ado, let's take a look at the best offers on stationery you can get your hands on during the Avurudu Waasi sale.
General Stationery Supplies
Craft Supplies
If you have little children or you own a preschool, you will likely require craft stationery from time to time. Also, if you enjoy creating crafts at home, there is always an occasion where you would have to go from one shop to another searching for specific products like craft pens and craft paper. In addition, the costs tend to add up on transport and purchasing from different stores on top of the energy spent on the endeavour. Therefore make the most of the seasonal sale to get most of the craft supplies you require for the entire year at once. The best part is you can shop for everything you need from one place with just the tap of a finger.
Office Stationery
For the day-to-day operations of your business, having the appropriate office supplies is critical. Furthermore, in order for your staff to work efficiently, items such as pens, pencils, paper, calculators, and other office equipment such as printers must be readily available. Therefore, when browsing for products for your office, be sure they're appropriate for the work and provide the quality and comfort you seek.
School Stationery
Likewise, if you are running a school or private tutoring, there is no doubt you require the correct stationery supplies to progress throughout the academic year. Therefore, it would be a great idea to purchase the stationery in bulk rather than investing time and money to purchase them as you run out of stock.
Art Supplies
If you are an artist or a parent who get continuous requests to purchase art material, we have excellent news for you! Now you can get all your art requirements in one place at amazing discounts. Check out our brand partners Promate, and Atlas, to get all your art supply essentials at the best prices.
Specific Stationery Requirements
Pencil Cases
If you are looking for something very specific like the Smiggle boys pencil case featured here, chances are you will find it on the Daraz platform. So get on your Daraz app and search for whatever specific stationery item that you require. Don't forget to collect vouchers and avail of discounts when you checkout those items.
Notebooks
One can never have too many notebooks. They are just so many uses for a note book. You can use it to make lists, take important notes, write down routines or even sketch art while you get distracted from other tasks. So, don't miss out on this opportunity to stack up on notebooks of various designs and sizes at discounted prices.
School Stationery Kits
If you can't figure out what to gift a child for this Avurudu, one of these stationery kits makes a super gift idea. It will be a useful gift any child could make good use of throughout the year.
A4 Paper
A4 paper is another essential stationery item that most of us cannot get enough of. Whether it is to write things or for photocopy and printing purposes, the A4 paper is always there to the rescue. So why not save a bunch when you order a few bundles at once?
Erasable Pens
Gone are the days when you have to cross out every time you make an error whilst taking down notes. Now with these erasable pens from PILOT, you can still use ink, but erase it off at any point you make a mistake.
Hope this blog helped you decide on some staple stationery equipment you want to buy to last throughout the year. Save big up tp 80% off on all your stationery essentials when you buy during Daraz Avurudu Waasi. If you are looking for a bargain on accessories for your kitchen this Avurdu, don't forget to check out; Kitchen, Dining Room Equipment Checklist For Avurudu.