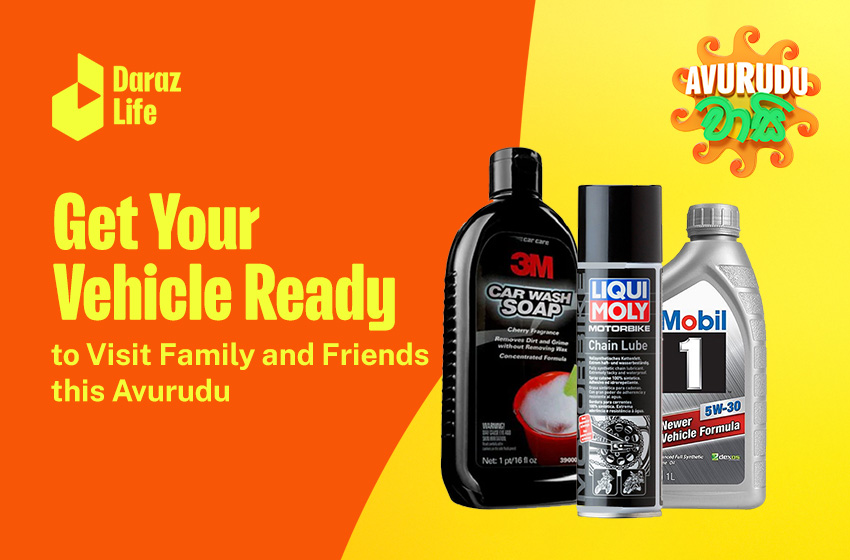 Vehicle Parts Online Shopping: Refurbish Your Vehicle For Avurudu
Vehicle parts online shopping is gaining more popularity by the day due to the present-day pandemic situation. Therefore if you are on the lookout for spare parts and refurbishing essentials for your cars, bikes or bicycle, continue reading this blog post.
Are you resorting to vehicle parts online shopping this season? Ahead we have listed some essential requirements if you are planning to refurbish your vehicle before Avurudu. After all, you want to show off your ride in its top condition when you visit friends and family during this season.
Daraz Avurudu Waasi
If you are resorting to vehicle parts online shopping, we highly recommend you check out the Daraz Avurudu Waasi sale.
Daraz Avurudu Wasi is back from the 25th of March to the 6th of April, with up to 80% Off on over 5 million products! Grab an additional 12% off on bank cards and Instalment plans up to 60 months at 0% interest. That's not all! Win an iPhone 13, 55" inch Samsung tv, Innovex washing machine and an ASUS laptop simply by playing our one rupee game. Furthermore, Don't forget to watch Daraz live during the season and stand a chance to walk away with valuable giveaways.
If you are shopping on Daraz for the first time, enjoy a free Rs 50 reload as our Avurdu gift to new users. Also, there will be Mega Deals, Free Delivery, and so much more!
So, Download the Daraz App now and get ready to shop till you drop!
Without further ado, let's see the deals and discounts you can get on vehicle accessories if you are planning on vehicle parts online shopping.
Car Wash Soap
Keeping your car wax in perfect condition is paramount for maintaining the beauty of a vehicle. Also, when it comes to auto care, one of the most important aspects is to keep the vehicle's body clean. However, there are some soaps in the market that can scratch the wax protection. It could lead to the discolouration of the car polish. Therefore, it's important to choose a product that ensures your car looks squeaky clean without harming the paint of the exterior.
3M specializes in making industrial-grade car cleaning products that make dirt disappear. Our car wash soap was designed to help you clean your car without stripping the wax layers off the paint. 3M Automotive car soap is gentle yet efficient to remove grease and grime without harm to the protective layers of your vehicle. Therefore, if you are aiming for a perfect car wash, we highly recommend you try this product.
Engine Oil
Your vehicle's engine parts are in constant friction, and therefore it's essential to keep them lubricated often for maximum efficiency. Engine oil helps to reduce friction and protects the engine from getting worn out too fast.
Experience new levels of performance and fuel economy with Mobil 1 engine oil. Matched with a unique base oil, the latest Mobil 1 engine oil technology delivers comprehensive feature sets. These are difficult to achieve with other brand oil products. For example, Mobil 1 engine oil includes an advanced Viscosity Index. It helps to avoid sludge buildup, which is a primary cause of engine wear.
Mobil 1 engine oil is suitable for all types of modern vehicles, including high-performance turbo-charged, supercharged gasoline, and diesel multi-valve fuel injected engines. Furthermore, it surpasses the industry's most rigorous standards and outperforms all traditional oils.
Motorbike Chain Lube
The state of your motorcycle's chain is critical to its overall health and efficiency. According to research, the typical motorbike transmits the same amount of power to the back wheel as a small car. Thus, failing to maintain your chain in good condition might jeopardize your bike's performance and safety.
As a result, chain lubrication is essential for all bikers. It protects your bike from water, dirt, and a variety of other harsh factors for a long time. In addition, it helps to improve its performance and efficiency.
LIQUI MOLY Motorbike Chain-Lube offers maximum thrust and long service life for high-speed chains. Lubing up your chains is not only about performance: it also has a positive effect on durability. Furthermore, you can use this product without having to worry about any lubricant residues.
Vehicle Accessories
The days when you have to go from one garage to another on the lookout for vehicle accessories are a thing of the past. Now you can shop for any specific accessory you need for your vehicle online Daraz. Furthermore, you can check out the product specifications and see whether it's the best item for your vehicle.
For instance, consider a door sill plate. They are small and easy to install auto body parts that serve a specific purpose. They are like doormats for the entryway of your car. Furthermore, The door sill plate provides a base for you and your passengers to tread on when you get in and out. Therefore if you have a requirement to install a door sill plate in your car, all you have to do is log into your Daraz app. Search for the accessory name and select the product that ticks off your requirements. Then, simply add it to the cart and checkout. That's how you save the hassle and the energy of shopping for vehicle accessories by going from one shop to another.
Motorcycle Accessories
The same applies to motorcycle accessories. All you have to do is simply get on your Daraz app and search for the item you require.
For example, imagine you have issues with your motorcycle's brake pump. You can check on Daraz for the availability of the brake pump specific to your motorcycle. Also, don't forget to keep an eye out for special discounts on these items during the Avurudu Waasi sale. You can get them delivered to your doorstep with just a tap of a button.
Hope this blog post is helpful if you are on the lookout for auto care parts online. If you are on the lookout for more auto care items, check out our blog post on Sri Lanka's Best Motor Care Solution Providers For Vehicle Longevity.