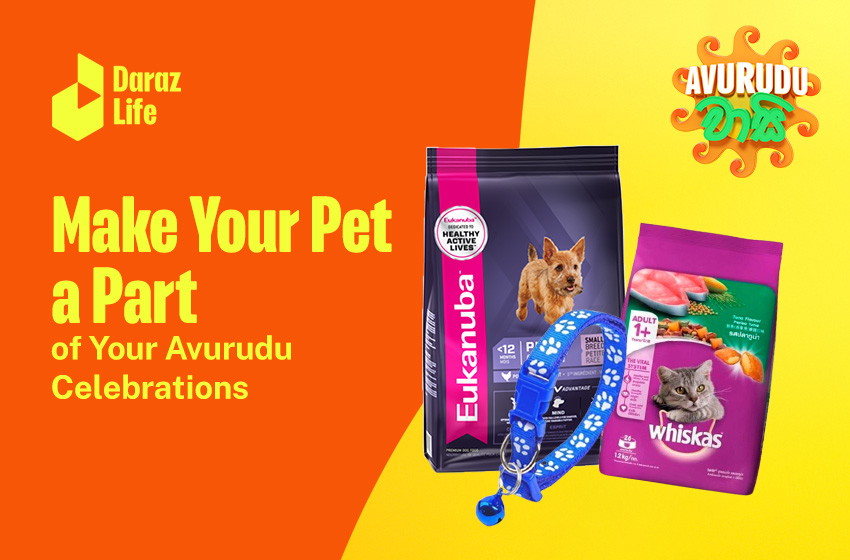 Get Pet Food And Accessories Online During Avurudu Season
If you are looking for a place to buy pet food and accessories online, you are at the right place. In this blog post, we will be discussing how you can get your fur baby essentials for less during the Avurudu season.
Want to get per food and accessories online? Continue reading to find out how you can get them for the best price during the Daraz Avurudu Waasi sale.
Shop Your Way to Prosperity With Daraz Avurudu Waasi 2022
Are you ready to shop your way to prosperity this Avurudu Season? The Daraz Avurudu Wasi Sale is back, bigger and better! Get ready to steal the biggest bargains with up to 80% OFF on all your favourite brands. With over 5 million products on a single platform, the choices are unlimited! So join in and shop your heart out from the 25th of March Onwards!
Mega Deals, Discount Vouchers and Free Shipping!
Daraz online shopping hits the biggest discounts during the Avurudu Waasi Sale. There are jaw-dropping Mega Deals on products ranging from electronics, fashion, household essentials, sports goods and all other categories of products available on the Daraz App.
If you are shopping for Pet Food And Accessories Online, get up to 15% OFF when you shop with our brand partners Drools, Let's Bite, Eukanuba, Canine Plus, Royal Canin, Blackhawk, Pedigree, Whiskas, OceanFree, Me-O. Furthermore, watch out for free shipping on your favourite pet products.
So, get ready to lower your Avurdu expenses and shop your way to prosperity! Download the Daraz app now and get ready for Daraz Avurudu Wasi.
Without further ado, let's look at Pet Food And Accessories Online that you can get to make your precious little fur babies a part of the Avurdu Celebrations.
Dog Food
Food is as important to a dog's health as it is for all of us. Therefore, your dog's food must provide him with the best nutrition he requires for his body to function properly. Dog food can provide the dog with all the necessary energy to keep chasing those toys to the vast array of nutrients that build up every tissue and keep every cellular activity running.
Therefore when you get your Avurudu groceries, don't forget your pooch. Get him all the dog food he needs to keep fit and healthy throughout the year.
Cat Food
The same goes for your kitties. If you feed your cat too little food or the incorrect type of food, it can significantly affect his health. On the other hand, if you feed him too much, a cat will tend to gain more weight. Therefore, getting him the right type of food in the right amounts might help your cat live a long and healthy life.
Cat Toys
If you want your cat to enjoy a long and happy life, you must keep them indoors. On the other hand, indoor cats require a lot of toys to keep them emotionally and physically engaged. A bored, hyperactive cat may become destructive and end up scratching and destroying things around the household. However, the good news is that you can get them a few toys that will keep them occupied for years to come.
Check out the variety of cat toys available on your Daraz app. Your feline friend is going to be the happiest cat on the block.
Dog Treats
Don't we all just love to see our pooch in absolute joy when we say, "who wants a treat?" Furthermore, there are many more benefits of dog treats. Dog treats and chews may be used to teach your dog new tricks and habits, to hide medicine, to clean your dog's teeth, and improve digestion.
Therefore stack up all of your pooch's favourite dog treats during the Daraz Avurudu Waasi sale to keep him happy and healthy throughout the year.
Dog Shampoo
Keeping your furry friends clean and hygienic is part of a pet parent's responsibility. It's especially important to give regular baths to your dogs. The most common purpose for bathing a dog with healthy skin and a healthy coat is to eliminate an undesirable odour or to remove dirt from their coat. Furthermore, bathing your pooch has several advantages, including washing the skin and coat, removing loose hair, scaley skin, and debris, and improving the look and feel of their coat. Therefore, grab a couple of bottles of dog shampoo during Avurudu Waasi and make sure your pooch stays clean and hygienic.
Dog Accessories
If you are a new dog owner, it is most likely that you need a few accessories for them to easily fit into your family and home. For instance, your dog is going to need a dog leash to go on walks for exercise. In addition, he might require a dog collar and a license in case he gets lost. Furthermore, it would be nice if you could get him a nice bed where he can comfortably rest and nap. Sometimes it can be a hassle to find all the accessories you need around the market. Therefore, if you are looking to get everything you need in one place, get on your Daraz app right now.
Cat and Dog Brushes
It's vital to keep your furry friend's coat looking healthy and well maintained. This is especially true if you own a dog or a cat of good breed. Therefore, brushing their coats regularly can help to keep a healthy coat and reduce shedding. Furthermore, it can help to get rid of fleas and ticks, ensuring the health and hygiene of your precious fur baby.
Hope you were able to decide on a few products that you would want to buy for your adorable pet friends to give them the best lifestyle possible. So get on your Daraz App right meow and shop away for pet products and make them a part of your Avurudu celebrations. If you are on the lookout for toys and games this season, don't forget to check out Best Toys Price in Sri Lanka during Avurudu Season.