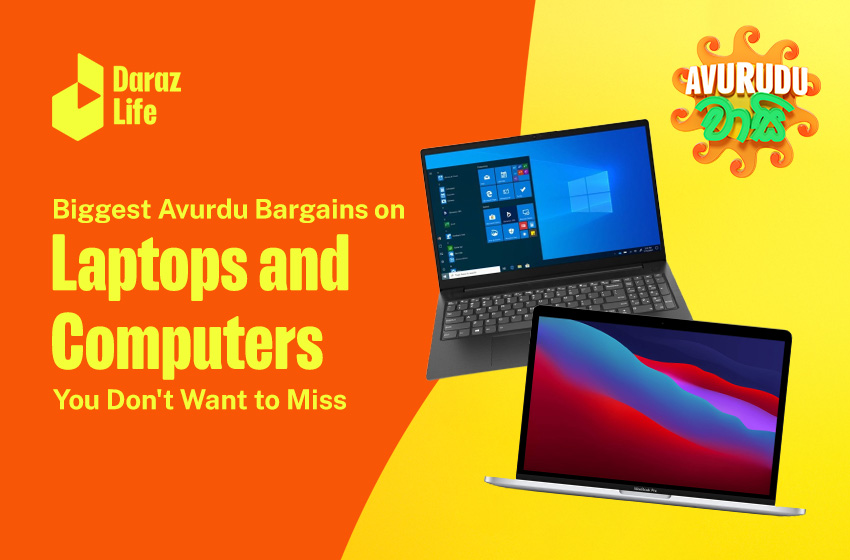 Get The Best Laptop Price in Sri Lanka From Daraz Avurudu Waasi
If you are on the lookout for the best laptop price in Sri Lanka, we have thrilling news for you. Daraz Avurdu Waasi is here, and you can get the best offers in town on laptops, computers and accessories unlike you have seen before.
Are you on the hunt for the best laptop price in Sri Lanka? Then, continue reading to find out what Daraz Avurdu Waasi has to offer.
Shop Your Way to Prosperity With Daraz Avurdu Waasi 2022
Are you ready to shop your way to prosperity this Avurudu Season? The Daraz Avurudu Wasi Sale is back, bigger and better! Get ready to snatch the biggest deals and discounts with up to 80% OFF on all your favourite brands. With over 5 million products on a single platform, the choices are unlimited! So join in on the Avurudu shopping fun from the 25th of March Onwards!
Mega Deals, Discount Vouchers and Free Shipping!
Daraz online shopping hits the biggest discounts during the Avurudu Waasi Sale. There are unbelievable offers, including Mega Deals on products ranging from computers, electronics, fashion, household essentials, sports goods and all other categories of products available on the Daraz App.
If you are looking for the best laptop price in Sri Lanka, we have great news for you! You can get up to 65% OFF when you shop with our brand partners Acer, Apple, Dell, ASUS, Canon, Daraz, Dell, Epson, E-Tel, Fantech, Global Brand, GQ Originals, HP, Huawei, JEDEL, Lenovo, Logitech, MSI, No Brand, Pettah Online Shop, Prime Spot, PROLiNK, Samsung, Techmart52, Transcend, W Premium Accessories, Western Digital, Western Digital (WD), and Xiaomi. Furthermore, collect valuable vouchers, get free shipping and snatch freebie bundles when you purchase laptops during Daraz Avurudu Waasi.
So, get ready to lower your Avurdu expenses and shop your way to prosperity! Download the Daraz app now and shop to your heart's desire from the Daraz Avurudu Wasi sale.
Without further ado, let's look at some brands that offer the best laptop price in Sri Lanka.
Asus Vivobook
The Asus Vivobook is aimed at a younger audience. So if you have kids who are students or if you are a student entering university, this laptop is an ideal pick. Furthermore, this laptop's bold design and amazing features are meant to grab more attention. So you can be the coolest kid in school. In addition, the best part is this laptop is quite affordable compared to most Asus laptops. Another attractive feature of this device is the memory and upgradeability. It comes with 8GB RAM and 512GB SSD, so you can store enough and more assignments files, photos and videos. Therefore if you are on the lookout for a mids range laptop with great features, you should consider getting this during the Daraz Avurudu Waasi sale with a further 12% reduction in price when you pay with your bank card.
MacBook Air
If you are looking for the best MacBook Price in Sri Lanka, get on your Daraz App now. If you are looking for breathtaking bargains on MacBooks you are sure to see them during Daraz Avurudu Waasi with all the Mega Deals, vouchers and additional discounts. MacBook Air is undoubtedly one of the best in the market thanks to its M1 CPU, which provides stunning speed and extended battery life. The new MacBook Air offers practically everything you could desire in an Apple device. T the MacBook Air lasts around 14 hours and 41 minutes, making it one of the longest-lasting laptops available on the market.
With all these features it makes the ideal gaming laptop and the perfect device for graphic designers.
Dell Inspiron 3501
If you are looking for Dell Laptops, we have great news! You can avail the best price in the market on this already Mid-range laptop with an additional bank discount. In addition, you get freebies along with your purchase.
Taking a quick and close look at the Dell Inspiron 3501, this is the best buy for you if you are looking for a budget laptop with great specifications. In addition, the screen is a large 15.6 inches with FHD anti-glare quality. It does exceptionally well when it comes to video conferencing and watching your favourite shows on Netflix or YouTube.
Lenovo Laptops
Lenovo Laptops easily rank among some of the best laptop rankings due to their quality, durability and amazing features. In addition, Lenovo has produced laptops that meet any requirement, let it be business laptops, gaming laptops, or laptops for students.
Lenovo V15 is every laptop user's dream come true. The Lenovo V15's HD display and high resolution of 1920 x 1080 take attractive visuals to the next level with its crisp, sleek, and professional design. In addition, the V15 boasts a full-sized ergonomic keyboard and an easy-to-use number pad. So, your fingertips will glide smoothly on the keyboard like a hot knife through butter, aiding you to type fast and work more efficiently. Furthermore, the V15's 256 GB solid drive and 8 GB RAM will boost your productivity, with ample memory allowing you to save as much data as you desire. Therefore, if you are looking for a laptop to enhance your productivity, the Lenovo V15 is the best bet.
HP Laptops
HP has really raised the bar when it comes to its latest laptop models. Those looking for additional performance will be pleased to learn that HP's newest laptops have been upgraded to Intel's 11th-generation Tiger Lake CPUs, and models like the Spectre x360 14 remain excellent alternatives for easily portable premium laptops. However, if you are on the look for a slim laptop, check out the Elite Dragonfly range of laptops. Additionally, if your main focus is affordability, the HP 15S featured here is one of the best options.
We hope this post helped you decide to invest in an ideal laptop that suits all your needs. If you are on the lookout for cosmetics and beauty care products, don't forget to read Best Skincare and Cosmetic Products Online to Get This Avurudu Season.