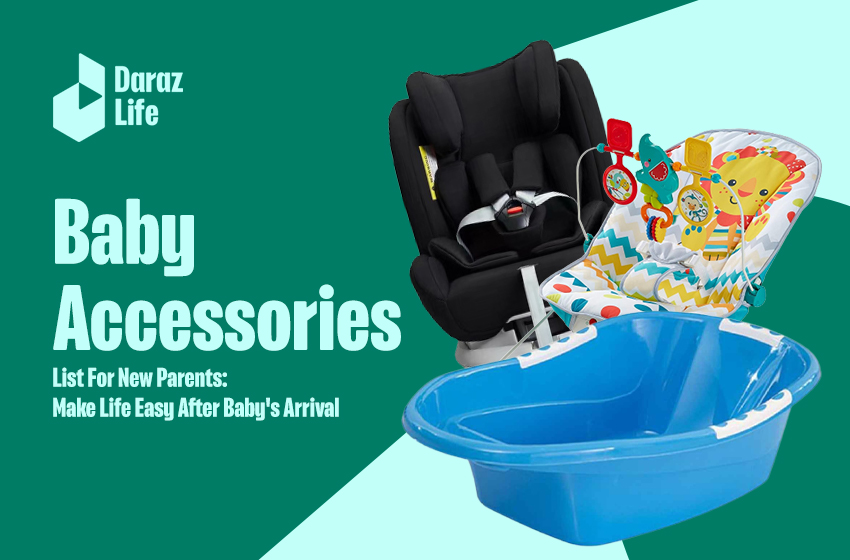 Prepare For Your Baby With This Newborn Baby Items List in Sri Lanka
If you are expecting and looking to put together a newborn baby item list in Sri Lanka, continue reading. We are here to enlighten you on how you can obtain everything you need for your little one through our baby items online shopping guide.
Are you trying to shop for things on a newborn baby items list in Sri Lanka? Baby items online shopping in Sri Lanka might save you ample time and energy!
There's a lot to organize and obtain as your baby's due date approaches. Therefore gathering all of your baby's essentials can be a time-consuming and challenging task. So, use this newborn baby item list in Sri Lanka to figure out what you'll need for the first year of your baby's life and some extra "nice-to-haves." Our checklist covers goods for your baby's nursery, feeding, travelling, bathing necessities, and other useful stuff for new parents.
You'll feel more prepared for the day you get to bring your baby home after you have these items. So, without further ado, let's take a look at the list
Newborn Baby Items List in Sri Lanka
Baby Cot
Baby Stroller
Baby Carrier
Car Seat
Baby Bath Tub
Cot Mobiles
Play Gym
Rattles
Bouncer
Feeding Chair
Breast Pump
Feeding Bottle
Nursery & Play Time
Baby Cot
The cot is always on the top of the list of newborn essentials. In the early days and weeks, your baby will need a secure cot to sleep in. They are sure to sleep for more than half the day, if not more! A baby cot can be costly, but if you select one that transforms into a toddler bed, you can use it for about 3-4 years. When it comes to cots, the safest way is to buy a new cot to assure the comfort and security of your precious little one. Also, make sure the design is sturdy.
Cot Mobile
A bright and colourful cot mobile will keep your little one entertained in the days to come. Make sure you hang it in a place where the baby can see it well but cannot reach it. Furthermore, cot mobiles come in a variety of shapes, forms, and vivid colours. Therefore a cot mobile is a fantastic choice of toy you can get your little one.
Play Gym
Tummy time is beneficial to newborns on a daily basis. A thin, soft play gym mat can be placed on the floor to provide your infant with a place to enjoy a few minutes of tummy time a fair few times a day. Consider getting this play gym which can convert into a portable baby bed. So, you can not only use it for tummy time; you can use it when you take your baby out for a visit to your parents or friends as well.
Bouncer
Baby bouncers are beneficial to parents since they engage your kid for a long period while also providing mental and physical stimulation. Furthermore, it will give your arms a much-needed break. In addition, it's a great accessory to help you get some work done around the house while your little one keeps entertained.
Rattles
Consider getting a baby rattle for your little one because they can assist in the development of a variety of new skills in newborns. For instance, when parents or caregivers raise a rattle, infants may glance at it with their eyes first. Babies learn to visually track or coordinate their eyes together to monitor a moving toy as their parents move the rattle from one side to the next. Many rattles come with moving and twisting parts that can fine-tune your little one's motor skills. Therefore, a rattle is a great item to add to your newborn baby item list.
Feeding
Feeding Bottles
Feeding bottles are an essential item that should go on your newborn checklist. Whether you want to breastfeed or formula feed, a feeding bottle can come in very handy. Consider the size and shape of the nipple while selecting a feeding bottle. You may have to test a few different nipples before finding one your baby prefers.
Breast Pump
If you plan to bottle feed but continue to stick to giving your little one breast milk, a manual or electrical breast pump can be extremely useful. Additionally, if you are getting back to work or leaving your little one for extended periods of time, a breast pump will be very helpful.
Feeding Chair
Your little one will be ready to take solids about six months in. At this point, you would want to introduce him or her to a feeding chair. It's an organized way to teach your little ones to have their meals. Moreover, it's much easier to clean the messes.
Bathing
Baby Bath Tub
Initially, sponge baths are the way to go with your little one until the umbilical cord stump falls off. However, you will soon want a tub for bathing the baby. Just make sure it's designed for newborns or includes a newborn insert to accommodate your infant's tiny size.
Travelling
Stroller
There are a variety of stroller models available, including car seat carrier strollers, travel units, and full-sized strollers, all of which may be used from birth. Before you purchase a stroller, verify that the stroller you want complies with the most recent safety regulations.
Baby Carrier
This device may be really beneficial for keeping your infant close while also allowing you to walk about your hands-free. Baby wraps, slings, and backpacks are among the many types of baby carriers available. You might want to consider the one you are most comfortable with.
We hope this list will come in handy when you are ready to shop for accessories for your baby. Also, check out our post For New Moms: Baby Product Supplies and Life Hacks.