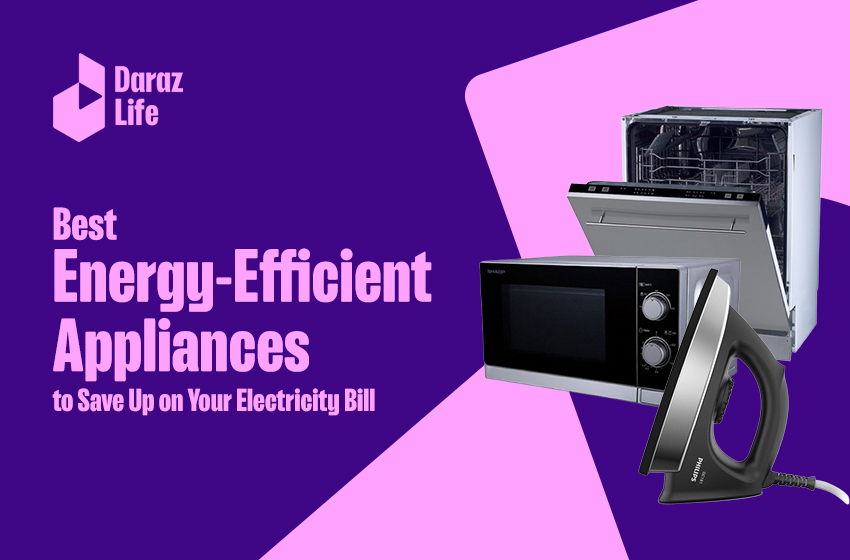 Appliances That Reduce Household Electricity Consumption in Sri Lanka
If you are thinking of getting the most effective appliances to reduce household electricity consumption in Sri Lanka, you're in the right place. In this post, we take a look at some energy-efficient appliances that will help you save up on your electricity bills.
Are you wondering how to reduce household electricity consumption in Sri Lanka to lower your electricity bills? Ahead, we have listed some of the best energy-efficient appliances along with tips and tricks to manage your electricity bill effectively.
Energy Efficient Appliances Benefits
Saving electricity is becoming more and more of an essential factor considering the present-day situation in the country. However, the initial investment in these appliances might be more. Yet, it's a better investment than spending on extravagant and uneconomical electronics that cost you more money in the long term.
Furthermore, energy-efficient technologies are necessary for improving your quality of life. They are simpler, and additionally, they make your life easier. Some of these household appliances will hardly ever need a replacement or maintenance. Hence, you can be assured that they will help you save more.
Let's take a look at a few energy-efficient appliances that will help you reduce household electricity consumption in Sri Lanka.
Front Loading Washing Machine
A new washing machine is a long-term investment. Therefore, go for an energy-efficient one when it's time to replace your old washer. It will save you money in the long run.
The most effective approach to lower your energy expenses is to switch from a top-loading to a front-loading washing machine. It is possible to save up to 60% on electricity and water with a front loader. The way you operate your washing machine has an impact on how much energy it uses. For example, Making sure you only wash when you have a full load in the basket can save energy and your time as well. In addition, soak soiled garments overnight so that a cold wash can restore their appearance.
The Samsung AdWash front loader featured here is an excellent option if you are seeking to save up on electricity. The best part is it comes with an AdWash door to insert your forgotten laundry into the washing cycle. Therefore it can save you the trouble of doing two loads in case you forget to add a piece of laundry.
Fans
With the warm tropical climate in Sri Lanka, it's extremely difficult to survive without some form of cooling. If you are aiming to save up on your electricity bills, it's much wiser to use fans instead of air conditioners. They usually tend to use a fraction of the electricity compared to what's required for an air conditioner to function. Furthermore, if you opt for a pedestal fan or table fan, you have the advantage of being able to carry them around to whichever area of the house you occupy. Therefore, if you don't have a pedestal fan, now would be a great time to invest in one.
Inverter Refrigerator
The amount of time you keep the refrigerator open adds up significantly to your electricity bill. Now tally up all the times the fridge is open or left open by accident during the day. This is where an inverter refrigerator can make a difference. Inverter refrigerators are used to reduce excessive electricity consumption.
Therefore, if you are looking at the option of an energy-saving refrigerator in Sri Lanka, we highly recommend you invest in an inverter refrigerator. When compared to regular refrigerators, inverter refrigerators save a significant amount of electricity. Traditional refrigerators are superfluous in their use of electricity and demand a significant amount of it too. Furthermore, the inverter refrigerator maintains the correct temperature in the fridge without wasting too much energy. So, in other words, it can lower your electricity bill by efficient use of electricity. If you find it not affordable at the moment, you can always opt for instalment payments.
Pressure Cooker
Pressure cookers may help you save both money and time because a pressure cooker releases less steam than a standard saucepan. Therefore, it may save up to 70% on energy, lowering electricity bills. Furthermore, it reduces carbon emissions as well. Therefore if you are debating between getting a pressure cooker or an induction cooker, you should definitely go for a pressure cooker.
Microwave
Microwave ovens consume 80% less energy than traditional ovens. Additionally, a microwave can cook food much faster. This means they consume less energy in comparison to conventional ovens. Furthermore, it produces less heat in your kitchen, in addition to conserving electricity. However, microwaves can't cook all food types. But, it's a great appliance if you want to re-heat small portions of food, defrost or cook small quantities of food.
Dry Iron Instead of Steam Iron
The rule of thumb is to iron all clothes in one go when it comes to ironing. That is one of the best ways to save up on electricity costs. Also, make sure you keep the iron's surface upright when using the appliance. If you are planning on saving electricity, the best iron to use would be a dry iron with a higher power capacity.
The Philips 1000 Watt dry iron featured here is an ideal option if you are looking to save electricity. The 1000 W power capacity enables faster heating and distributes heat evenly across the surface. Furthermore, it has an ergonomic design and is built to last for a long time.
We hope this blog helps you in choosing the most energy-efficient electronic appliances that will help to lower your electricity bills. If you are shopping for electronic appliances, don't forget to read our blog Best Home Appliances Price in Sri Lanka Under Rs. 25,000.