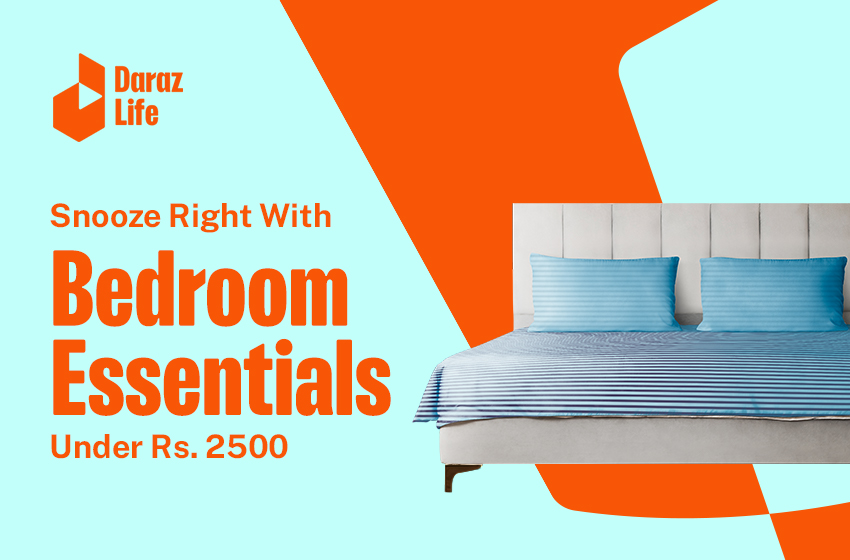 Snooze Right With Affordable Bedroom Items Under Rs. 2500
If you are shopping for bedroom items, you are in the right place at the right time. In today's blog, we are featuring affordable bedroom essentials under Rs. 2500. So, continue reading to save big on bedding and bath products for an inexpensive but attractive bedroom design.
Are you in search of affordable bedroom items? Ahead, we have listed several things you can get under Rs. 2500 to suit your bedroom design. Furthermore, you can get all your favorite bedding and bath products from Daraz Savings Sathiya at discounted prices.
Daraz Savings Sathiya
Are you tired of standing in queues to get your essential needs? Get ready to grab the lowest prices on everything you need, all in one place. Daraz Saving Sathiya goes live on the 25th of May, so get ready to shop to your heart's desire and save big with up to 60% off on all your favourite brands.
If you are shopping for bedding and bath products, you can save up to 50% OFF from your favorite brands Celcius, The Bedsheet Factory, Southern Smart, Linberry, Halcyon, Mirani Mosquito Net, and Gentelle. Furthermore, there will be Free Shipping! Also, don't forget to collect those discount vouchers to save big during Savings Sathiya.
So, get on your Daraz App and shop for everything you want to buy at discounted prices. Without further ado, let's take a look at quality bedroom essentials you can buy for under Rs. 2500.
Pillows
When you shop for bedroom essentials, pillows are one of the first things you need to acquire. A comfortable pillow can do wonders for your sleep. The wrong pillow can result in you waking up in the middle of the night in discomfort. Furthermore, a pillow that doesn't hold a person's neck and spine in a neutral position can cause back and neck pain. If you are concerned about the price of the quality pillows in the market, the Savings Sathiya is your chance to grab amazing discounts on pillows.
Handloom Bedsheets
If you are looking to add a bit of colour and comfort to your bedroom, handloom bed sheets are an ideal option. They are also durable, allowing you to use them for a very long time. Furthermore, handloom bedsheets are an ideal choice for warmer climates. Moreover, they are quite affordable and come in a range of colors. You can choose the color that matches the rest of your bedroom design.
Bedsheets For Children
Decorating your child's bedroom can be a bit of a challenging task. First, it has to look attractive to suit your child's preference. In addition, the bedding has to be comfortable to ensure that your child gets a goodnight's rest. Furthermore, if you are decorating your child's bedroom design on a budget, you will have to be smart about your purchases. So, if you are in the process of setting up your child's bedroom, we have great news! Daraz Savings Sathiya offers a variety of discounts on many bedding and bath products. You can get an additional 10% off on bank cards. This allows you to purchase all the favourite products you need for your little one's room at a very reasonable price.
Mosquito Nets
Due to the tropical climate, mosquito-borne diseases exist year around Sri Lanka. Therefore it is essential to protect ourselves and our children from these diseases. The most effective way to protect yourself from mosquitoes is by using a mosquito net. There are other solutions in the market, such as mosquito coils and mosquito vaporizers. However, these can have adverse health effects in the long run. Hence, the best you can do to protect yourself and your loved ones from mosquito-borne diseases is to invest in a mosquito net. If you are looking to buy mosquito nets, make the most of the Savings Sathiya sale and get the best mosquito net that suits your needs.
Pillow Cases
Pillow coverings or pillow covers are essential for protecting and preserving the contents of a pillow. A pillow cover serves the same purpose as bedsheets in terms of protecting and keeping the pillows clean. In addition, they also keep you from lying directly on the pillow stuffing, which can trigger allergies in certain people. They assist you in resting comfortably during your slumber. Therefore if you are searching for pillow covers of quality material, check out what's available on the Daraz App. We can assure you that you will definitely find pillowcases that match your other bedroom décor. Also, you can rest easy knowing that your pillow's exterior is protected and will last for a long time.
Throw Pillows
Throw pillows are generally used to add a finishing touch to bedroom decor. They may connect a color scheme together that can create visual intrigue. In addition, throw pillows are ideal for adding a refreshing look to your bedroom without spending a lot of money. So, if you want to spice up the look of your bedroom simply get on your Daraz App and order a few throw pillows at reasonable prices. Keep an eye out for Free Shipping and get everything you need with zero shipping cost.
Hope this shopping guide was helpful for you in selecting bedroom items at the lowest prices. If you are shopping for more bedroom essentials, check out our blog 7 Bedroom Essentials to Shop on Daraz Mall.