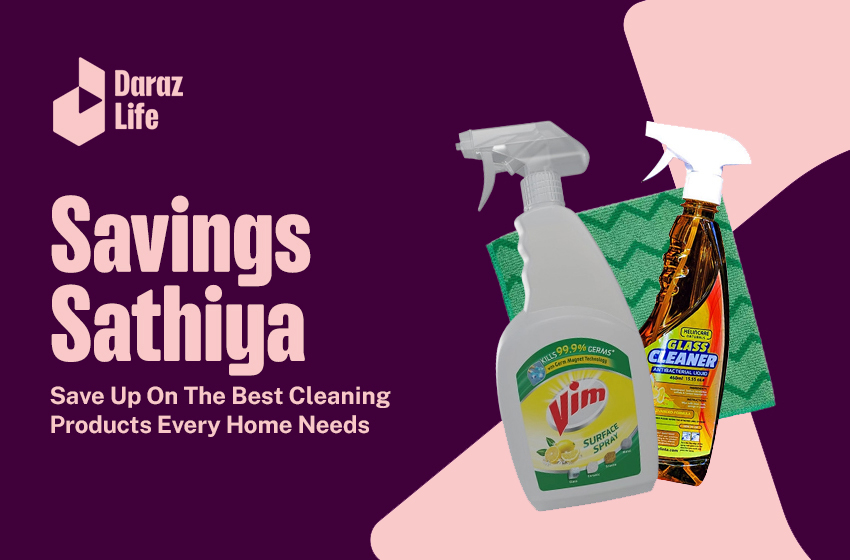 Save Up On The Best Cleaning Products in Sri Lanka Every Home Needs
Cleaning products in Sri Lanka are essential items for every household or office space. Therefore, we have listed some cleaning tools and cleaning agents that you can buy at the lowest prices on the market.
Are you shopping for cleaning products in Sri Lanka? Continue reading to find out how you can avail yourself of the best discounts during Daraz Savings Sathiya on cleaning products.
Daraz Savings Sathiya
Do you feel like Rs. 5000 cannot buy much in the present-day situation? We are here to tell you otherwise. Shop on Daraz Savings Sathiya from the 25th of May to get up to 60% OFF on over 5 million products. It's one sale where you can get Lowest Prices on Everything You Need in One Place. Also, switch on the notifications on your Daraz App to get prompted during massive price drops, free shipping and other bargains.
Furthermore, we have several banks on board. So, you can get up to 10% OFF when you shop with your bank card. Make sure you collect the bank voucher before you checkout.
If you are shopping for home cleaning and organizing products, browse through Jeewa Plastic Products, Lanka Tiles PLC, and Whiteline Industries Colombo Pvt Ltd. Also, you can get up to 50% off and Free shipping when you shop with these sellers. Furthermore, make use of discount vouchers and grab Free Gifts when you shop during the Daraz Savings Sathiya.
So without further ado, let's take a look at how you can save big on the cleaning products list for your home.
List of Essential Cleaning Products For Every Household
Brooms
A broom is necessary for every home to clean hard surfaces such as tile, wooden floors and concrete surfaces. Furthermore, brooms are made specifically for cleaning both indoor and outdoor areas. There are different types of brooms available in the market. Brooms should be designed in such a way that they do not strain your back. In addition, they should be free of dust and have the maximum mechanical advantage to reach and clean dirt and dust in all corners of the home. Most of all, they have to be cost-effective. Also, broom bristles should be flexible so that you can reach corners with little effort. Go over the options available on your Daraz app and get the broom that best fits your requirements at the lowest prices.
Mops
We used to clean our floors with our hands way back in the day. However, mops are now often used, making life considerably easier. Just like brooms, there are different types of mops. For instance, there are flat mops, dust mops, string mops, and steam mops. Every kind of mop approaches the cleaning function in different ways. Depending on the space you need to clean regularly, you can choose the mop that fits your requirement.
Mop Bucket
If you are getting a mop, then it's best to buy a mop bucket alongside the mop purchase. It makes life so much easier than using a normal bucket for the purpose. Most mop buckets have a space to drain the mop before you clean a surface. This way, you do not have to go through the trouble of draining the mop manually. So, if you are buying a mop, make sure you get a mop bucket as well.
Tile Cleaners
If you are on the lookout for tile cleaning products in Sri Lanka, you are at the right place. Daraz offers unbeatable discounts on a range of tile cleaning detergents. Therefore, you can choose the best one you prefer at the lowest price in the market.
Dust Cleaner
Polyester and nylon are the most common materials used in dust cleaner cloths. In addition, unlike cotton, Microfiber dust cleaners are the ideal choice for dusting because they can catch and keep a lot of dust. Also, towels are ideal for cleaning any surface without leaving scratches or marks.
Surface Cleaner
Surface cleaners serve to clean several different types of surfaces ranging from tiles and concrete to wooden decks and pool decks. You can use it in any task which involves cleaning within your household. Many brands offer surface cleaner liquids. So, browse through what's available on the Daraz app and check the reviews to see which surface cleaner does the best job.
Glass Cleaner
Glass cleaners are specialized cleaning substances for cleaning and washing glasses in the household. They work on more than just glass surfaces. Glass cleaners are solvents that may be sprayed or wiped on a range of surfaces, including laminates, car dashboards, and appliance surfaces. A glass cleaner's main function is to loosen and dissolve greasy stains on the glass while drying rapidly and without leaving streaks on the surface.
Drainage Cleaner
If you have experienced an overflowing sink or a drain, you probably realize how important drainage cleaners are in a household. We tend to wash down so much dirt and grime down our sinks and drains that there comes the point when they accumulate. That's when drainage cleaners come to the rescue. They contain chemicals that can break down the accumulated content in sinks and drains. Therefore, get yourself a drainage cleaner because you will never know when it will come in handy.
Bathroom Brush
Some cleaning tools get the job done better than others. If you are looking to scrub the floors of a bathroom, the best tool to do the job is the bathroom brush. A drop of surface cleaner and a quick scrub with a bathroom brush will leave your bathroom looking squeaky clean in no time.
Squeegee Wiper
A squeegee can be used to remove or control the flow of liquid within a surface, whether it's the floor in your living room or bathroom floor. Once you wash away any surface, it's the ideal tool to remove excess liquid.
Toilet Brush
When discussing toilet cleaning products in Sri Lanka, the toilet brush is one tool that you cannot avoid talking about. It's an essential item to clean the upper area and around the toilet bowl.
Hope this list of household cleaning essentials helps you decide which products to acquire to level up your spring cleaning game. If you are looking to upgrade your bedroom, take a look at our blog Snooze Right With Affordable Bedroom Items Under Rs. 2500.