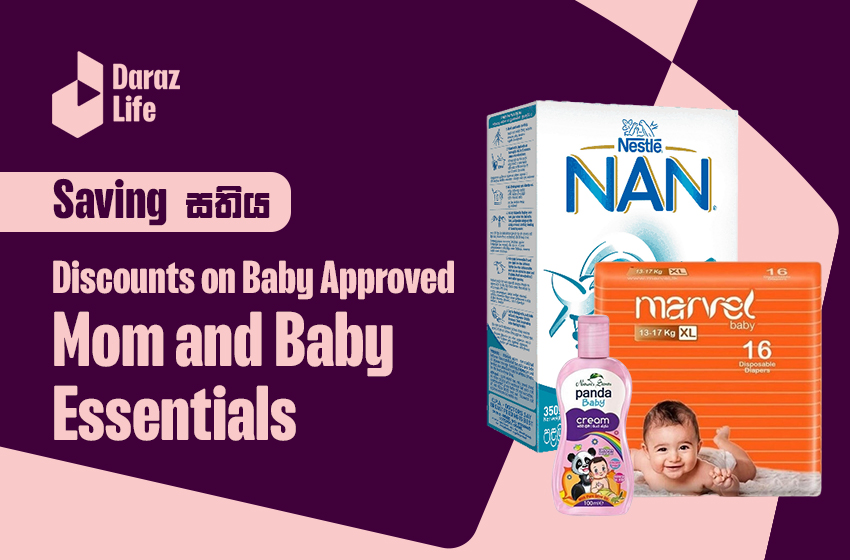 Best Discounts on Online Baby Products in Sri Lanka
Online baby products in Sri Lanka are in popular demand because of the ease of access and home delivery. So, if you are shopping for baby products in Sri Lanka, you are at the right place. We have curated a shopping guide with the best mom and baby products available in the market at discounted prices.
Are you shopping for online baby products in Sri Lanka? Then, continue reading to find out how you can save big while going on an adventure of baby products online shopping in Sri Lanka at Daraz Savings Sathiya.
Daraz Savings Sathiya Discounts on Online Baby Products in Sri Lanka
Do you feel like Rs. 5000 cannot buy much in the present-day situation? Grab the lowest prices and the best discounts on baby products online Sri Lanka during Daraz Savings Sathiya. Shop on Daraz Savings Sathiya from the 25th of May to get up to 60% OFF on over 5 million products. It's one sale where you can get Lowest Prices on Everything You Need in One Place. Also, switch on the notifications on your Daraz App to get prompted during massive price drops, free shipping and other bargains.
We also have a number of banks on board. As a result, when you shop using your bank card, you can save up to 10%. Before you check out, make sure you collect your bank voucher.
If you are shopping for mom and baby products, browse through Marvel Diapers, Panda Baby, Baby Cheramy, and Pears. Also, you can get up to 20% off and Free shipping when you shop with these sellers. Furthermore, use discount vouchers when you shop online during the Daraz Savings Sathiya.
Without further ado, let's dive into our shopping guide so you can start to create a list of all the baby essentials you need for the next couple of months.
Diapers
You already know that diapers are a lifesaver if you are a mom. Disposable diapers absorb the moisture when babies excrete, and therefore they don't become immediately fussy because its damp. It's a real advantage when you travel with your baby or want them to sleep through the night. However, due to the current situation in the country, the prices of diapers have increased significantly. So, make the most of Savings Sathiya and stack up on diapers for the next couple of weeks or months.
Wipes
Baby wipes serve more than one purpose. They are not only gentle on the baby's bottom; they also make perfect makeup removers. In addition, you can use them to clean up spills and other little accidents that happen around in the household. However, the main use of wipes is to make sure that your baby gets a healthy and hygienic clean during diaper changes. Most wipes have the correct pH balance to ensure that it's mild on the baby's soft skin while it does the job. Furthermore, these are great when you go out or travel with your little one. So, stack up on baby wipes while they are at discounted prices.
Baby Shampoo
Babies' skins are gentle. Therefore, we need to use delicate products on their skins. So, it's highly recommended that you use baby shampoo from day one till the end of their toddler years. Check out the range of baby shampoos available on Daraz to take advantage of the lowest prices.
Baby Lotion
When your baby is young, it's important to protect their skin's moisture to prevent dry skin and peeling. Panda baby products are one of the latest introductions from Nature's Secret. They use natural ingredients to make the mildest baby toiletries. Get discounted prices on Panda baby and other local baby products when your show during Daraz Wasi Sathiya.
Baby Cologne
The beautiful smell of a baby is one of the biggest joys parents cherish in their first years of life. Keep your little one smelling fresh all day long with baby cologne. Pears baby products have introduced some appealing fragrances that you must try on your bundle of joy. The best part is you can get amazing offers on Pears baby products range when you shop on Daraz this week.
Baby Formula
Whether you're a breastfeeder or formula feeder mommy, it's always good to keep a pack of formula on the side. You might have to use it in the most unexpected of times under unexpected circumstances. Furthermore, if you leave your baby for a little while with someone else, it's always good to have formula back up.
Baby Strollers
If you are searching for reasonably priced baby strollers in the market, the first place you should check is your Daraz app. Daraz offers the biggest discounts and the lowest prices on mother and baby products. In addition, you get a large assortment of baby products online in Sri Lanka in one place.
Diaper Bags
When taking your little one on doctor's visits and short travels, a diaper bag always comes in handy. Make sure you pick a bag with compartments for feeding bottles to prevent spills.
Play Pens
When you're a mom, multitasking becomes a way of life. However, it's not the easiest to do when you have a crawling baby around the house. Nevertheless, the cooking and laundry have to be taken care of. So, get a playpen during Savings Sathiya at discounted rates and keep your baby occupied with toys while you tend to the household chores.
We hope this shopping guide helps you to save big when you shop for all your mother and baby products. If you are looking for furniture for your home, then check out our blog Best Furniture in Sri Lanka at Unbeatable Prices During Savings Sathiya