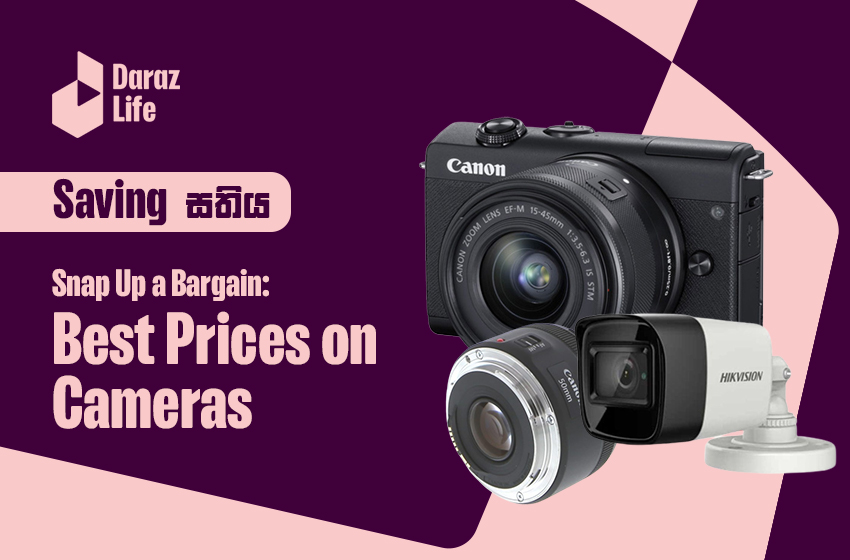 Best Camera Price in Sri Lanka From Savings Sathiya
With the rise in the cost of everything, photography enthusiasts seek the lowest camera price in Sri Lanka. So, if you are keeping an eye out for a bargain on cameras, we have great news for you!
Are you searching for the best camera price in Sri Lanka? Continue reading to discover how you can get the best deals and discounts on cameras during Daraz Savings Sathiya.
Discounts on Camera and Accessories During Savings Sathiya
Do you feel like this is not the best time to invest in a camera? We are here to tell you otherwise. Don't wait to pursue your passions later because of a financial crisis. Shop on Daraz Savings Sathiya from the 25th of May to get up to 60% OFF on over 5 million products. It's one sale where you can get Lowest Prices on Everything You Need in One Place. Also, switch on the notifications on your Daraz App to get prompted during massive price drops, free shipping, and other bargains.
We also have a number of banks on board. As a result, you can save up to 10% when you shop using your bank card. Before you check out, make sure you collect your bank voucher.
If you are looking for the best camera price in Sri Lanka check out GoPro, Canon, GVTECH, SONY, Xiaomi, HIKVISION, Ezviz, Dahua, Godox, Nikon, RPG, YTE, DJI, EKEN, SJCAM, Baseus, Andbon, and Fujifilm on Daraz Mall.
Get up to 20% Off when you shop cameras during Savings Sathiya. Additionally, you can get Free Shipping and Discount vouchers so you can save more.
So, let's take a look at our Savings Sathiya buying guide on cameras.
Canon Cameras
Canon has a widespread reputation among professional photographers and photography enthusiasts. They offer some of the finest cameras available on the market. If you are looking for a Canon 80d price in Sri Lanka or a DSLR check out the Canon store on Daraz Mall. You will be surprised at the deals and discounts available during Savings Sathiya.
Security Cameras
With robberies on the rise throughout the country, this is an ideal time to invest in a security camera. So, if you are wondering what the Hikvision camera price in Sri Lanka is, we assure you that you can get the best price in the market on Daraz during Savings Sathiya. Also, don't forget to check out Ezviz, and Dahua stores on your Daraz App to get discounts and offers on security cameras.
GoPro Cameras
GoPro is a popular brand that encourages anyone to record every minute of their life! Content makers use these primarily. It's also a go-to choice among travellers and adventure seekers, as it eliminates the need to bring traditional cameras with them everywhere they go. If you are looking for Go Pro Hero 10 or Go Pro Hero 9 or simply the best go pro price in Sri Lanka, take a look at what's available on Daraz during Savings Sathiya.
Nikon Cameras
Nikon is one of the best brands you can rely on If you are looking for a camera that fits any situation. Many professional photographers carry the best Nikon Cameras. Furthermore, their cameras offer optimal image quality and fast performance on top of many other fantastic features. Therefore, if you have been aiming to buy a Nikon Camera, check out the Nikon page on Daraz Mall.
Dash Cameras
If you are someone who absolutely loves your car, it's definitely a worthy investment to purchase a Dash Camera. Dash cameras can record car accidents. Also, it can be beneficial in cases where they need to serve as evidence in hit-and-run scenarios. Additionally, it's helpful to get a view and avoid accidents if pedestrians or cyclists are too close to your vehicle.
Drones
When Drones were first introduced to the market, the world saw an altogether new angle of shooting video footage. Drone technology is used for everything from weather forecasting to aerial photography and archaeological excavations. Additionally, it's a new and amazing way of capturing footage during your adventurous travel. If you are looking for the best drone price in Sri Lanka, then get on your Daraz app and shop from the Savings Sathiya.
Camera Lenses
The lens is the most important piece of the camera. The lens controls several determining factors when taking quality photographs. Therefore, it's essential to have a quality lens for your camera. If you are shopping for camera lenses, you can wander through the assortment of available options on Daraz. If you shop during Savings Sathiya, you might be able to save the most with the available discount vouchers.
We hope our camera buying guide will assist you in snapping up a bargain on cameras during Daraz Savings Sathiya. If you are shopping for groceries, don't forget to check out Unbeatable Deals When You Buy Groceries Online