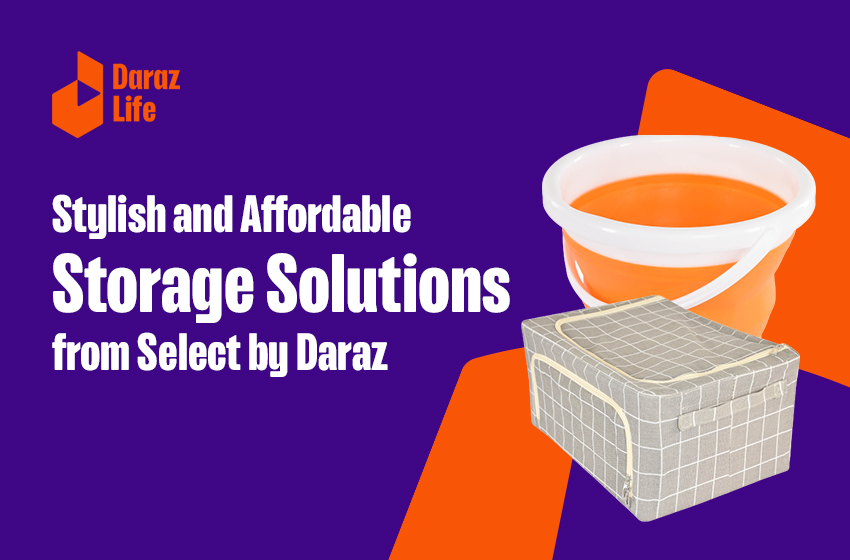 Stylish and Affordable Storage Solutions from Select by Daraz
If you are looking for stylish yet affordable storage solutions, you are in the right place. Cleaning up and organizing the spaces you live in is like a daily ritual for many. However, the effort to organize everything without the right tools at hand is never a pleasant experience. But that's where the storage solutions from Select by Daraz come to the rescue.
Select by Daraz offers affordable lifestyle solutions ranging from fashionable clothing, bath and bedding essentials, and footwear. It's a creative lifestyle brand that inspires you to embrace #yourownway. Select recently launched a range of trendy storage and organizational items at the best market price, and this range will be a game-changer in your day-to-day cleaning and organizing projects.
These quality products are lightweight and durable, making them easily portable, whilst offering you great value for money. Also, you can rest easy knowing that you are doing your part in saving the environment because all these storage products are eco-friendly and do not contain harmful materials to the environment.
Without further ado, let's take a look at a few storage options available on the Select brand page on Daraz.
Kitchen & Pantry Storage Boxes
Divide and conquer the storage space available in your kitchen or the pantry. An air-tight storage box such as the one featured here is ideal for storing dry rations, snacks, or spices. Also, you can use these boxes to store food items in your fridge in a more systematic manner. Furthermore, it makes a stylish addition to any plain kitchen or pantry.
Linen Storage Box
Do you have a stack of bed linen and bath towels and are not sure of how to store them without the entire lot toppling down your cupboard? In that case, you are in luck because the Linen storage box is the answer. Stack up the bed linen and towels in this container, and they will be neatly in place, in exactly the way you fold and store them.
Collapsible Bucket
If you are trying to maximize the space available in your home, a collapsible bucket will be an ideal addition to your household. This durable and eco-friendly bucket is collapsible, making it easier to store anywhere. You can use it for many chores, whether it is gardening, car washing, laundry, or any other undertaking that involves water.
Wall Storage Organizer
Sometimes when an area is overcrowded and cluttered, it's a nightmare to find what you need, when you need it. However, that need not be an issue anymore when you can use a functional and stylish wall storage organizer like the one featured above. You can place this storage unit next to your washing machine, next to the kitchen sink, or even the shower area in your bathroom. Additionally, you can easily mount it on the wall, saving up more space.
Laundry Basket
Are you on the lookout for a stylish laundry basket that is conveniently portable and doesn't take up too much space? This laundry basket from Select ticks all those boxes. It is lightweight, stylish, and fits any small corner of a room.
There are tons of organizing products on the market, which might at times feel overwhelming when you try to choose what you need. However, if you're looking for high-quality products that give you the best value for money and help you organize and de-clutter your area, we recommend you start your search at Select by Daraz. Also, stand a chance to avail of discounts during seasonal sales. So, get on your Daraz app today because the storage and organizing solution that you have been waiting for is just one click away. Happy shopping!