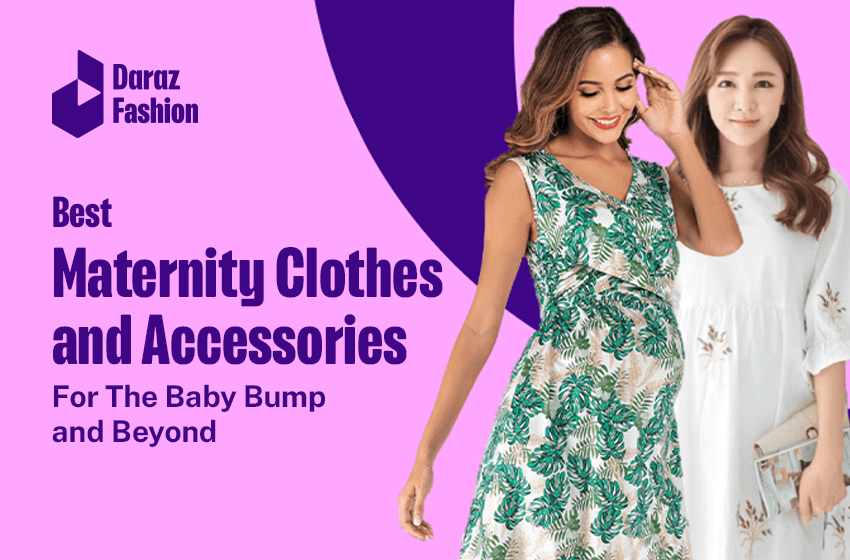 Best Maternity Clothes Online Sri Lanka Delivered to Your Doorstep
It's super convenient to shop for maternity clothes online in Sri Lanka rather than drive all the way to a store. So, continue reading if you are looking to buy maternity dresses and other accessories to get you through the baby bump and beyond.
Are you shopping for maternity clothes online Sri Lanka? Ahead we have listed some of the essential maternity clothes and accessories that you can easily buy with just a tap of a finger.
Maternity Clothes Online Sri Lanka
Most of us don't get too excited about shopping for maternity clothes. This is because it's a challenge to find attractive outfits which are also comfortable at the same time. However, you don't have to settle for unflattering baggy-looking outfits anymore in this day and age. There are a variety of styles and designs available for the expecting moms and moms who have just given birth.
When you shop for maternity clothing, it all comes down to comfort and individual preference. Some ladies becoming moms for the first time might not even need to get maternity outfits until the third trimester. Others might even have a wardrobe full of outfits that stretch well until delivery. However, some ladies experience a transformation in shape and size. In such instances, they require to buy new outfits as per the requirement. In addition, there are other accessories like postpartum underwear that help make the journey after childbirth as smooth as possible.
So, without further ado, let's take a look at some of the maternity clothes online Sri Lanka that is available through Daraz Fashion.
Short Maternity Dresses
Take your baby bump to new heights in fashion with cute and short maternity dresses. These are quite versatile; you can style and accessorize them in many ways. If you have a sleeveless short maternity dress, you can always pair it with one of your favourite cardigans. Another style tip is to pick short dresses with cute prints such as floral designs. Short maternity dresses are ideal for parties and get-togethers. So, buy a short dress and you can continue to look fashionable during your pregnancy.
Long Maternity Frocks
A form-fitting maxi dress can always make you feel more confident and less frumpy when the shape of your body changes during pregnancy. Make sure you choose a comfortable fabric as pregnancy is a time period when you want to feel physically comfortable as possible. Furthermore, a long maternity dress will never fail you if you have a party or event requiring you to be elegantly dressed.
Maternity Party Dresses
Finding the perfect dress for a party can be slightly challenging when your tummy starts to get out of control in the second and third trimesters. Not to mention the ever surging hormones make you moody and frown at certain fabrics and colors. However, when you choose a party dress, you need to find something that is fashionable and appropriate for the occasion. Therefore, if you are trying to find a maternity dress for a party, we recommend you go with a baby doll dress or a shift dress. Both are comfortable and attractive choices. Also, choosing a comfortable fabric like cotton will ensure that you stay cozy throughout the event.
Maternity Photoshoot Dresses
Pregnancy is something to be celebrated regardless of the downsides like mood swings and swollen ankles. The truth is as hard as pregnancy might be, there is something magical about a little human growing inside of you. Therefore it is totally worth it to document the change in your body with a maternity photo shoot. If you are searching for a maternity photoshoot dress online, get on your Daraz app, and you are sure to find a dress that ticks all the boxes.
Loose Blouses
Your body goes through some drastic changes from the first trimester to the third trimester. Therefore, we cannot emphasize enough the importance of wearing loose-fitting clothing. When you have nausea and vomiting in the first trimester, it's not the smartest thing to wear tight and uncomfortable outfits. Hence you might want to opt for loose but fashionable blouses during your pregnancy. The good news is there are so many stylish designs and colors you can choose from when you shop online. So, pick out a few fashionable loose blouses, and don't let pregnancy get in the way of you making a fashion statement.
Maternity Leggings
Comfort is everything during the entire period of pregnancy. That's why leggings become your best friend while carrying that baby bump for nine months or more. Whether you are working from home or going for a quick walk, leggings are one of the comfiest options out there. Also, the good thing about leggings is they stretch.
However, you might have to switch to maternity leggings towards the end of the second trimester. The good news is you do not have to drive around from one shop to another looking for maternity leggings. Instead, you can get on your Daraz app and order the perfect pair of leggings and get them at your doorstep.
Maternity Panties
The maternity panties are specifically designed to provide pregnant ladies with maximum comfort. They are customized with the pregnant body in mind, therefore allowing for more flexibility and stretching. In addition, they provide the optimum support you require during your pregnancy. So, if you are at the beginning of your pregnancy, it's highly recommended that you get maternity panties that will support you to carry that bump easily.
Nursing Bras
The traditional bras with the underwire are not recommended during pregnancy and nursing stages. In other words, you are going to require a bra that can handle the changes in the breasts you undergo during pregnancy and after. Maternity bras can not only provide support to your breasts during the pregnancy; they also provide optimum comfort. Furthermore, they come with cups that clip down or fold down, which makes nursing your baby so much easier.
We hope this shopping guide was helpful for you in deciding on what clothes to get during your pregnancy. If you are looking to buy a bra, we recommend you check out Types Of Bras All Women Should Know About.