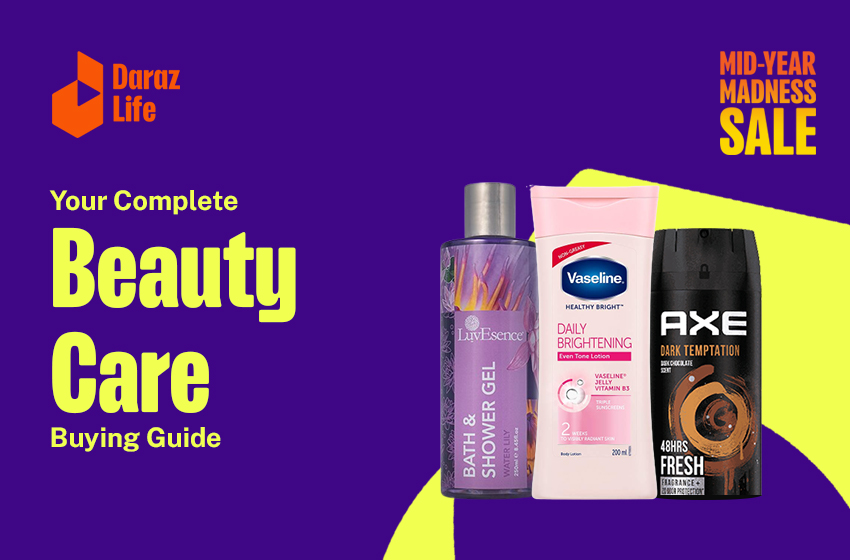 Your Complete Beauty Care Products Buying Guide
If you are shopping for beauty products, we have your complete beauty care buying guide right here. So, continue reading to discover everything you need from skincare, haircare, makeup, and more.
Are you shopping for beauty products online? Ahead we have listed a beauty care buying guide that includes items with discounted prices for your convenience.
Daraz Mid-Year Madness: Up To 35% Off on Health & Beauty Products
It's time to shop till you go crazy with Daraz Mid-Year Madness starting on the 26th of July! Get ready to steal the biggest bargains with 50 Million in savings across 5 million products, including all your favourite brands. Get up to 35% Off on your favourite beauty care items from Dove, Tresemme, Ponds, Rexona, Vaseline, St.Ives, Axe, Pears, Janet, Nature's secret, Panda Baby, Champion, Revlon, and Luvessence. Furthermore, get free shipping, collectible discount vouchers, and other giveaways when you shop from these brands.
Get genuine products for the lowest prices when you shop at Daraz Mall. Furthermore, Daraz Mall has more than 450 brands on board. You can get 100% authentic products with Faster Delivery and a 14-day easy return policy.

So, download your Daraz app and get ready to shop deals that will drive you crazy!
Makeup
One of the most significant aspects of your total makeup composition is your face makeup. Several makeup options are accessible online from your favourite brands like Janet and Revlon. You can select the best makeup products depending on your skin type and budget.
Eye Makeup
Eye makeup is a must-have element in every woman's cosmetic bag. Applying the right makeup to your eyes is a simple and effective way to glam up even the most basic outfit and look attractive without trying too hard. Therefore, if you are looking for a good bargain on eye makeup, get on your Daraz App starting the 26th of July and watch out for amazing deals and discounts on mascara, eye shadow, eyeliner, and much more.
Lip Care
Chapped and dry lips are not a pretty sight. Therefore, lip balm is a great product to have on hand. A good lip balm can soften and moisturize your lips. Janet lip balm is a popular choice among many because of its high quality and low price. It's also a great product to use for cracked and dry lips. Also, if you are looking for lipstick, lip gloss, and lip liner, we guarantee you will find the lowest price in the market during the Mid-Year Madness sale.
Hair Care
Developing a healthy hair care routine can provide excellent benefits. Therefore, it's vital to choose the appropriate hair care products that suit your hair type. Do you find it difficult to keep healthy-looking hair since professional hair care products are expensive? Daraz Mart now offers high-quality hair products at extremely low prices. The best thing is, that you can obtain all the necessary products for your hair care requirements in one place with just a few clicks.
Ladies Deodorant
You may seem perfectly well-groomed and look drop-dead gorgeous, but if you have a bad body odor, people will avoid you or make harsh remarks about how horrible you smell. So, to prevent that awkward scenario, use a deodorant that will solve all of your body odor problems.
Mens Deodorant
Body odor is a common foe of both men and women. Some guys assume that their sweat does not smell as bad as everyone else's, but if you ask their partner or anybody else at the gym, you'll likely receive a different opinion. Furthermore, we tend to sweat more because we live in a tropical climate. As a result, you are strongly advised to incorporate a deodorant into your daily routine.
Skincare
Body lotion might be useful in your everyday cleaning and self-care routine. If you have dry skin, you need to use the correct body lotion to keep your skin from flaking. Therefore, take advantage of the Mid-Year Madness sale's savings on various body creams. There is no better time than now to get a high-quality body lotion that will last you for a long time.
Bath Care
Your choice of shower gel is more important than you realize. After all, your skin is the largest organ in your body. So, just as you should be cautious about drinking alcohol and putting more fat and cholesterol on your heart valves, you should also be cautious about what you put on your skin. Therefore, a decent shower gel that removes germs from your skin but also hydrates it can have long-term beneficial impacts on the health of your skin. There are quite a few top-quality body wash products in the market. So, incorporate a body wash that suits your skin to have flawless-looking skin.
Facial Skin Care
The perfect face cream moisturizes and nourishes the skin. In addition, it helps in the reduction of dark spots as well as the appearance of wrinkles and lines. Moisturizers help to enhance the texture and natural look of the skin. So, check out for yourself how a face cream can benefit the look and feel of your skin.
Baby Skin Care
You aren't the only one who can benefit from quality skin care products. If you have kids, they need mild soaps and creams that best suit their soft and sensitive skin. Therefore don't forget to shop for their skincare products while you order skincare essentials for yourself.
We hope this beauty care products buying guide will be helpful when you shop for all your health and beauty products during the Mid-Year Madness. If you are shopping for basic utensils for your kitchen, don't forget to check out Affordable Kitchen Items to Stock A New Kitchen From Scratch.