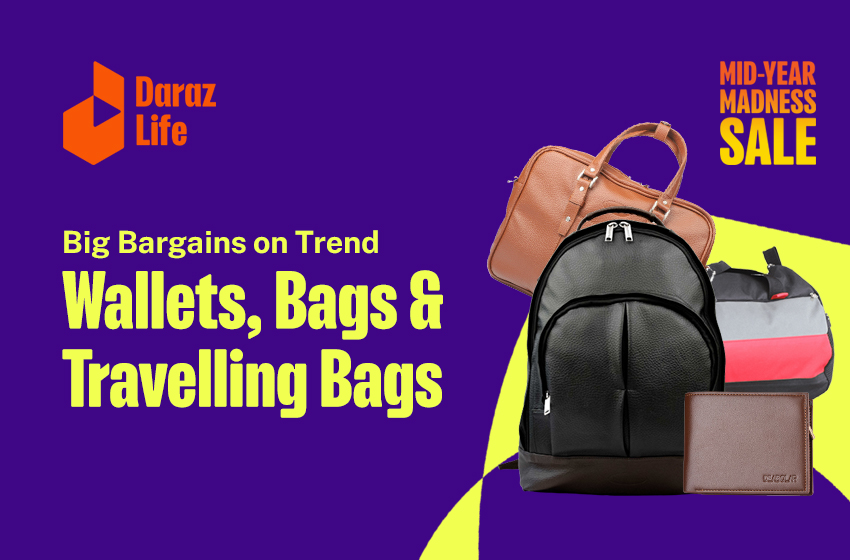 Carry it With Style: Big Savings on Bags Online During Mid-Year Madness
If you are shopping for bags online, we have exciting news for you. You can get branded handbags online in Sri Lanka at affordable prices when you shop on the Daraz Mid-Year Madness sale.
Are you looking for discounts on bags online? Continue reading to find out how to avail of the best bargains on Daraz during the Mid-Year sale.
Who doesn't like a good discount on work bags, handbags and travel bags? When acquired at ordinary prices, quality bags may cost an arm and a leg. Therefore, we all wait for major sales to get the lowest prices on bags. Speaking of sales, you can still shop for your favourite bags during the Daraz Mid-Year Madness.
Discounts on Bags Online During Daraz Mid-Year Madness
Daraz Mid-Year Madness Sale continues till the end of this month. So, if you haven't purchased your favourite bag, now would be a good time to get it. You can get big discounts on bags up to 10% OFF. Furthermore, there is Free Shipping, Valuable Vouchers and Fantastic Giveaways. So, let's take a look at our featured brands for the Mid-Year Madness sale.
Gym Bags For Men
If you are the type of guy who hit the gym regularly, then a gym bag is an essential item you need to own. You should be able to carry your shoes, clothes, towel any other accessory you want to take to the gym with you. Also, it doesn't hurt if it looks good because who says you cannot make a fashion statement when you head over to work out?
Backpacks
Are you someone who is constantly on the move? Then you could definitely use a backpack. There are several types of backpacks for various needs, such as duffel backpacks, tote backpacks, bicycle backpacks, hiking backpacks, and many others. So if you need some kind of bag to carry your stuff around check your Daraz App for all the great offers on backpacks.
Casual Bags
Are you the type of person who intentionally chooses to leave important items at home just because you don't have enough space to carry them? If this is the case, a casual bag might just be your next best friend.
Whether you're going out for academic purposes, shopping, or simply going for a walk, they let you bring your things with you, so you don't have to regret leaving anything. A casual bag also helps you keep everything organized and in order while also contributing to your sense of style. Daraz provides a number of casual bag choices, including men's and women's bags.
Mens Wallets
Some men take pride in pulling out and using a stylish wallet. It's the kind of wallet they are comfortable taking with them anywhere, regardless of the setting. Also, if you're the kind of person who always has their pockets full- it's high time to get your own wallet.
Wallets help you keep your stuff together, making it easier to find what you're looking for. If you have a lot of cards that you want to keep organized and safe, you might consider obtaining a cardholder wallet.
Laptop Bags
If you're someone who does an office job, most likely, you're usually always on the go with your laptop. If your laptop bag is worn out, it might be time to replace it. Laptop bags are available in a variety of designs, shapes, colours, and sizes. Other types of laptop bags include laptop backpacks, shoulder strap laptop bags, and leather laptop bags. So, get on your Daraz app and avail of awesome voucher discounts to get your next laptop bag.
Travel Bags
During the August vacations, most of us plan to travel to various locations in Sri Lanka. If you enjoy going on excursions, such as hiking, you may want to invest in a travel bag.
Traveling bags can store a variety of goods, including deodorants, clothing, electronics, and hygiene supplies. In addition, unlike a conventional backpack or casual bag, these can hold bigger bulks. Get the best travel bags on Daraz, and don't forget to look into additional alternatives like travel bags for backpackers.
Hope you will be able to get great discounts on all the bags you want to get during the Mid-Year Madness. If you are shopping for jewelry and accessories, check out our blog Lowest Prices on Classy Accessories and Fashion Jewellery Online.