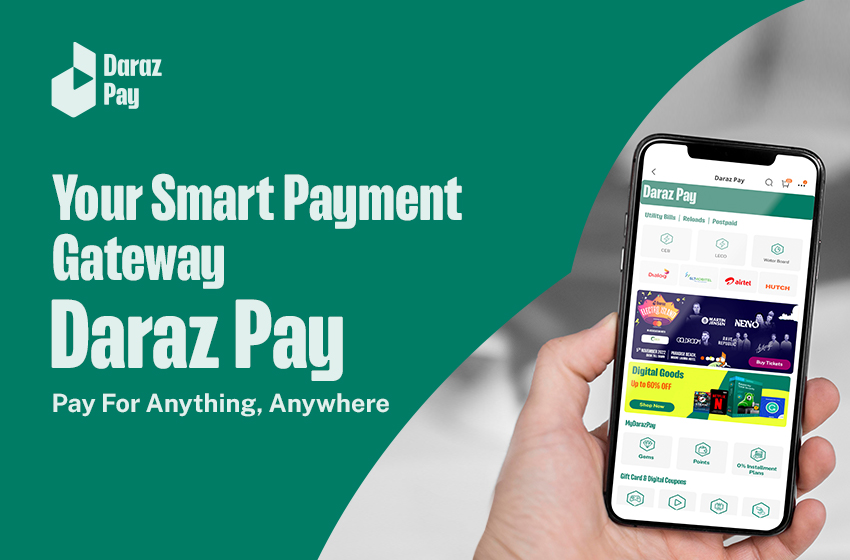 Daraz Pay: Your Smart Payment Gateway
Imagine making any payment all in one place with just a tap of a finger. Now you can pay your bills, reload your phone, get event and movie tickets, and do much more through your Daraz App.
Are you seeking a fast, secure and always-accessible online payment solution? Continue reading to learn about everything Daraz Pay has to offer to make your life super duper convenient.
What is Daraz Pay?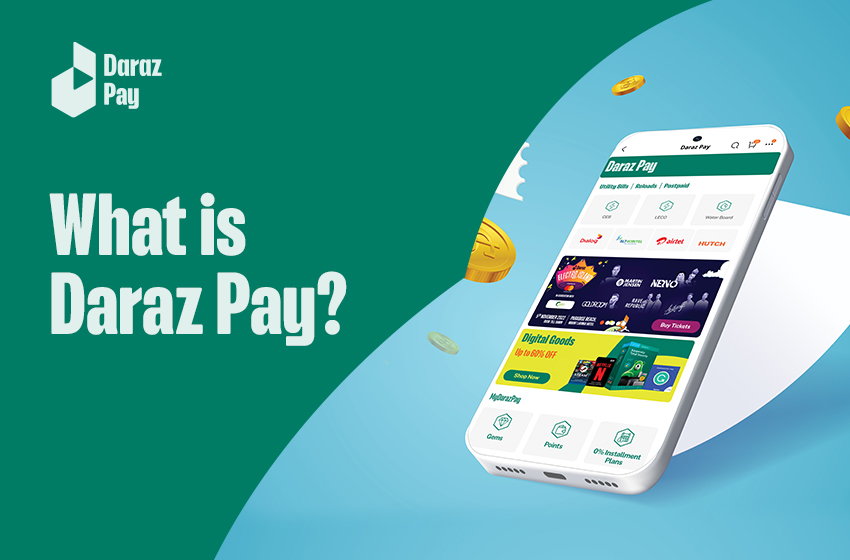 Daraz Pay is an online payment processing service available to all Daraz customers through their Daraz App. You can enjoy the convenience of paying your bills or making purchases wherever you are.
Why Use Daraz Pay?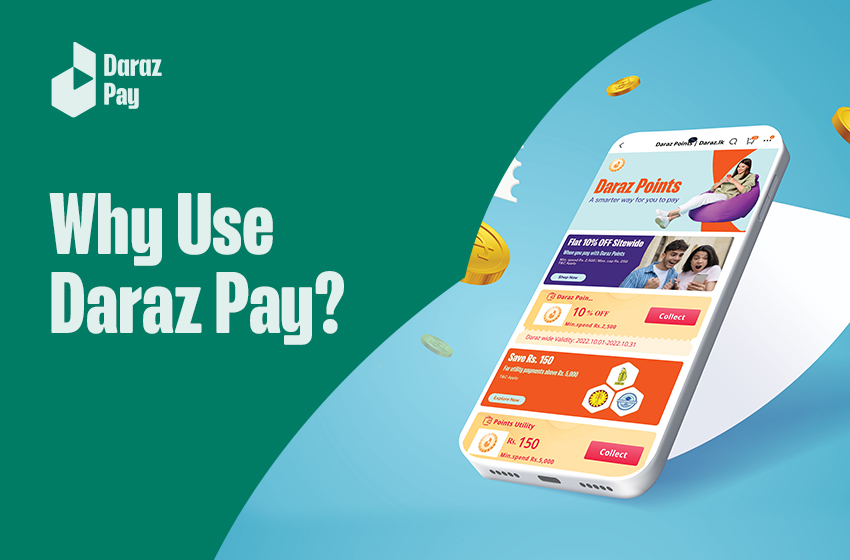 If you had to wait in a long queue to pay your bills or reload your phone, you already know how tiresome and frustrating the process is. With Daraz Pay you have the convenience of making any payment with just a tap of a finger on a safe and secure platform. Simply pay your bills or reload while you relax on your couch or when you're out on vacation, and you are suddenly reminded you need to pay your utility bills.
Also, you can save all your information on your Daraz app, and breeze through checkout and payment.
Furthermore, you can get amazing discounts when you pay with your card or use your Daraz Points. That's not all! You can collect discount vouchers available for reloads, utility payments or digital goods during the Sale periods and save big time.
Additionally, you can apply your Daraz Club Gems discount to save even more. If you can't pay the full amount due straight away, you can opt for instalment payments with 0% interest. Or, you can opt to pay with KOKO in three monthly instalments.
Daraz pay is the worry-free smart payment destination that allows you to pay for anything, anywhere. Let's look at how to use Daraz Pay.
How to Use Daraz Pay?
Tap on your Daraz App and open the home page. Underneath the sliding banners, you will see a Daraz Pay icon on the left end. Tap on the icon and enter the Daraz Pay home page.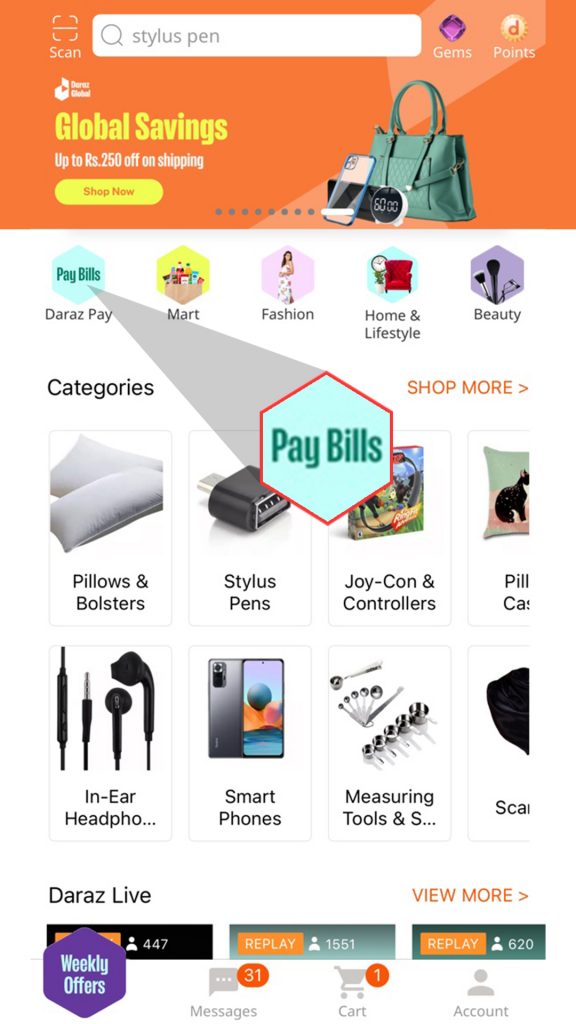 Once you enter the home page, you will see all the services you can access through Daraz Pay. Be it electricity bill payments, water bill payments, reloads, digital goods or even making donations, all you have to do is tap on the relevant icon and enter your information. The rest is just a breeze.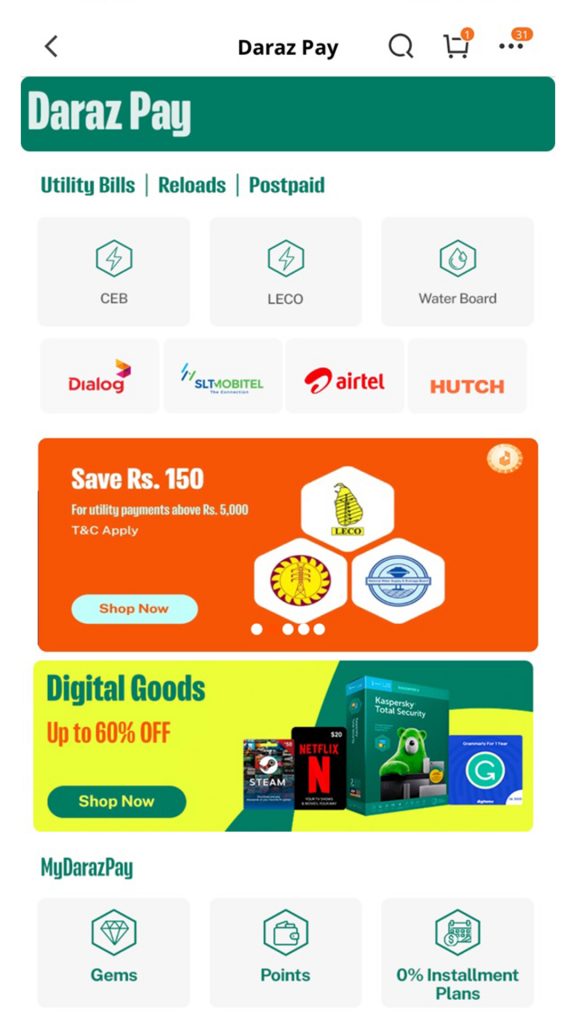 Let's take a look at all the services you can access through Daraz Pay.
Utility Payments

Daraz Pay brings you a fast and secure utility payment option where you can seamlessly pay your electricity or water bill from wherever you are. All in a few easy steps.
Reloads and Post Paid

Running short on phone credit? Don't worry, simply get on your Daraz App, tap on Daraz Pay, select your service provider, and then breeze through checkout as your information is already securely saved on the app.
Sponsored Events

Get tickets to your favourite music shows, concerts and other entertainment venues through Daraz Pay. Check out the Daraz Pay homepage to see the event tickets available online.
Digital Goods

Grab amazing discounts when buying your favourite software like Windows 11 Pro, Malware security software, Adobe Photoshop, Canva, and much more. Also, you can buy premium passes for entertainment platforms like Netflix, Spotify, Amazon Prime and many others. Are you an avid gamer? In that case, you would be excited to know that you can activate your favourite PC games and games for other consoles through the Digital Goods section on the Daraz App.
Gift Cards, Donations & Digital Coupons

If you are planning on getting a gift card for your loved one who lives miles away from you, give them a valuable Daraz Gift Card or a Gaming Gift card. You can also purchase game passes for Xbox and membership activation cars for entertainment platforms like Disney Plus, Apple TV and Spotify. The options are endless.
Also, you can make a difference in your community by donating to a cause you are passionate about through Daraz Cares.
So, what are you waiting for? Download the Daraz App, and enjoy secure and smooth shopping and payment experience with Daraz Pay.