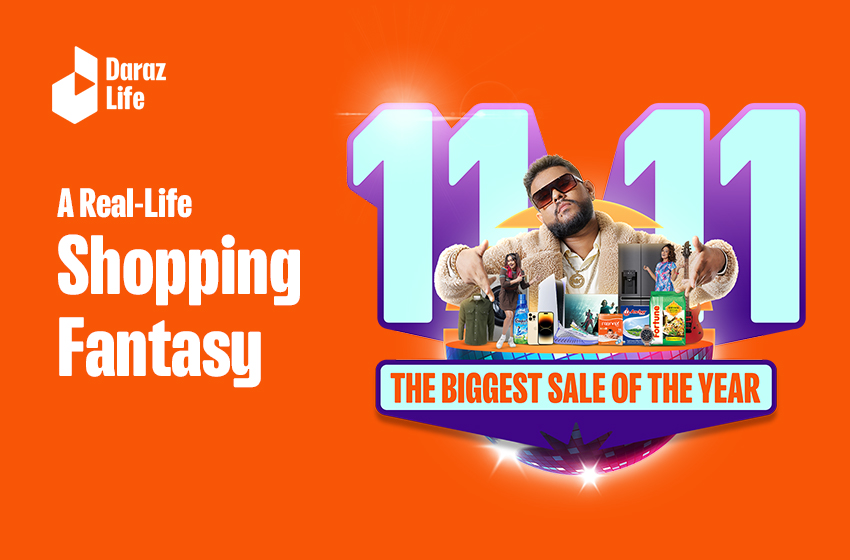 Daraz 11.11: The Biggest Sale of The Year
Are you ready to join the biggest sale of the year? Daraz 11.11 is back to offer you the best deals with up to 85% Off across 6 million products ranging from Electronics, Fashion, Lifestyle goods & Groceries. So get on your Daraz app and join the wildest shopping fantasy of the year!
Daraz 11.11: The Biggest Sale of The Year is Back
Shop for all your favourite products, at the lowest prices of the year. It's the week when Daraz online shopping hits the biggest discounts of the year with Mega Deals, Fun Games, Free Giveaways and so much more.
Up To 85% Off on 6 Million Products!
Apart from jaw-dropping discounts, from all your favourite brands on Daraz Mall, we've got more!
Are you ready to shop for the biggest deals from the year's biggest sale?
Upgrade your tech entertainment gadgets. Get FLAT 50% Off and Free Shipping when you shop at the Baseus store on Daraz.
Be on top of the fashion trends! Get FLAT 20% Off on Signature, Trendy Clothing, Spring & Summer, SLAY and Flat 25% Off on Laveena Sarees, plus Free Shipping on all orders through these stores.
Get your favourite fashion jewellery, bags, and other fashion accessories with a FLAT 25% Off and free shipping on LouisWill.
Get Flat 25% OFF and Free Shipping when you shop your favourite bags on David Jones.
Redecorate your bedroom with FLAT 20% off on the Celcius store bedding items.
Upgrade your home with durable furniture and storage solutions with FLAT 40% Off on the entire store.
Elevate your health and wellness with a Flat 25% Off on products in the Ancient Nutraceuticals (Pvt) Ltd store.
We've got your favourite banks on board to offer you a flat 10% off sitewide.
Daraz has Partnered with leading banks such as Commercial bank, Sampath bank, HSBC, HNB, Seylan, DFCC, Standard chartered bank & BOC with a further 10 % OFF on credit cards. Furthermore, Master card is offering an Extra 12 % OFF on all Master Cards. Shop with your debit cards and get 25% Off (T&C applied).
A WILD SHOPPING FANTASY AT YOUR FINGERTIPS
When we say it's a Wild Shopping Fantasy, we really mean it! There will be offers like you have never seen before.
Collect Vouchers & Double Your Savings
Bank Vouchers – Vouchers issued by specific banks that allow you to get a discount when you shop with one of their bank cards.
Store Vouchers – Offered by the stores on the Daraz platform to get discounts when you shop for products from a specific store.
When you collect all of these vouchers and stack them together, you are able to obtain the best discount at the checkout when you purchase your favorite products. So don't forget to collect vouchers before you head to the checkout when you make a purchase on Daraz.
Spin The Wheel of Fortune & Win A Trip to Dubai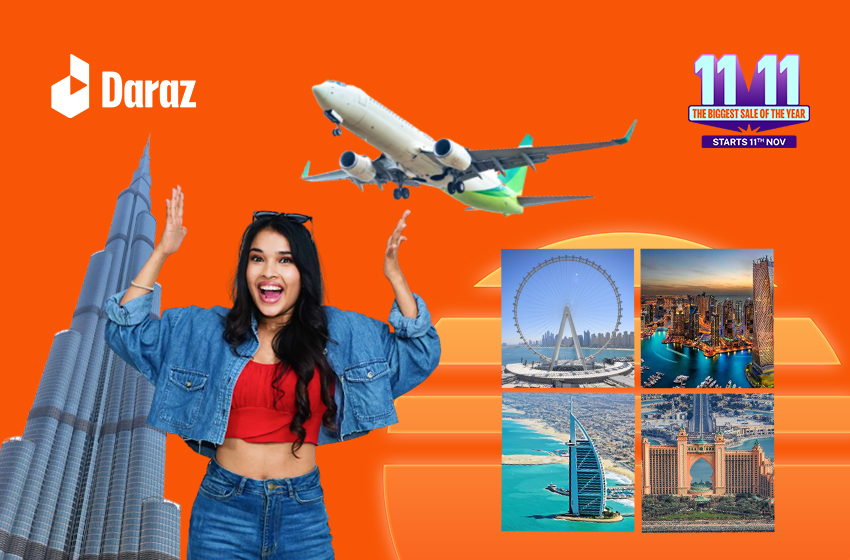 A Holiday to Dubai
Weekend Getaway at Shangri La, Hambantota
Overnight Stay at Hikka Tranz
Fine Dining at Cinnamon Lakeside
Daraz Vouchers Worth up to LKR 850,000
Win Fabulous Prizes With 1 Rupee Game
How would you like to win an iPhone 14, a washing machine, or a 43-inch TV for just 1 Rupee? You read that right! Get on your Daraz App, play the 1 Rupee Game starting from the 1st of November, and win amazing prizes. Check out the 1 Rupee Game home page to see the products you can win.
All you have to do is get on your Daraz App, choose the product you want to win on the 1 Rupee Game Home Page, add it to your cart, and checkout using 1 Daraz Point. Please note that you must activate your Daraz Points to participate in this game. So, get on your Daraz App and activate Daraz Points now.
Who's on board! The biggest brands in town
Most of your favourite brands are already on board for the biggest Sale in Sri Lanka. Daraz Mall has more than 500 brands on board. 100% authentic products, with Faster Delivery and a 14-day easy return policy.

Diamond Partners For 11.11
Signature
DSI
Huawei
Brown & Company
Unilever
Hemas
Swisstek
Celcius
Baseus
Gold Partners
Reckitt
Teleseen
Ugreen
Metropolitan Technologies
Mobil
Laveena Sarees
Canon
ProMate
Spring & Summer
Phoenix
LouisWill
Ancient Nutraceuticals (Pvt) Ltd.
Silver Partners
Janet
David Jones
Amante
Trendy Clothing
Luv Esence
Yamaha
Slay
Bear Appeal
Lumala
TFO
Ready to Grab the Biggest Deals on The Biggest One Day Sale?
If you haven't got the Daraz App on your mobile phone, Download the Daraz App now!
Follow your favourite brands in town
Switch on your notifications and await the latest price drops, mega deals and flash sales
Add your favourite products to cart
Save your Card for easy shopping
And get Ready to Shop till you Drop!
Join the wildest shopping fantasy with Daraz 11.11. Enjoy free shipping with secured payment methods and easy return facilities on all your favourite brands. So what are you waiting for? Get ready for the Biggest Sale of The Year. Shop for all your favourites with Online shopping Sri Lanka. Happy Shopping!