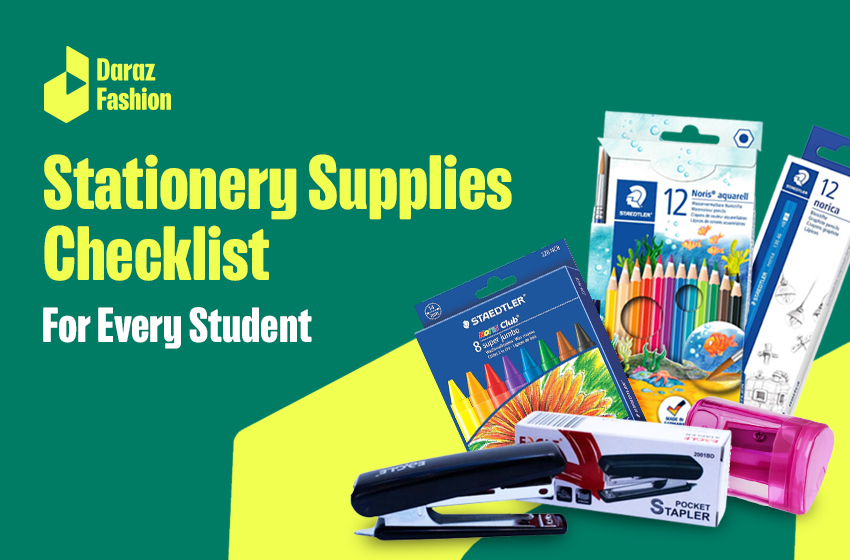 Stationery Items Checklist For Every Student
There is a one size fits all stationery items checklist that can benefit any student regardless of their age. In this post, we explore essential stationery that every student needs.
Are you ready to shop for all the stationery items necessary for students in one place? Read on to find out a checklist of stationery items you can buy on Daraz for any student.
All Stationery Items in One Place
An active mind is one of the most powerful tools a student need in a classroom setting. However, owning the right stationery can help students keep their focus on what matters without idling around looking for papers, pens and so forth.
Most parents have to wander through bookshops and supermarkets to ensure they get everything in their kid's book list. If you are one of those parents, we have great news! Save time and money by shopping for all your stationery requirements on the Daraz App. You can conveniently order everything in one place and get them delivered to your doorstep.
Are you looking for original products? Get authentic products for the lowest prices when you shop at Daraz Mall. Furthermore, Daraz Mall has more than 450 brands on board. You can get 100% authentic products with Faster Delivery and a 14-day easy return policy.
Let's take a look at our stationery items checklist for every student.
Notebooks
When you're a student, you need to make a deliberate effort to organize your notes for each subject. Organized note-taking is an essential lifelong skill that will help students well into adulthood when they embrace careers. Therefore, notebooks are one of the must-have items in every stationery list for students.
A4 Papers
Every student needs loose-leaf A4 papers on a daily basis. If you are a university student, most lecturers request assignments printed on A4 paper. Furthermore, students can use these as scratch paper or take random and additional notes whenever required.
Pencils
Pencils are the first step in the writing process in any school. Therefore, students of all ages need pencils, whether they are in kindergarten or University. Therefore, it's no surprise that pencils are always present in school supply lists worldwide. If students take art and drawing as subjects, they need different types of pencils which help them create their artwork. Therefore, it never hurts to stock up on pencils whenever you see a price drop or sale.
Erasers
If you use pencils, you are definitely going to need an eraser to erase any mistakes you make. However, you can find more abrasive ink erasers that allow erasing mistakes that are made by pens.
Sharpner
If you use pencils, it's always important to have a sharpener handy. The sharpener will come to the rescue whenever a pencil is blunt or loses the tip.
Pencil Case
Pencil cases are important accessories making it convenient to carry all your pencils, pens and other items in one place. They come in a variety of designs and sizes and ensure that all your writing tools and other items are safely stored in one place.
Crayons
Crayons are mostly necessary for children in primary school and preschool. However, if you are a mother of a child or an artist, it's more than likely they may be useful to you.
Highlighter
Sometimes when you take down notes, it's essential to highlight the important parts. It helps to remind and draw your attention to the important parts when you study your notes on a later day. Therefore students, as well as working adults, can benefit from holding on to a few different shades of highlighters.
Glue Stick
Most students have art and crafts assignments in their schools. Therefore it's always handy to hold a glue stick in your pencil case.
Scissor
Just like the glue stick, you can never say you might need a scissor. Aside from art and craft activities, you might need a scissor to cut off a tag and so on.
Colour Pencils
Research points out that colouring can provide a variety of physical, mental, and developmental advantages. Colouring engages the same muscles and cognitive elements of the brain that are used when a person writes. When young children colour a lot, they continue to develop fine motor skills and enhance pencil control capabilities. As a result, when kids begin forming letters in early elementary school, they will already have a solid basis to build upon their writing skills.
Therefore if you have children in primary school or elementary, you might want to get them a box of colour pencils with a range of different colours they can mix and match.
Sticky Notes
Sticky notes help organize your notes. You can also label sections of a textbook using sticky notes to help you quickly turn the page to places that have specific topics.
Folders
Students always have to carry around a number of papers. It could be notes, assignments or any other relevant documents for their studies. Therefore owning a folder can make a world of difference in their lives.
Pen Drive
Currently, most students have computer access and prefer to do their assignments on their computers. This is especially true for university students. Therefore, a pen drive will help them safely organize and store their documents in one place. Also, if they ever need to get a printout, they can always conveniently locate their documents within the pen drive.
Mini Stapler
Sometimes student life involves organizing and keeping stacks of notes together. For instance, if you are working on an assignment and have to attach other documents and images before submitting it to the teacher, it really helps to staple them rather than clip them together. Therefore a mini stapler is a great addition to a student's stationery checklist.
We hope this blog can guide you to get stationery for students in the subsequent months when they graduate into a new class. If you are looking to buy a laptop for a student, check out Best Laptops for Students in Sri Lanka 2021.