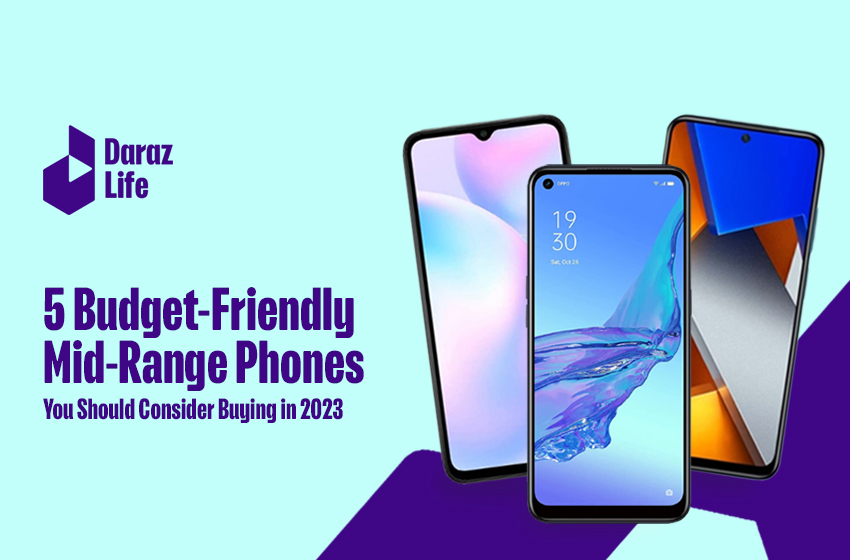 5 Affordable Phones You Should Consider Buying in 2023
Are you seeking an affordable phone that won't cost you a fortune? Read on to find out seven budget-friendly phones.
The smartphone market constantly evolves. You can see new devices coming out every year. In 2023, there are already a number of affordable phones on the market worth considering. These devices offer great value for money, providing a balance between performance and affordability. Whether you're looking for a new device for personal use or work purposes, plenty of options are available that won't break the bank. In this blog post, we'll look at some of the affordable phones you should consider buying in 2023.
Redmi 9A
The Redmi 9A is an affordable smartphone from Xiaomi's Redmi line, aimed at budget-conscious consumers who don't want to compromise on quality. It features a 6.53-inch IPS LCD display with a resolution of 720 x 1600 pixels. Furthermore, it comes with a MediaTek Helio G25 processor with 2GB of RAM and 32GB of internal storage.
One of the standout features of the Redmi 9A is its price – at launch, it was priced even lower than the already-affordable Redmi 9, making it one of the most affordable phones on the market. This makes it an attractive option for anyone looking for a basic smartphone without breaking the bank.
Other features of the Redmi 9A include a 5000mAh battery, a 13-megapixel rear camera, and a 5-megapixel front-facing camera. It also has a headphone jack and a microSD card slot for expandable storage.
Overall, the Redmi 9A is a solid option for anyone looking for a budget smartphone with decent specs and a low price tag. Its combination of affordability and features makes it a great value for anyone looking for a reliable Redmi phone price.
POCO M4 Pro
POCO M4 Pro is a feature-packed smartphone from POCO, a brand known for producing powerful and affordable phones. This POCO mobile device features a 6.67-inch Full HD+ IPS display, perfect for gaming, streaming, and browsing. A powerful MediaTek Helio G90T processor powers the phone. Hence, it offers seamless performance and efficient multitasking. The POCO M4 Pro has 6GB of RAM and 128GB of internal storage, giving users ample space to store their files and media.
One of the standout features of this POCO phone is its camera setup, which includes a 64MP main camera, an 8MP ultra-wide-angle lens, a 2MP macro lens, and a 2MP depth sensor. This setup allows users to capture stunning photos and videos in different scenarios. The phone also has a 16MP front-facing camera, perfect for taking selfies and making video calls.
The POCO M4 Pro runs on Android 11 with the POCO Launcher 3.0, providing users with a clean and customizable user interface. The phone is also equipped with a massive 5,000mAh battery with support for 33W fast charging, ensuring that users can stay connected all day long without worrying about battery life.
Overall, the POCO M4 Pro is a great choice for anyone looking for a powerful and affordable POCO mobile device with a great camera setup, impressive display, and long-lasting battery life.
Samsung Galaxy M13
Samsung is known for producing high-quality smartphones with innovative features, but they also offer budget-friendly options that still provide a solid user experience. If you are looking for the best affordable Samsung phone, there are several options to consider, such as the Samsung Galaxy A series or the Samsung Galaxy S21 FE. These cheap but good Samsung phones offer a range of features that cater to different user needs.
When considering a budget Samsung phone with outstanding features, Samsung Galaxy M13 holds a stellar reputation. It comes with a 50MP Selfie cam, so you can woo your Instagram and Tik Tok followers with quality content that looks amazing. Furthermore, it has a long-lasting 5000 mAh battery which will last for hours as you get through your long days.
Redmi A1 Plus
The Mi Redmi A1 Plus is a powerful, stylish and affordable smartphone from Mi. It has a 6.44″ FHD+ dot display, a 48MP + 8MP + 2MP triple rear camera setup, and a 16MP selfie camera. It is powered by a Qualcomm Snapdragon 665 octa-core processor and runs on Android 10. The device has 4GB of RAM and 128GB of internal storage. It is powered by a 5,020 mAh battery and supports fast charging. This Mi Redmi phone is capable of providing high-end performance for multitasking and gaming at an affordable price.
Vivo Y1s
The Vivo Y1s is the best affordable Vivo phone for budget-minded individuals. It features a 6.22-inch HD+ display, a powerful octa-core processor, and a huge 5,000mAh battery, so you can enjoy all your favourite apps and games for hours on end. It also has a 13MP rear camera and 5MP front camera for capturing excellent photos and videos. Plus, it has a generous 3GB of RAM and 32GB of storage, which can be expanded with a microSD card. The Vivo Y1s offers an impressive overall package that won't break the bank.
We hope you will be able to get the most affordable phones at the lowest price on Daraz. If you are shopping for a Samsung Galaxy S23, check out Pre-order and Get the Best Samsung Galaxy S23 Price.