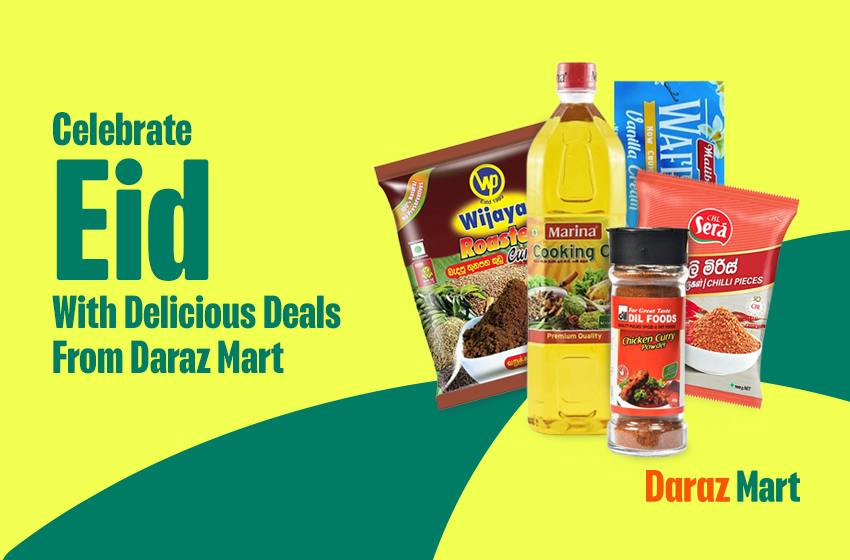 How to Save Up on Eid Grocery Shopping This Year
Have you started grocery shopping for Eid yet? Read on to find out how you can get unbeatable deals from Daraz Mart on all essential online groceries necessary for Eid.
Grocery Shopping for essential food items is part of the tradition of preparing for the Eid Festival. Let's see how you can save up when you do online grocery shopping on Daraz Mart for Eid.
Eid is an important religious and cultural festival celebrated by millions of people around the world. It's a day to come together as a family, share a meal, and enjoy the festivities. Preparing for the festival involves purchasing food and other items for the family and guests. However, many tend to go overboard with their spending on grocery shopping during this time of the year. The importance of getting good deals during grocery shopping for Eid cannot be overstated.
However, with rising prices and inflation, it can also be an expensive affair. Therefore, it is important to plan and budget accordingly. So, tap on your favourite online supermarket, Daraz Mart during Eid grocery shopping this year. You are sure to get the best deals and discounts, saving up on grocery costs.
Eid Lunch Ingredients – Up To 35% Off
Biryani Sawan is a must-have on every Eid Festival table. The Biriyani recipe requires a variety of different Biriyani ingredients. In addition to Biryani, several other delicacies adorn the festival table. So, get up to 35% Off when you shop for condiments, spices, coconut oil, coconut milk powder and all other basic essentials on Daraz Mart. It's time to go all out with your cooking skills and impress family, friends and relatives this Eid.
Refresh Yourself This Eid – Up To 15% Off on Cleaning Essentials
The festival is a time when you invite people over to your home. Therefore, it's time to clean up your home to create a welcoming and comfortable environment for guests and loved ones.
Start by decluttering and organizing your living space, dining area, and bedrooms. Dust and sweep floors, carpets, and furniture. Get the surface cleaners out and wipe down surfaces and windows to make them shine. Additionally, make sure to tackle the laundry before the festival begins. By cleaning up your home, you'll not only create a festive atmosphere but also make space for new blessings and positive energy to enter your life.
Spice Up Your Food – Up To 60% Off on Spices
Adding the right combination of spices is the way to make your food irresistibly delicious. In addition, spices add tempting colour to your food dishes. Also, just imagine how bland a curry would look without curry powder. Therefore, you simply cannot compromise when getting spices to prepare the festive food table. The good news is, you can save up to 60% Off when you get your spices from Daraz Mart.
Dig in & Snack Away – Up To 20% Off on Snacks
No matter how many main dishes adorn your Eid Festival table, you need to serve a few snacks occasionally to everyone who visits your home during the Ramadhan. The little ones usually tend to get more excited over the snacks than the main dishes. Therefore, if you are shopping for confectionary, chips, biscuits and other snacks, you can get up to 20% Off on Daraz Mart.
Snazz Up This Eid – Up To 18% Off on Cosmetics
Sure you might have the best outfit for Eid, but does that alone make you look presentable? Make sure you moisturize that skin, put on nail polish and look your best in every way. Also, put some foundation and lip gloss and wear your best smile as you enjoy time with your loved ones.
Don't want to idle in supermarkets and get lost among the crowds during this Eid grocery shopping season? Get all the essentials you need to prepare for the Eid festival at your doorstep with Daraz Mart. Feeling a little overwhelmed during Eid Week? Check out Easy Self-Care Tips To Boost Your Mood Immediately.