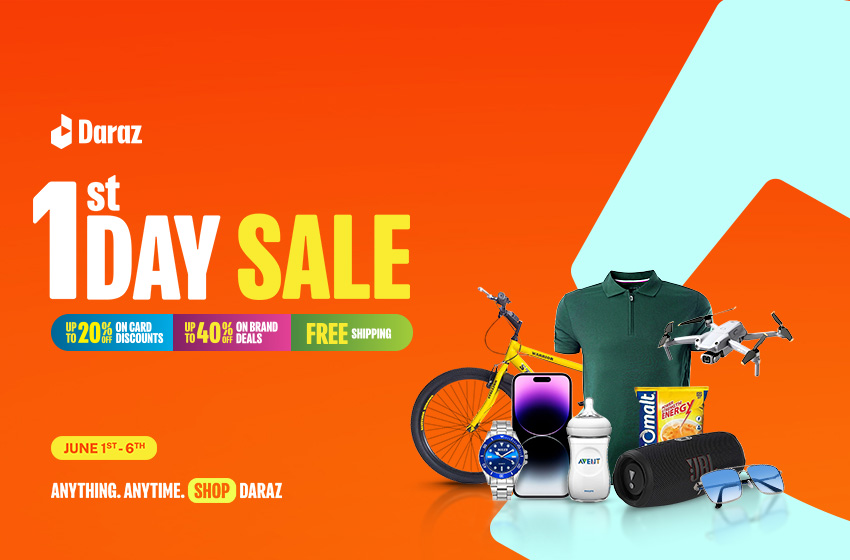 Dive into Online Shopping in Sri Lanka
Online shopping in Sri Lanka just levelled up. Behold, Daraz 1st Day Sale. Returning with the best online deals starting from the 1st of June.
With the biggest deals on online shopping in Sri Lanka available, it's time to unleash the ultimate buying frenzy! Brace yourself for an avalanche of mind-blowing bargains and jaw-dropping discounts on a mind-boggling selection of over 5 million products!
The options are as boundless as your imagination! Now, hold your breath as we dive into a sneak peek of the mind-blowing deals awaiting you on the 1st Day Sale!
Bank Card Discounts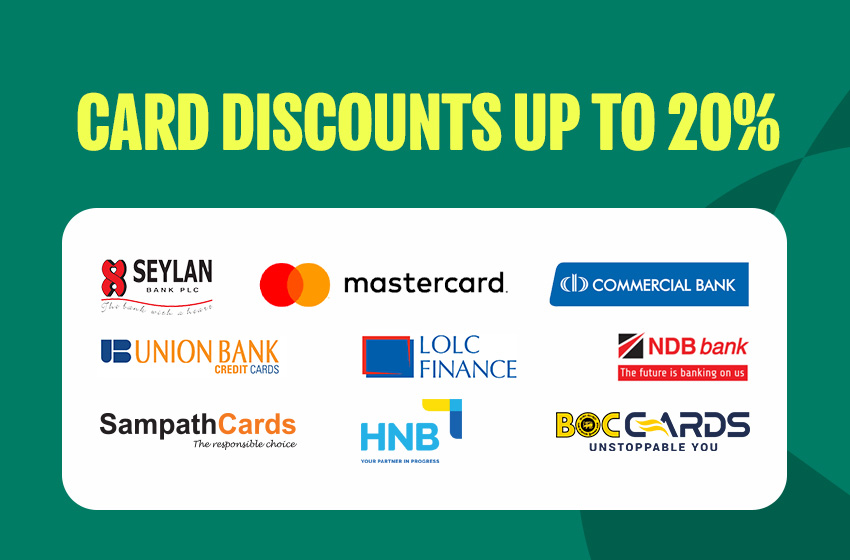 Discover the ultimate savings. Shop with your bank cards during the exciting 1st Day Sale and unlock extraordinary discounts for your favourite purchases. Seize an additional 20% Off on your entire purchase when you checkout using your bank cards (T&C Apply).
Instalment Payments
Dreaming of getting an Apple MacBook Air? or a Cannon digital camera? We understand that it might not be a feasible option for some to spend an extravagant amount all at once. Therefore, we offer you an Instalment payment option during online shopping.
You can pay in Easy Instalment Plans for up to 24 months with 0% interest. Instalment Payment plans are available for Sampath Bank, BOC, People's Bank, Seylan Bank, Standard Chartered Bank, Union Bank and Hatton National Bank.
Daraz Points Discounts & Offer
Now you can shop more and save more when you checkout using Daraz Points.
Grab an additional 100 Daraz Points when you top up 1000 Daraz points.
Get 10% OFF sitewide when you pay using your Daraz points during the 1st Day Sale period. That's not all! when you shop with Daraz Points on Friday, 2nd of June you get a thumping 20% Off on your entire purchase.
Shop on Mart Sunday using Daraz Points and get 25% Off on all Daraz Mart purchases.
(Terms & Conditions Apply).
Collect Daraz Vouchers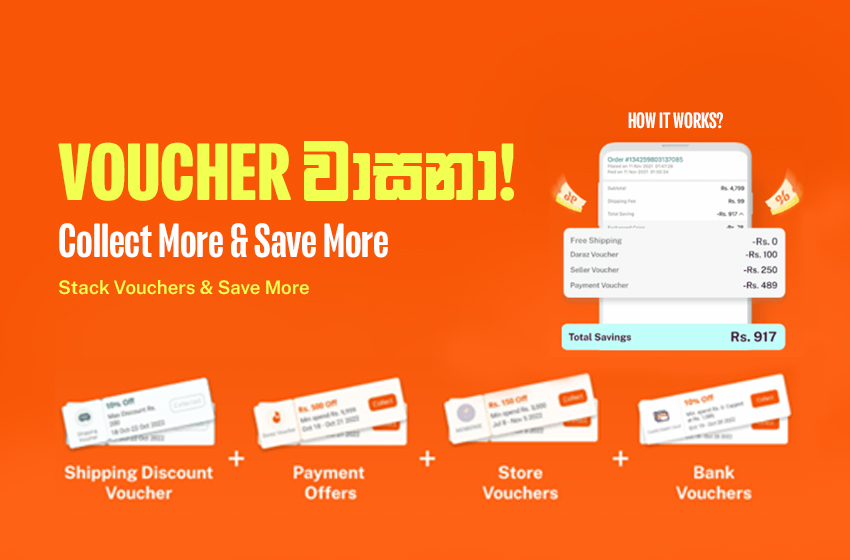 Do you know the best way to get savings on top of savings when you go online shopping Sri Lanka on Daraz? Collect Daraz vouchers to get big discounts when you checkout your favourite products. There are four different types of vouchers available on your Daraz App.
Daraz Vouchers – Discounts under specific item categories, such as fashion, lifestyle goods etc., that can be used sitewide.
Shipping Vouchers – Gives you discounts on shipping fees
Bank Vouchers – Vouchers issued by specific banks that allow you to get a discount when you shop with one of their bank cards.
Store Vouchers – Offered by the stores on the Daraz platform to get discounts when you shop for products from a specific store.
When you collect all of these vouchers and stack them together, you are able to obtain the best discount at the checkout when you purchase your favourite products. So don't forget to collect vouchers before you head to the checkout when you make purchases during the 1st Day Sale period.
Free Delivery
Shop over Rs. 3000 between 11 AM and Midnight on the 1st to 2nd of June and
get everything delivered absolutely FREE of charge.
Shop over Rs. 3000 between 11 AM – 3 PM and 6 PM to Midnight on the 3rd to 6th of June and get FREE DELIVERY.
New User Discount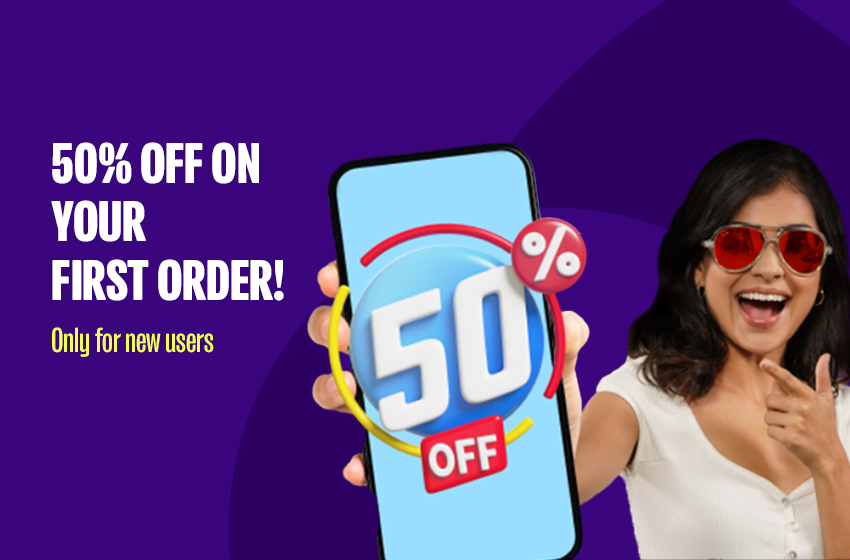 Are you shopping on the Daraz App for the first time? You can get 50% Off on your first purchase over Rs. 500 when you shop between the 1st of June to 6th of June. Can online shopping in Sri Lanka get any better than this?
Best Deals From The Best Brands
Shop at Browns & Company PLC store on Daraz and get up to 40% Off, and Free Delivery.
Get all your stationery needs from Pro Mate and get a minimum of 20% OFF along with Free Shipping.
Enhance the comfort of your bedroom by getting your bedroom essentials from Celcius at a minimum of 20% Off
Shop for shoes at the DSI store can get a FLAT 10% OFF
Shop at the Hemas store and get up to 30% OFF
Beautify yourself by getting your cosmetic fix from Janet store with up to 15% Off & Free Shipping.
Co-Sponsors
ProMate
Brown & Company
Celcius
Janet
DSI
Hemas
Brand Partners
Staedler
Bange
Swisstek
Metropolitan
Tool Cart
Spring & Summer
EMCO
Joyroom
Hayleys
Luv Essence
Ready to Grab the Biggest Deals on The Biggest Sale in June?
If you haven't got the Daraz App on your mobile phone, Download the Daraz App now!
Follow your favourite brands in town.
Switch on your notifications and await the latest price drops, mega deals and flash sales
Add your favourite products to the cart
Save your Card for easy shopping
And Get Ready to Shop till you Drop!
Join online shopping in Sri Lanka on your Daraz App starting today. Enjoy free shipping with secured payment methods and easy return facilities on all your favourite brands. So what are you waiting for? Get ready for 1st Day Sale right now. Happy Shopping!