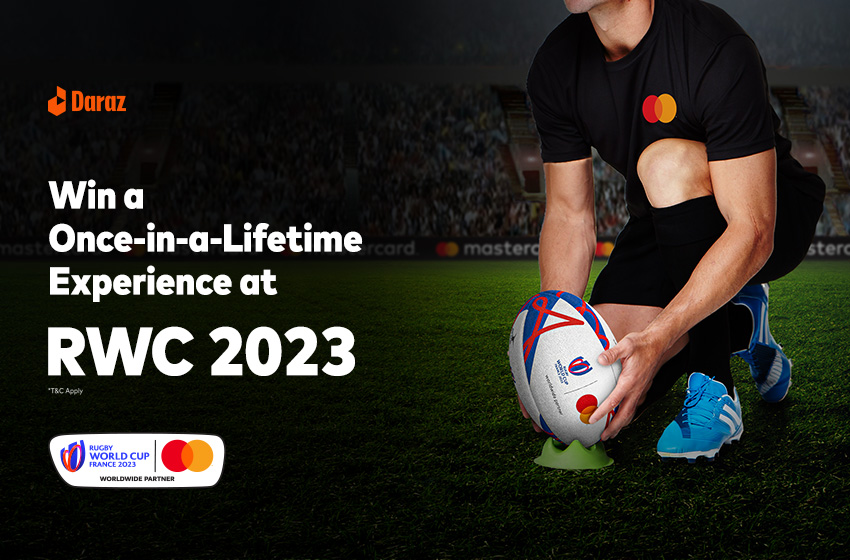 Win A Once-In-A-Lifetime Experience at the Rugby World Cup 2023 courtesy of Mastercard
Brace yourself! A breathtaking opportunity awaits all Mastercard cardholders on Daraz App
Experience the thrill of the Rugby World Cup 2023 semi-final with Daraz and Mastercard! We are excited to announce an exclusive offer that gives you a chance to win an all-inclusive package for two at this prestigious sporting event. Get ready to witness the exhilarating action live when you use your Mastercard card to make purchases on Daraz.
How to Win An Adventure Of A Lifetime
Shop on Daraz using your Mastercard between June 26th to July 12th 2023 and place a minimum of four orders, with each order exceeding Rs. 5,000/- and you will stand a chance to win this once-in-a-lifetime offer.
So, unleash your inner rugby enthusiast, gear up, and let the quest for this mind-blowing experience begin. The time has come to live your dream and seize this opportunity!
Can You Handle The Excitement?
Imagine cheering for your favorite team amidst the electrifying atmosphere of the Rugby World Cup 2023 semi-final. This all-inclusive package for two ensures that you have an unforgettable experience. From premium match tickets courtesy of Mastercard to luxurious accommodation and exclusive hospitality, every aspect of your trip will be taken care of. Whether you're a die-hard rugby fan or simply enjoy the excitement of major sporting events, this prize is guaranteed to leave you with memories that last a lifetime.
What's in The Package?
2 return airline tickets to France.
Tickets to a Rugby World Cup 2023 semi-final match.
Three-night accommodation at a Mastercard host hotel.
VIP gift bag.
Luxury transfers to the hotel and other venues.
Lunch and dinner receptions
To make this offer even more enticing, Daraz and Mastercard have partnered to offer you a seamless shopping experience. Daraz is the leading online marketplace in the region, offering a wide range of products from electronics and fashion to home appliances and more. With Daraz, you can shop conveniently from the comfort of your own home, knowing that your purchases are secure and reliable.
Not only will you have the chance to win an incredible prize, but you'll also enjoy all the benefits of using your Mastercard card. Mastercard is a trusted global brand known for its convenience, security, and acceptance worldwide. By using your Mastercard card on Daraz, you can enjoy exclusive discounts and offers while accumulating entries for the Rugby World Cup 2023 semi-final prize draw.
Seize The Opportunity
Don't miss this opportunity to turn your everyday purchases into an extraordinary experience. Use your Mastercard card on Daraz and start placing your orders today to maximize your chances of winning.
So, get ready to immerse yourself in the excitement of the Rugby World Cup 2023 semi-final! Daraz and Mastercard are proud to offer this exclusive opportunity to their valued customers. Refer to the Terms and Conditions below for more clarification about the offer.
Hurry up and start shopping now to be in the running for this incredible prize. Remember, the more orders you place, the higher your chances of winning. Good luck!
T&Cs
This promotion is valid for all Mastercard Credit & Debit Cards issued in Sri Lanka.
This promotion will be valid only from 7th June to 12th July 2023.
In order to be eligible for the promotion, Mastercard cardholders should place a minimum of 4 orders on Daraz during the offer period and each order value should be Rs. 5,000/- or above.
Each transaction after 4 transactions during the promotion period will be considered as a new entry to the draw.
Customers can contact Daraz Customer Care on 011 7 575 600 for more details on the offer.
General terms and conditions of Daraz and Mastercard shall apply.
In the event of any dispute, the decision of Daraz shall be final.
The above-mentioned promotion prize cannot be exchanged for cash and non-transferrable.
Daraz reserves the right to modify or change the terms & conditions of the offer.
Daraz reserves the right to amend/withdraw this offer at its sole discretion.
Winner will be chosen via draw based on the transactions as mentioned in the terms & conditions of the promotion.
Winner will be awarded with a one all-inclusive package for two to Rugby World Cup 2023 semi-final.
Participants should have a valid Sri Lankan passport for a 6 months period.
Winner will be announced on the 14th of July 2023.
Each winner and his/her guest(s) as applicable agree to comply with the terms and conditions applicable to the issue and use of tickets from time to time (as available and set out at https://brand.rugbyworldcup.com/Brand/Ticketing/RWCL_StakeholderTicketingTCS.pdf or such other webpage as determined by Rugby World Cup Limited ("RWCL") from time to time), the tournament organizer (Federation Francaise de Rugby 2023, "FFR2023") and all applicable venue owner or operator rules and regulations to access Rugby World Cup venues and any other areas associated with Rugby World Cup (including any terms of accreditation determined by RWCL). Further each winner and his/her guest(s) acknowledge that he/she may be required to enter into a direct acknowledgement and/or agreement with RWCL and/or FFR2023 concerning use of the tickets and compliance with ticket terms and conditions prior to receiving the prize.
Winners and/or guests shall not, while using Rugby World Cup tickets, display or publicize any political slogans or homophobic language, images of a lewd or explicitly sexual nature, images containing logos of competitors and overt brand sponsorship or anything else deemed to ambush marketing or an abuse of the Rugby World Cup, content which is defamatory, obscene, illegal, vulgar, offensive or otherwise unsuitable or infringes others' rights (including intellectual property rights) or reflects negatively upon any of RWCL or the Rugby World Cup. Each entrant agrees and acknowledges that any breach of the above (clause 2) will cause significant damage and loss to RWCL.
The Promoter may pass personal information relating to prize winners to RWCL and/or FFR2023 (and any of their service providers or agents) for the purposes of monitoring the distribution and use of Rugby World Cup tickets and related experiences and, in the event of a suspect breach of any terms and conditions, rules or regulations or RWCL and/or FFR2023 relating to the use of such tickets and/or experiences, investigating and taking action against such winners.
This promotion is run by the Promoter with the permission of RWCL. Accordingly, the Promoter is responsible for the operation of and all matters and concerns relating to the promotion, not RWCL or any other persons involved in staging of Rugby World Cup 2023 (including FFR2023) and World Rugby (formerly the International Rugby Board), all of whom shall not be responsible for or liable to entrants in any way whatsoever in connection with this promotion.