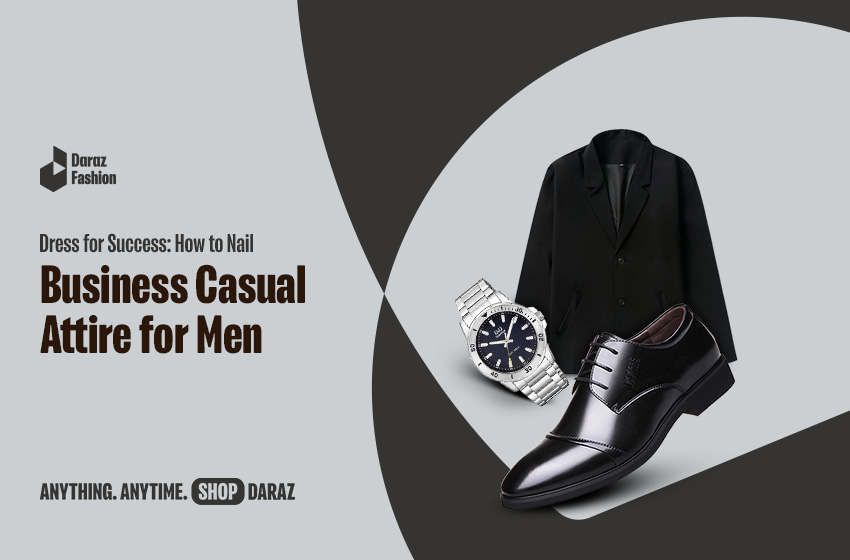 Men's Style Guide to Nail Office Attire
Men's style has evolved significantly over the years. Let's explore how to strike a perfect balance between professionalism and sartorial trends.
In today's professional world, dressing appropriately can make a significant impact on your confidence, credibility, and success. Whether you're in a traditional white-collar job, a tech startup, or a sales and service role, mastering the art of business casual attire is crucial.
This blog post will guide you through the ins and outs of dressing stylishly and professionally for the workplace. We are going to take a look at various men's style combinations that will help you make a lasting impression. So, let's delve into the world of business casual outfits for men and discover how you can dress for success!
Understanding the Appropriate Dress Code Attire for Office Men
To begin, it's important to have a clear understanding of what business casual attire entails. Business casual strikes a balance between formal and casual, allowing you to showcase professionalism while maintaining comfort. Typically, it involves avoiding strictly formal suits and opting for a more relaxed yet polished look.
How to Dress Stylishly in the Office
Dressing stylishly in the office is all about making a statement while adhering to the appropriate dress code. Here are a few tips to help you elevate your office attire.
Shirts
Choose well-fitted shirts in classic colors like white, light blue, or pastels. Opt for quality fabrics and consider adding a touch of personality with subtle patterns or textures. These are reigning the present trends on men's styles.
Trousers
Invest in tailored dress pants that fit you perfectly. Classic colors such as black, navy, and gray are versatile and timeless. Consider adding a pair of chino pants for a more relaxed yet professional look.
Shoes
Selecting the right footwear is crucial. Invest in a pair of high-quality Oxford shoes for a polished appearance. Additionally, suede boots or loafers can add a touch of sophistication to your business casual ensemble.
Watches
A classy watch can be a powerful accessory. Choose a timepiece that complements your personal style and matches the professional setting. Consider options like a classic stainless steel watch or a leather strap watch for a refined touch.
How to Look Professional as a Male
Looking professional goes beyond wearing the right clothes. It involves paying attention to details and presenting yourself with confidence. Here are some tips to enhance your professional image:
a. Maintain Good Grooming: Keep your hair well-groomed, facial hair trimmed, and nails clean. A neat appearance shows that you take pride in your personal presentation.
b. Pay Attention to Fit: Properly fitting clothes can elevate your appearance instantly. Tailor your shirts and trousers to ensure a sleek and polished look.
c. Consider Layers: Layering your mens work outfits can add depth and versatility to your business casual attire. Experiment with combinations of shirts, sweaters, blazers, and jackets for a stylish and professional appearance.
d. Accessories: Opt for minimal and tasteful accessories that complement your outfit. A simple tie, pocket square, or sleek belt can enhance your overall look without overwhelming it.
What to Wear to Work in 2023
Men's office fashion trends evolve, and it's essential to stay updated with the latest styles while maintaining professionalism. In 2023, expect to see a fusion of classic and contemporary elements in office wear:
Check Shirts
Try on a long-sleeve casual check shirt for a refined and modern twist. It's an ideal pick for days when you do not want to appear to plain.
Suit & Pants
Embrace suits and pants for a fashionable and versatile ensemble on special occasions. This could be an ideal look if you are going to a meeting with a special guest or investor.
Chino Pants
Men's Comfort Fit Chino Trouser offers a contemporary alternative to traditional dress pants. Not to mention it does not lack any sophistication comparatively.
Suede Boots
The fashion-forward Yellow Chelsea Boots in brown add a stylish flair to your business casual wardrobe.
Loafers
Enhance your outfit whilst staying super comfortable by slipping on a pair of loafers, that combine comfort and sophistication.
Leather Strap Watch
Consider wearing a leather strapped watch for a classic and versatile timepiece that can add to the sophistication.
Dressing for success in the workplace requires careful consideration and attention to detail. By following the tips and incorporating the recommended men's clothing and accessories, you can confidently navigate the realm of men's style in business casual attire. Remember, when you dress stylishly and professionally, you project confidence and create a positive impression in any professional setting.