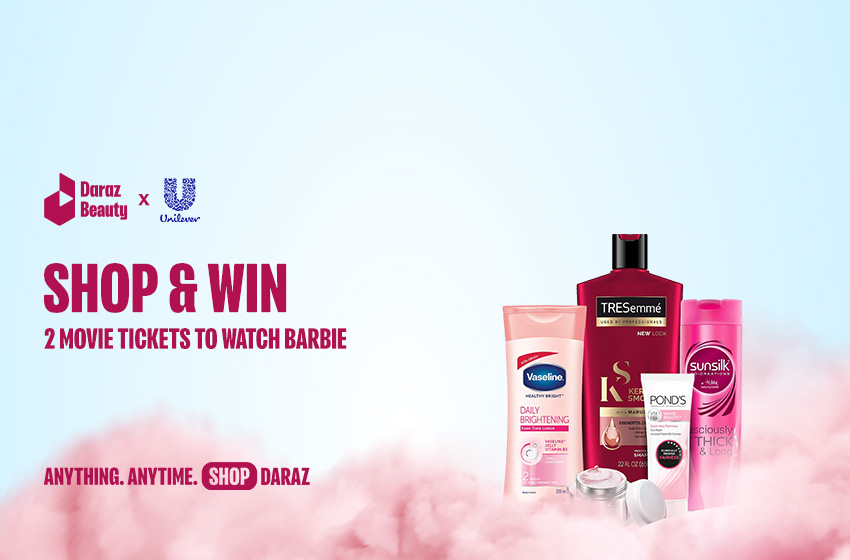 Shop and Win 2 Movie Tickets to Watch Barbie
Attention all Barbie fans big and small! We have an incredible promotion lined up just for you. Prepare to embark on a magical journey into the world of Barbie. Shop Beauty and skincare on Daraz and win two tickets to the much-anticipated Barbie movie. Get ready to indulge in a delightful cinematic experience with your loved ones with this amazing offer courtesy of Daraz and Unilever!
We're running an exclusive promotion from the 17th to the 31st of July. All you have to do is purchase a few products from some of the renowned brands highlighted below for your hair care and skin care routines.
Here's how you can participate and win two Barbie movie tickets:
Step 1: Get on your Daraz App,.
Step 2: Shop for products from the brands Tresemme, Lakme, Ponds, Vaseline, or Sunsilk worth LKR 2000 or more.
Step 3: Win tickets to the Barbie movie
That's it! By following these simple steps, you'll automatically be entered into our promotion. But remember, the more you shop, the higher your chances of winning one of the ten pairs of tickets we have up for grabs. Each purchase worth LKR 2000 or more counts as an additional entry, increasing your odds of winning a magical day out at the movies.
Tresemme
Tresemme is a renowned hair care brand that offers a wide range of products designed to cater to various hair types and concerns. With its focus on salon-quality results, Tresemme provides consumers with innovative formulations that help nourish, strengthen, and style their hair. Whether it's shampoos, conditioners, or styling products, Tresemme is known for its commitment to delivering professional-grade performance and transforming the way people care for their hair.
Lakme
Lakme is a leading beauty brand known for its extensive range of cosmetics and skincare products. Also, Lakme has become a household name synonymous with elegance and quality. From foundations and lipsticks to eyeliners and nail polishes, Lakme offers a diverse selection of makeup items suitable for various skin tones and preferences. With its emphasis on merging international beauty trends with Asian sensibilities, Lakme continues to be a trusted choice for makeup enthusiasts and professionals alike.
Ponds
Ponds is a well-established skincare brand that has been around for over a century, providing consumers with effective and affordable beauty solutions. Ponds offers a range of facial cleansers, moisturizers, and treatments designed to address specific skincare needs, such as hydration, brightening, and anti-aging. With its focus on gentle yet potent formulations, Ponds aims to help individuals achieve healthy and radiant skin while maintaining its accessibility to a wide range of customers.
Vaseline
Vaseline, a trusted brand in skincare, has been synonymous with healing and moisturization for decades. Known for its versatile petroleum jelly-based products, Vaseline offers a range of solutions to nourish and protect the skin. From soothing dry and cracked lips to healing dry and rough patches, Vaseline's products provide intensive hydration and barrier protection. Additionally, the brand has expanded its offerings to include lotions, serums, and body oils, all aimed at keeping the skin soft, supple, and healthy.
Sunsilk
Sunsilk is a well-known hair care brand that focuses on creating products that deliver healthy, shiny, and manageable hair. With a wide range of shampoos, conditioners, and styling products, Sunsilk caters to various hair types and concerns. The brand combines innovative formulations with extensive research to address specific hair needs such as nourishment, repair, volume, and frizz control. Trusted by millions globally, Sunsilk continues to provide affordable and effective hair care solutions that help individuals achieve their desired looks.
Glow Up & Enjoy Barbie Movie
Isn't that fabulous that you can shop from some of the best cosmetic products in the market? It's the perfect opportunity to revamp your beauty routine and enjoy an enchanting movie experience. Whether you're looking for hair care essentials, makeup must-haves, or skincare treasures, these brands have got you covered. Explore their extensive range of high-quality products and select your favorites to qualify for a chance to win!
Imagine sharing this extraordinary experience with a friend, sibling, or your little one. Delve into the whimsical world of Barbie together, where dreams come true and adventures abound. It's an opportunity not to be missed!
Hurry and mark your calendars! The promotion starts on the 17th of July and ends on the 31st of July. Take this golden opportunity to not only elevate your beauty routine but also secure your chance at winning an unforgettable movie experience. Remember, only ten lucky winners will be chosen, so make sure you don't miss out!