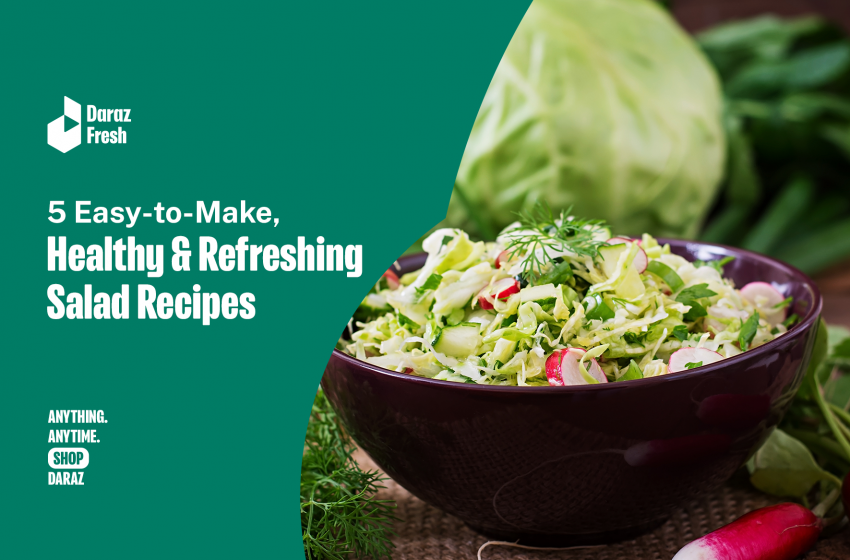 Healthy Recipes to Delight Your Tastebuds
Healthy recipes can tantalize your taste buds and nourish your body and soul. Let's explore a few easy salad recipes through Daraz Fresh.
In a world where our lifestyles are constantly on the move, embracing a diet that promotes wellness without compromising on flavour is the ultimate path to vitality. Join us as we delve into a medley of mouthwatering and wholesome salad recipes. Each one is thoughtfully curated to transform your kitchen into a haven of health. Whether you're a seasoned chef or just beginning to explore the realm of cooking, our collection of salads will empower you to savour every bite while prioritizing your well-being.
Ceaser Salad
Ingredients
Lettuce, washed and chopped
1/2 cup croutons (store-bought or homemade)
1/4 cup grated Parmesan cheese
Caesar dressing (store-bought or homemade)
Salt and pepper, to taste
Instructions
Prepare the Lettuce
Wash the lettuce thoroughly under cold water.
Chop the lettuce into bite-sized pieces and place them in a large salad bowl.
Add croutons
Grate Parmesan Cheese
Grate the Parmesan cheese over the lettuce and croutons. You can adjust the amount of cheese to your preference.
Drizzle Caesar dressing over the salad. Start with a small amount and add more if needed. Toss the salad to evenly coat the lettuce, croutons, and cheese with the dressing.
Taste the salad and add a pinch of salt and pepper if desired. Remember that the dressing and cheese already contribute some saltiness to the dish.
Toss the salad once more to distribute the seasonings.
Serve immediately as a side dish or as a light meal.
Caprese Salad
Ingredients
Fresh tomatoes (2 large or 4 medium)
Mozzarella cheese ( 8 oz.)
Fresh basil leaves (a handful)
Extra virgin olive oil
Balsamic vinegar (optional)
Salt and pepper to taste
Instructions
Slice the Tomatoes: Wash and dry the tomatoes. Slice them into ¼-inch thick rounds. Place them on a serving platter, slightly overlapping.
Slice the Mozzarella: Similarly, slice the fresh mozzarella cheese into ¼-inch thick rounds. Place a slice of mozzarella on top of each tomato slice.
Add Basil Leaves: Wash and dry the fresh basil leaves. Arrange them on top of the mozzarella slices. You can leave them whole or tear them into smaller pieces.
Drizzle with Olive Oil: Drizzle extra virgin olive oil over the tomato, mozzarella, and basil layers. The olive oil adds flavor and moisture to the salad.
Optional Balsamic Vinegar: If you like, you can drizzle a bit of balsamic vinegar over the salad. Balsamic vinegar adds a sweet tanginess that complements the other flavors. Use it sparingly, as it can be strong.
Season: Sprinkle a pinch of salt and freshly ground black pepper over the salad. Remember that the mozzarella can be a bit salty, so taste before adding too much salt.
Serve: Your simple Caprese salad is ready to be served! Enjoy this healthy recipes as an appetizer, side dish, or even as a light lunch.
Greek Salad
Ingredients
2 large tomatoes, diced
1 cucumber, diced
1 red onion, thinly sliced
1/2 cup olives, halved
1/2 cup feta cheese
2 tablespoons extra virgin olive oil
1 tablespoon red wine vinegar
Salt and pepper to taste
1 teaspoon dried oregano (optional)
Fresh parsley, chopped, for garnish
Instructions
In a large salad bowl, combine the diced tomatoes, diced cucumber, thinly sliced red onion, and halved olives.
Crumble the feta cheese over the vegetables, distributing it evenly.
In a small bowl, whisk together the extra virgin olive oil and red wine vinegar until well combined. You can adjust the ratio of oil and vinegar to your taste.
Drizzle the olive oil and vinegar dressing over the salad.
Sprinkle salt, pepper, and dried oregano (if using) over the salad for added flavor.
Gently toss all the ingredients together to coat them with the dressing and seasonings. Be careful not to overmix and crush the feta.
Garnish the salad with chopped fresh parsley.
Serve immediately as a refreshing side dish or light lunch.
Mediterranean Quinoa Salad
Ingredients
1 cup quinoa
2 cups water
1 cup cherry tomatoes, halved
1 cucumber, diced
1/2 red onion, finely chopped
1/2 cup olives sliced
1/2 cup feta cheese, crumbled
1/4 cup fresh parsley, chopped
Juice of 1 lemon
3 tablespoons extra-virgin olive oil
Salt and pepper to taste
Instructions
Cook Quinoa: Rinse the quinoa thoroughly under cold water. In a medium saucepan, combine quinoa and water. Bring to a boil, then reduce heat to low, cover, and simmer for about 15 minutes or until the water is absorbed and quinoa is cooked. Fluff with a fork and let it cool slightly.
Prepare Vegetables: While the quinoa is cooking, prepare your vegetables. Halve the cherry tomatoes, dice the cucumber, finely chop the red onion, slice the olives, and chop the parsley.
Make Dressing: In a small bowl, whisk together the lemon juice, olive oil, salt, and pepper to create the dressing.
Combine Ingredients: In a large mixing bowl, combine the cooked quinoa, cherry tomatoes, cucumber, red onion, Kalamata olives, and half of the crumbled feta cheese.
Add Dressing: Pour the dressing over the quinoa mixture and gently toss to combine, making sure everything is well coated.
Final Touch: Sprinkle the remaining crumbled feta cheese and chopped parsley on top.
Serve: Your Mediterranean Quinoa Salad is ready to be served! This is one of the healthy recipes that can be enjoyed immediately or chilled in the refrigerator for a couple of hours before serving to allow the flavors to meld.
Incorporating these vibrant and healthy recipes into your weekly meal rotation can truly revolutionize your approach to eating well. Let your creativity thrive as you mix and match ingredients, crafting salads that not only nourish your body but also delight your taste buds. Remember, a healthier you starts with the choices you make today. So, toss up these wholesome salads and savor the goodness with every crunchy, flavorful bite. Here's to your health and happiness, one colorful salad at a time!