Masks: Generation Now – April Monthly Recap
Didn't the month of April go as planned? Are you using the masks, social distancing and staying indoors? With the sudden outbreak of the pandemic, life got a bit different for all of us! and Life on Daraz took a little turn too.
Find out the top shopping trends that emerged on Daraz for the Month of April 2020.
1. Mask on = Safe and Sound
Across the month of April people searched for masks in 3 different formats, which includes face masks, nose masks and joker masks. The correct term which could get you closest to combat the pandemic is to search for surgical masks or medical masks.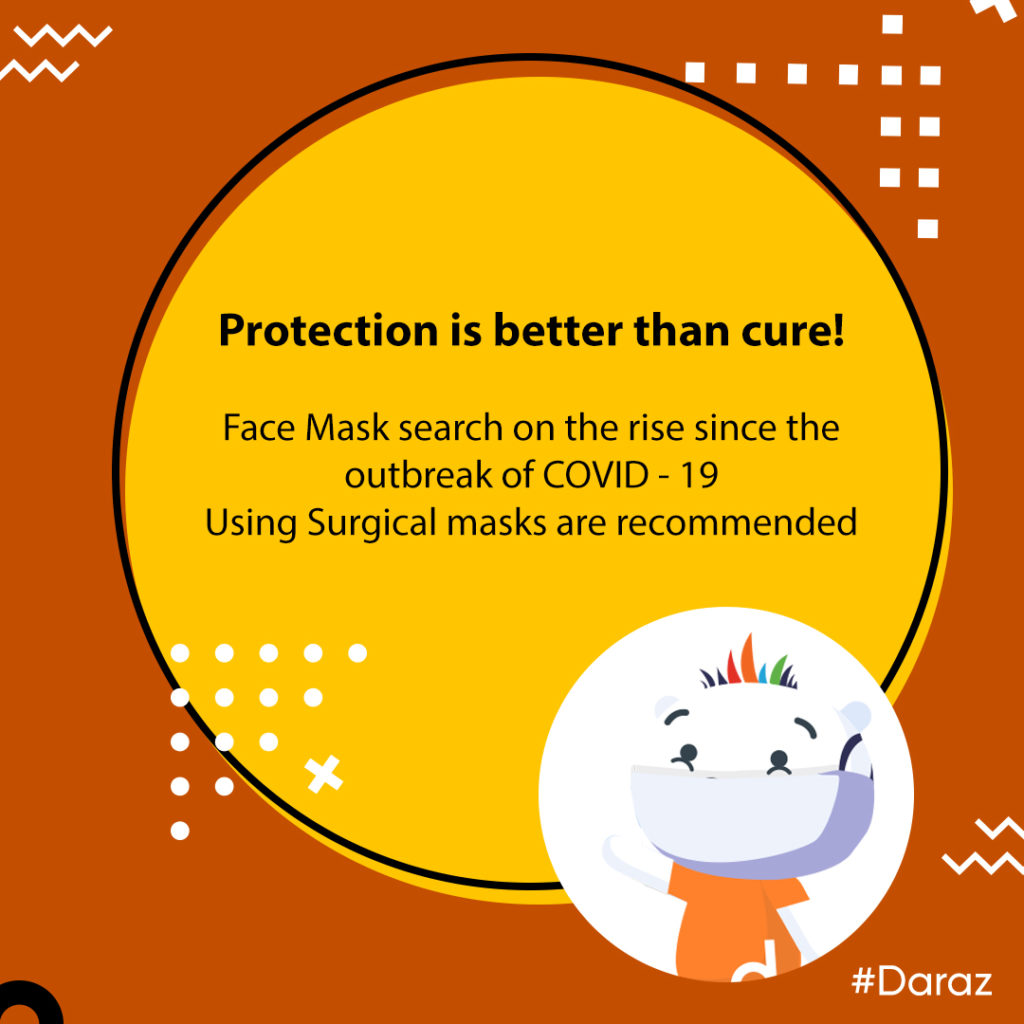 Topping the list was Face Masks, the most essential!
Out of the approx 100,000 searches for masks, more than 1000 people searched for Marks. Though we won't be able to help you with your grades, we might be able to direct you to the "masks" you were looking for.
In the meantime, the word Sanitizer was recorded as a NEW SEARCH this month. Wash your hands regularly and stay sanitized!
2. So Sri Lankan – The Essentials
It's time you got your essential grocery items on stock! With Daraz online grocery shopping, you can now get all your essentials delivered to your doorstep.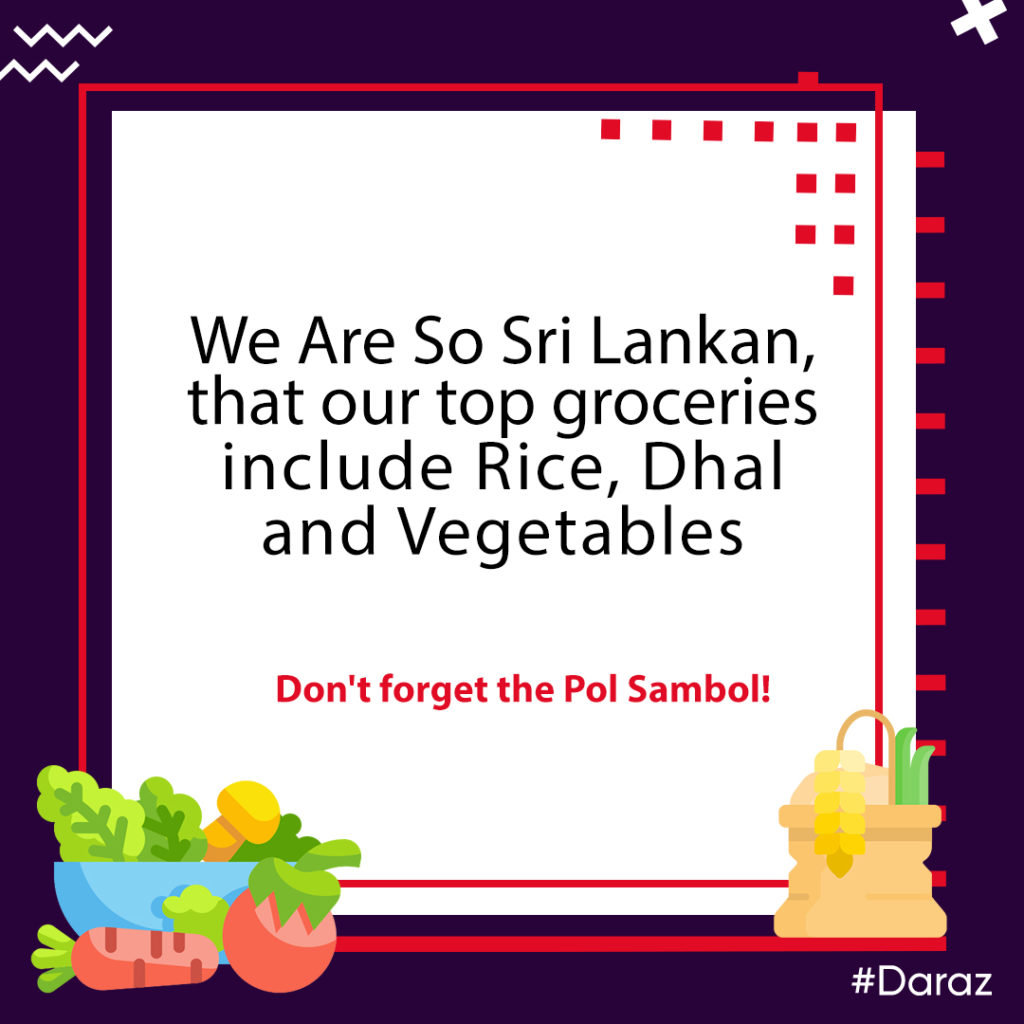 Rice and Curry – Ingredients on DMART
We are soooo Sri Lankan That we cannot go another day without our usual rice with vegetables and the dhal curry. People specifically searched for rice and dhal hand in hand with the vegetables.
We haven't forgotten the little ones. During the last week of April, there was a 59.1% increase for the search of baby items and a 283.70% increase for the search of baby diapers. Avoid the hassle of searching for all baby products elsewhere, when you can get them delivered right to your doorstep by Daraz.
Get your Cravings Satisfied! Chocolates or Biscuits?
While we slowly get used to living in lockdown, our cravings begin to scream! The highest craving search with a spike of 1175.20% was for biscuits, bet it's time for us to nibble on some crackers when we are too lazy to cook.
The final week alone for the month of April records a 134. 53% increase in the search for "chocolates". And 668 wanted to gift chocolate boxes! A few doses of calories wouldn't hurt, while we all needed that extra boost of chocolate to get our blood flowing!
3. It's our PLEASURE…
The word "sex" was searched 56,357 times in the month of April. This list excludes all the other keywords affiliated with pleasure products.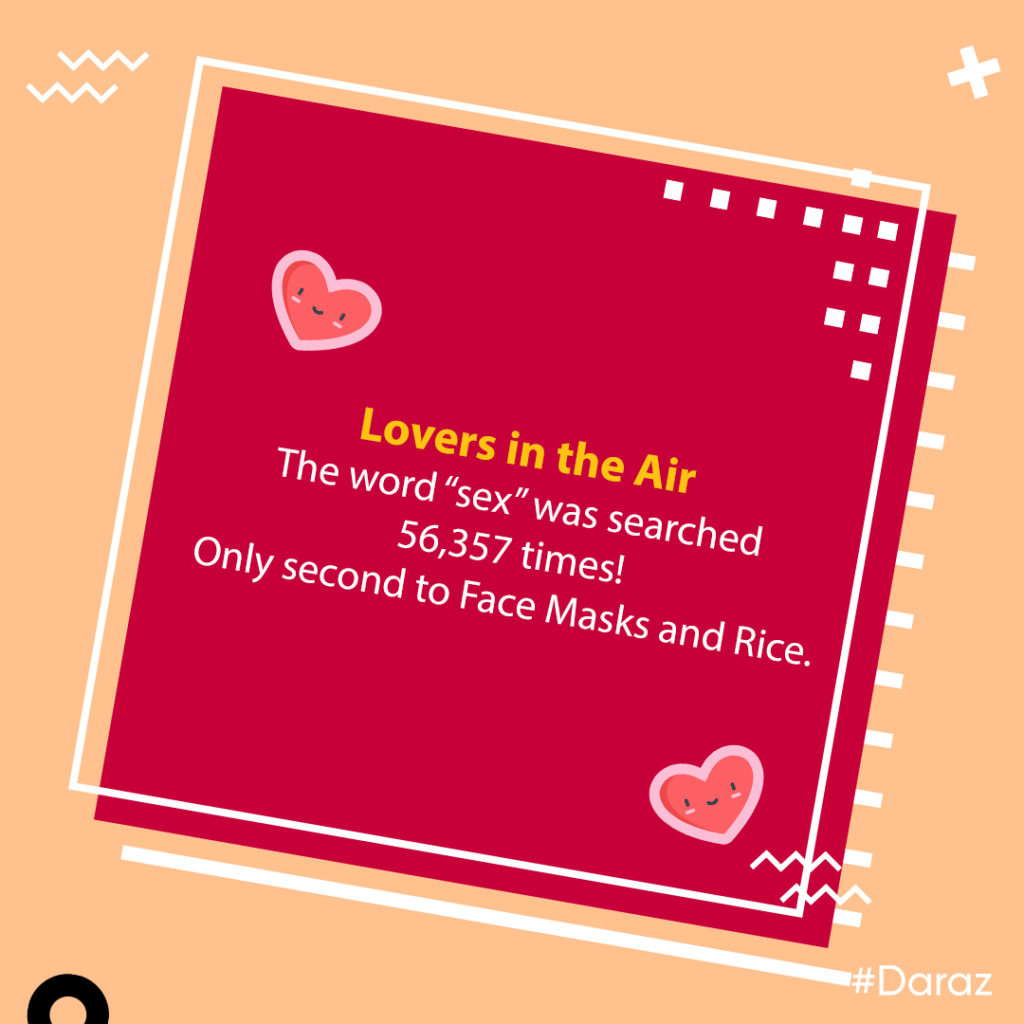 Pleasure products on high demand!
As soon Sri Lanka went on lockdown, the search rate for sex toys topped the list for three whole weeks until people realized face masks were more important. It was just last week, that people realized rice was more essential!
4. New Digital Lifestyle
Getting used to the new Digital lifestyle?
Here are a few things that you might need to keep in check. While most of us had Work From Home and Online classes, it was a good time to invest on going digital with brand new headsets, cameras and PS4s.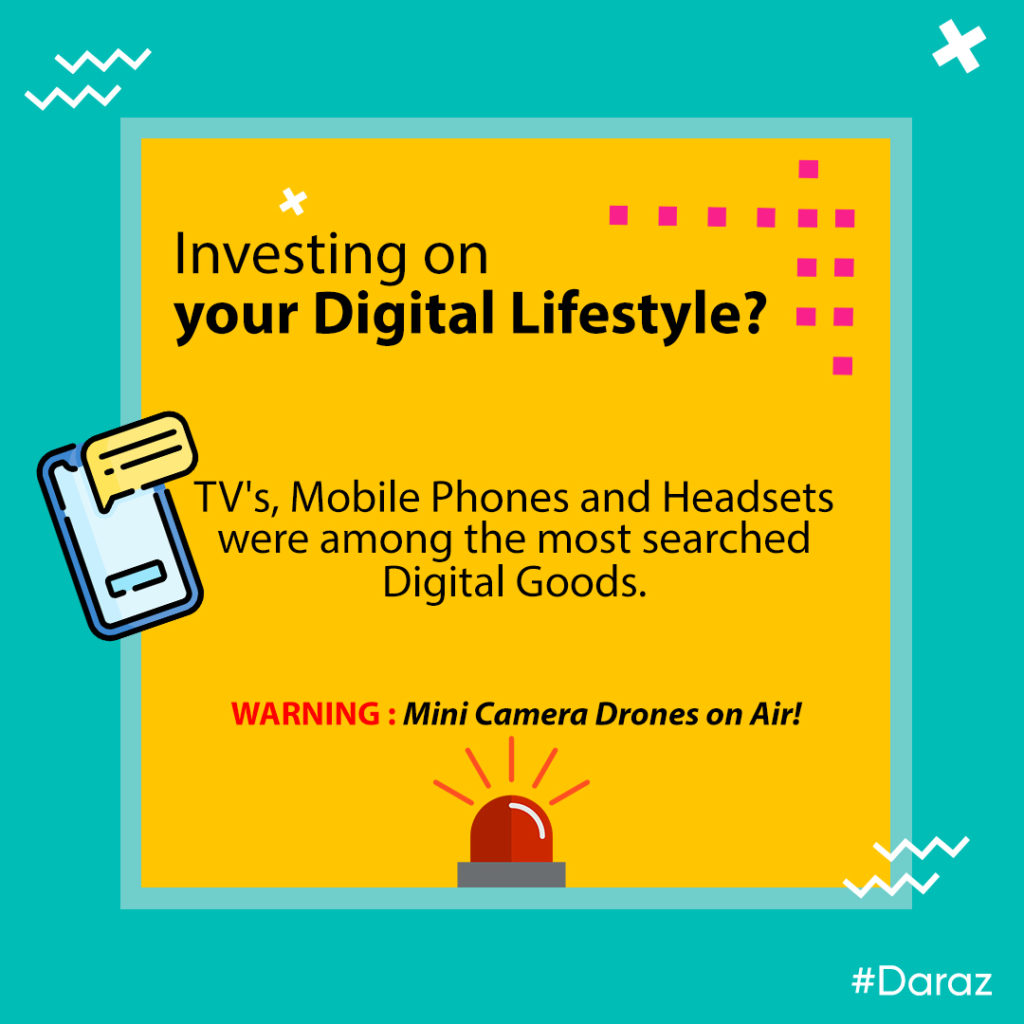 Beware of the neighbors', spy cams activated!
There was a ▲48.05% rise in the search for mini drones with cameras.
During the lockdown most people searched for items that could make your digital lifestyle in check. If you are waiting to update your home appliances then digital is the new way.
Get the Lastest Mobile Phone on Daraz
The final week of April alone recorded a 80.56% spike in the search on mobile phones. If you are looking at a good investment for 2020, now is the time to make the call.
5. Losing track of time?
Seems like the ladies are catching up with time than the men. Watches have always been a favourite for the online shopping crew specially on Daraz.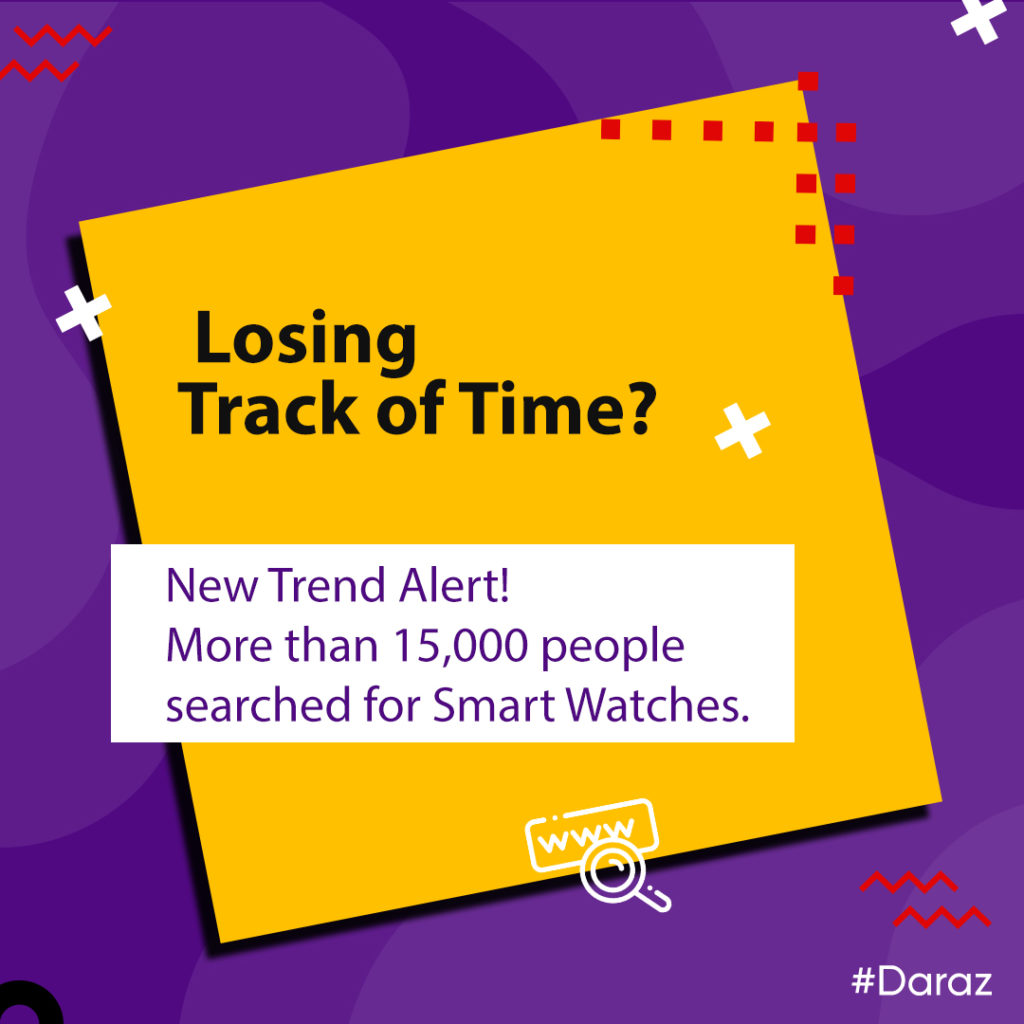 Smart Watches – The new fashion statement
Over 103,000 people searched for watches and while most people are switching on to smart watches.
6. Month of April with love
Gift Online with the latest gift cards
Searching for gifts to give your loved ones online is a Millennial thing! Though we shopped online because going out to crowds was a waste of time, online gift shopping is the best move for all of us stuck at home.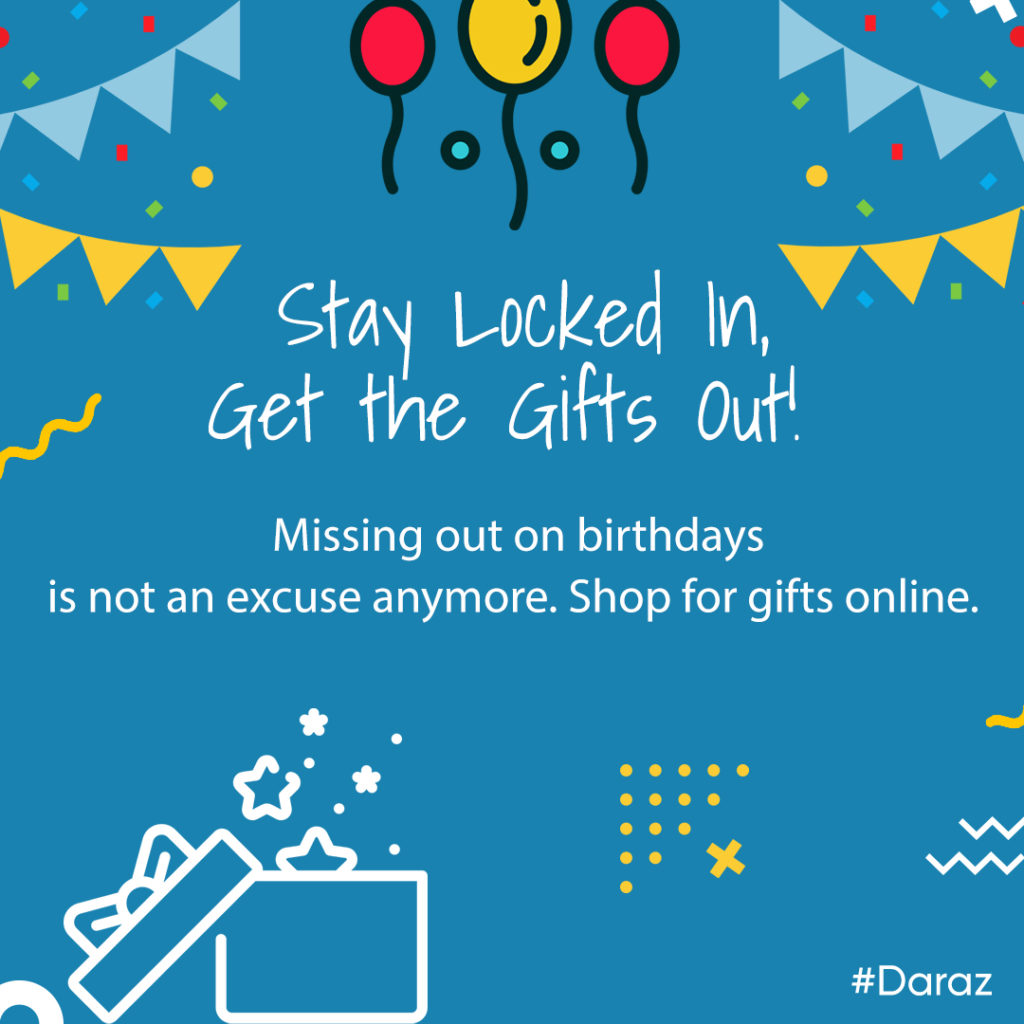 Forgetting the birthdays during quarantine is far more troublesome than forgetting it last year. You got no excuse now!
So shop online and celebrate their birthdays locked in. Get your goodies delivered to your doorstep by shopping online with Daraz!