How to get Supermodel skin with ingredients from your own kitchen
Looking to solve your skincare woes with ingredients you have at home? Look no further — we've got the easiest supermodel skin care routine with homemade beauty remedies straight from your kitchen. Safe, chemical free and easy on the wallet, from skincare masks to scrubs, soaks and more, your face, body, lips, and even feet will look and feel better than ever with these at-home beauty fixes.
Your healthy guide to glossy , glowy and supple skin
1. Exfoliating Sugar body Scrub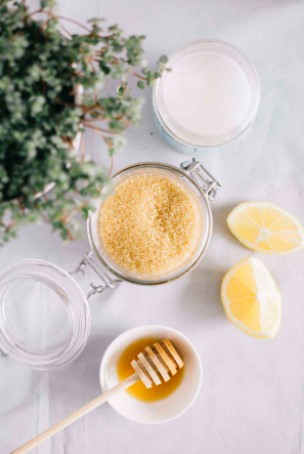 Sweeten up your at-home beauty routine with this honey and sugar face scrub. This homemade exfoliant helps to nourish skin while sloughing off dead cells, giving you a fresh, radiant complexion. Works on your face and body.
Recipe :
Mix 1/2 cup brown sugar and 3 tablespoons of honey in a small bowl and stir until a thick paste forms. Add two tablespoons of an oil of your choice and blend until you get a slightly lighter paste. Spread the paste all over clean skin. Leave it on for five to 10 minutes and rinse with warm water.
2. Aloe & Papaya Face mask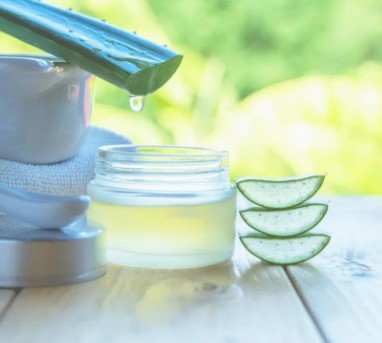 If a dull and lacklustre complexion is your biggest beauty bugbear, you need this mask in your life – and there isn't a strong acid in sight. Aloe Vera is filled with multiple vitamins which means its radiance-boosting, skin-soothing and hydrating properties are pretty much unrivalled. Teamed with papaya – which is packed with exfoliating enzymes that will dissolve dead skin cells – it'll take your face mask sesh (and skin) to the next level.
Recipe :
Mix 1/4 papaya and a squeeze of Aloe Vera gel, leave on for ten minutes and tissue off. Aloe there beautiful skin!
3. Honey, egg, and apple cider vinegar Hair mask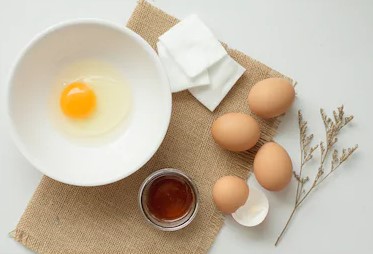 Yes! Egg. Egg white contains the highest level of protein along with other minerals. These nutrients assist in boosting hair growth and stimulates the scalp, strengthening the hair roots. It also imparts ample nourishment infusing dull hair with a healthy shine. Paired with apple cider vinegar that enhances glossiness and honey that acts as an excellent moisturizer locking it all in together. You'll thank me later.
Recipe :
1 teaspoon of honey, 1 egg, 1 tablespoon of ACV. Combine in a small bowl. Leave it on for 30 to 40 minutes before rinsing. This nourishing treatment works on all hair types.
4. Cinnamon and Honey Lip Scrub
The ingredient that hits close to home. Cinnamon is a natural lip plumper, so if you want that Kylie Jenner pout, this scrub is a foolproof technique to achieve that. Cinnamon also acts as a natural exfoliator and helps you achieve smooth, soft lips instantly. Slap , smack and go.
Recipe :
1 teaspoon unrefined coconut oil , 2 teaspoons sugar and ¼ teaspoon vanilla extract. Mix well and take a small amount and massage well onto your lips. Rinse with warm water.
5. Lemon and Salt Foot soak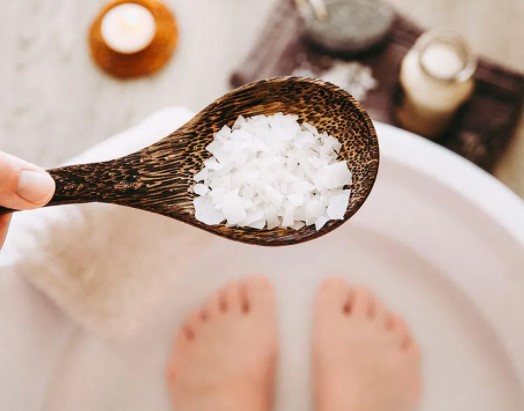 An at-home foot soak is an easy way to relax and recharge after a long day. It also allows you to focus on your oft-neglected feet, which work hard all day. This recipe is simple enough to whip together at a moment's notice, yet luxurious enough for you to feel as if you've indulged in a therapeutic spa treatment.
Recipe:
1 – 3 lemons , 1 – 3 cups vinegar ( apple cider or white ) and 3 cups of epsom salt. Add to a basin of warm water. Soak for 15 – 30 minutes.
5 quick , easy , acid free, not to mention cost – free and effective skin care remedies all from the comfort of your own home. So next time, think twice before you splurge on your drugstore for chemical loaded products. Cause we've got the ultimate supermodel skin for you.