Bake the world a better place : 4 quick and easy Christmas Treats
'Tis the season for decorating, carolling and holiday gifting … and of course indulging in some classic Christmas treats. Whether you're craving a post-dinner Christmas dessert or you absolutely need a batch of classic Christmas cookies to start the season off right, there's nothing better than treating yourself to the holiday's most festive sweets.
Lucky for you, we've got recipes galore for all of the best Christmas treats you could ever imagine. Daraz is bringing you 4 quick and easy 3 step recipes, to kick off the season.
Holiday Spritz Cookie
Starting off with a classic Christmas treat, spritz cookies. What's Christmas without some festive, buttery holiday munchies?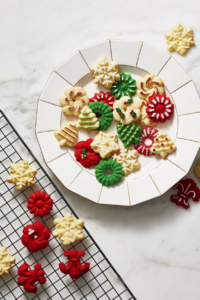 Ingredients :
Method
Heat oven to 350°F. In a medium bowl, whisk together flour and salt. In a large bowl, using an electric mixer, beat butter and sugar on high speed until light and fluffy, 4 – 6 min. Reduce speed to medium, add egg yolk and vanilla, and beat 5 min.
gradually add flour mixture, mixing just until incorporated. Then, using spatula, fold dough until it forms a ball. If desired, use food coloring to tint.
Bake, rotating positions of baking sheets halfway through, until cookies are light golden brown around edges, 11 to 13 minutes. Let cookies cool on sheets, then transfer to wire racks to cool completely. Go icy with the decorations and Voila!
Peppermint Meringue Swirls
A swirl of peppermint meringue makes for the perfect light treat for the holiday These little treats will go quickly, so be ready to make extra if you want to share.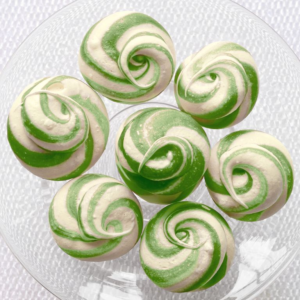 Ingredients :
Method
Preheat the oven to 225 degrees F. Line 2 large cookie sheets with parchment paper. In a medium bowl, with the mixer on medium speed, beat egg whites and salt until foamy. Add cream of tartar; beat until soft peaks form. Add sugar 1 tbsp. at a time. Beat until meringue stands in stiff, glossy peaks.
Using a small brush, lightly paint 3 to 4 stripes of food coloring inside a large piping bag fitted with 1/2-inch tip. Transfer meringue to piping bag. Pipe meringue into 1 1/2-inch rounds onto cookie sheets, spacing 1 inch apart. Bake 1 hour.
Turn oven off. Leave meringues in oven 1 hour with oven door closed. Remove from oven. Meringues can be stored in airtight containers at room temperature for up to 2 weeks. Although, I doubt it'd last that long.
Gingerbread Wands
No cookie cutters, no problem. Just slice up rolled-out dough with a pizza wheel for magical batons. They're the crispy, sophisticated version of gingerbread men.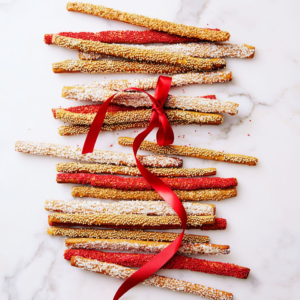 Ingredients :
Method
Preheat oven to 325 degrees F. In a saucepan, combine granulated sugar, molasses, pumpkin pie spice and black pepper, on medium heat. Remove from heat; stir in baking soda, then butter. With a fork, stir in egg, then flour until combined.
On floured surface knead dough until smooth; divide in half. Wrap 1 piece dough in plastic and set aside. With lightly floured rolling pin, roll the remaining half of dough. With pizza cutter, cut dough into 1/4-inch-wide, 8-inch-long strips. Transfer to large parchment-lined cookie sheet, spacing about 1 inch apart.
Lightly brush strips with egg white. Sprinkle with decorations. Bake 12 to 15 minutes or until set. Cool on cookie sheet on wire rack. Makes about 7 dozen wands. Your delightful Christmas treats are served.
"Candy" Bars
Cookie bars, especially ones made with chocolate and hazelnut, are a great way to bring some variety to your holiday desserts. Cookie meets candy bar in these magical holiday Christmas treats.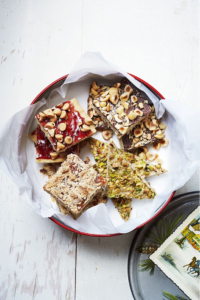 Ingredients :
Method
Preheat oven to 375 degrees F. Spray 13- by 9-inch metal baking pan with nonstick baking spray. With a mixer on medium-high speed, beat butter, sugar and salt until creamy. Beat in egg and vanilla. On low speed, beat in flour until just combined.
Transfer to pan. With lightly floured hands, spread into even layer. Bake 25 to 30 minutes or until deep golden brown around edges. Cool completely on wire rack.
Spread crust with hazelnut chocolate spread. Sprinkle with hazelnuts; press to adhere. Using foil, remove the bar from pan. Cut into 1 1/2-inch squares and you're done!
Christmas is just 17 days away. So put your apron on, grab your family and start whipping up these holiday treats. And for a one stop shop for all your ingredients, DMart is the way to go. Shop on DMart for all our holiday essentials now to bring Christmas to your doorstep!