Presents worth melting for – DIY guide to easy Christmas gifts
Sure, they take time, energy, and effort, but that's what make homemade gifts so special. Anyone can run out and purchase something from the store, and while you can probably find Christmas gifts your recipients will love, DIY Christmas goodies just seem to mean a little bit more
Grab your family and craft supplies as we've assembled 5 creative and easy Christmas present ideas, no one would guess you've made it.
Candy Cane Sleighs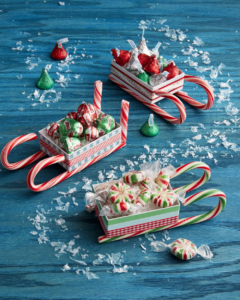 Everyone loves candy and when it comes delivered in a custom made candy cane sleigh it's even more special. Simple, subtle and so thoughtful!
To make :
Wrap small white jewelry boxes in thin holiday
ribbon, holding it in place with double-sided tape. Attach two candy canes to the bottom of each box with hot-glue. Attach candy cane sticks (if desired) to the back of the box. Fill with candy.
Glistening Snow Ornament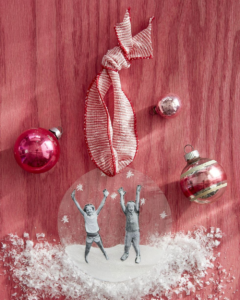 A perfect idea when it comes to Christmas gifts for the grands, this ornament places the kids inside a wintry wonderland of sparkling snow.
To make :
Cut out photographs. Cut out snow and snowflakes from glittery craft paper. Set imagery on one sheet of laminating paper. Top with a second sheet and run through the laminating machine. Cut out ornament to desire shape. Punch a hole in the top; thread a ribbon through the hole to hang.
Animal Tote Craft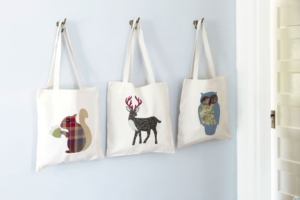 Here's how to turn a cheap canvas bag into a cute woodland-themed carryall. this might take a while, but is completely worth it. A practical and adorable Christmas gift
To make :
Step 1: Print the template of your choice and cut out. Using our photo as a guide, pick a mix of fabrics and place your template's pieces on the fabrics; trace and cut out.
Step 2: Next, trace the template's pieces onto iron-on adhesive and cut inside the lines so the adhesive shapes are slightly smaller than the fabric ones. Following the package instructions, iron adhesive to the back of fabric.
Step 3: Remove the adhesive's backing. Working pattern side up, center the animal's fabric body on the bag and iron in place. Follow with the other pieces of the animal, again using our photo for guidance.
Festive Pillow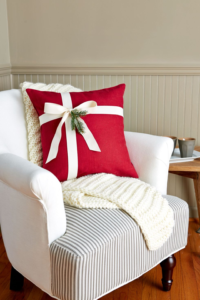 This Christmas gift is probably the easiest to make, but just might be the most appreciated.
To make :
Take a plain pillow from ho-hum to ho-ho-ho by simply wrapping it like a present. (Yes, it's that simple.) Add a sprig of greenery or a festive ornament for an extra bit of flourish.
Charming Bookmarks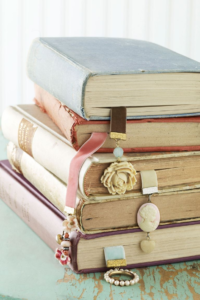 Any book lover is going to adore you for this one. This DIY Christmas gift is not only easy, but sophisticated and classy.
To make :
cut velvet ribbon into nine-inch lengths. Purchase ribbon clamps the same width as your ribbon, then use flat-nose jewelry pliers to affix clamps to both ends of each ribbon. Finish by attaching charms, trinkets, or vintage earrings, to the clamps with jump rings and Voila!
Bet you didn't expect these to be this easy. And hey, this could be the start of a new Christmas tradition, because the best gifts are the ones from your heart, and these will be worth melting for. Get all your crafts supplies from Daraz and get started!