Easy Holiday treat recipes for the little chefs
Whether you're planning an intimate Christmas dinner menu for the family or baking up gift boxes to send to friends you may not be able to see this year, baking Christmas treats is a great way to experience some peace and joy. These easy Holiday treat recipes are fantastic for kids to try their hand at, and get it on the festive joy.
Santa Hat Cheesecake bites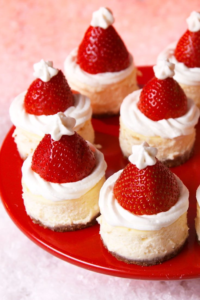 When Santa makes his list and checks it twice this year, we plan to be right at the top: These mini Santa cheesecake bites are the easiest Holidaty treat to show just how nice you are. And this recipe would take you about 10 minute tops.
Ingredients :
1 plain cheesecake (homemade or store-bought)
1 1/2 c. whipped cream or Cool Whip
12 strawberries, tops sliced off
Method :
Using a round biscuit cutter, punch holes out of cheesecake. (Depending on size of cheesecake you should be able to get 8 to 12 cheesecake bites.)
Transfer whipped cream or Cool Whip to a piping bag and pipe a layer on top of cheesecake.
Top with strawberry, sliced side down. Pipe a dot on top of strawberry and serve. Yep, that's it!
Christmas Fudge
That's right! Nothing says the holidays quite like Christmas fudge. We made our more chocolatey and less sugary, making it the best fudge you'll ever have. Leave some out on Christmas eve and Santa's gonna keep you extra presents.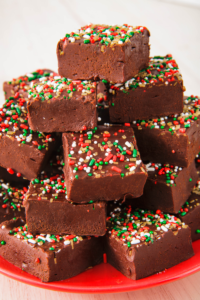 Ingredients :
Cooking spray
2 3/4 c. chocolate chips
1 (14-oz.) can sweetened condensed milk
2 tbsp. heavy cream
4 tbsp. butter
1 tsp. pure vanilla extract
1/4 tsp. kosher salt
3 tbsp. Christmas sprinkles
Method :
Line an 8"-x-8" baking pan with parchment paper and grease with cooking spray. In a medium saucepan over medium heat, melt chocolate, condensed milk, butter, cream, vanilla, and salt together. Stir until smooth then pour into prepared pan. 
Top with sprinkles and refrigerate until set, 2 hours. Cut into squares to serve.
Santa Oreos
Tis the season to be making (and eating) treats to share with family and friends. These frosting covered oreos are dipped in smooth melted candy and make a great addition to any holiday treat platter.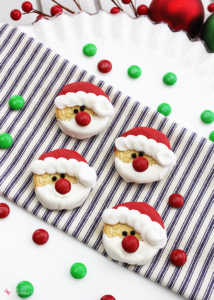 Ingredients :
Golden Oreo Cookies
Red and White Candy melts 
White Decorator Frosting
Mini Marshmallows
Black Decorating Gel
Method :
In separate microwave-safe bowls, melt the red and white candy melts. Dip the top of each Oreo into the red candy coating. Place on wax paper to cool until coating is set. (Place in refrigerator for 10m to harden faster.)
When the red coating is set, dip the lower half of each cookie into the white candy coating. Place the cookies onto wax paper, but do not allow the white coating to set. Apply a border of white frosting over the edge where the red candy coating and the cookie meet, dabbing the icing to mimic the look of the fur lining of Santa's hat.
While the white candy coating is still wet, affix an M&M nose onto the top center edge of the dipped white section. Create two eyes with the black gel and affix a marshmallow on one side of the frosting border to form a pom-pom for Santa's hat.
But since, this is for the kids, just let them be creative with the frosting.
Strawberry Santas
Adorable little Santas made with strawberries, frosting, and gel icing will have your guests gathering around the Christmas dessert table. It doesn't get much sweeter than this! This holiday treat can be whipped up in a minute. literally.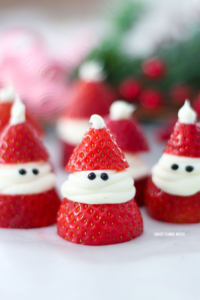 Ingredients :
Fresh strawberries
Vanilla frosting (in a can or homemade)
Black icing gel
Method :
Cut the pointed end off of each strawberry. Place the cut edge and Santa's "body'' down on a clean napkin  ( This will absorb strawberry juice and help frosting stay in place better)
 Put vanilla frosting in a piping bag. Gently swirl some vanilla frosting on the top of the body.
Place the "Santa hat" (or the strawberry tip) on top of the frosting. Add a dab of frosting on top of his hat. Next carefully add two eyes with black icing.
Ho-Ho-Holiday Popcorn
The Christmas popcorn has M&Ms, bits of candy cane, white chocolate and red and green drizzle all over. It would be great as a Christmas snack, a gift for neighbors or even a snack for Santa instead of cookies.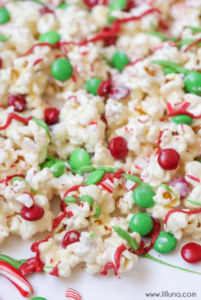 Ingredients :
1-2 bags plain popcorn
24 oz vanilla bark or candy coating
1-2 cups plain Christmas M&Ms
crushed candy canes
red candy coating
green candy coating
Method :
Start by popping the popcorn. When it's done pour it into a bowl.
Break your candy coating into squares (it makes it melt better) and place in a pan on low heat. Stir until it is all melted. Pour candy coating over the popcorn and mix until all the popcorn is coated.
Add M&Ms (however many you want) and spread out onto a cookie sheet lined with parchment paper. Top with crushed candy canes and drizzle candy melts on top.
Refrigerate for a bit but take out ½ hour before you eat it so it's not so hard. ENJOY!
These delicious holiday treat recipes are the perfect addition to your Christmas platter, everyone will be downing these before you're through your first Christmas Carol. And the best part? you can shop for all your recipe essentials on Dmart and have it delivered right to your doorstep.