5 Healthy Breakfast ideas to jumpstart your 2021
There's at least one of us who make the resolution of "eating healthy" every year. Lingering over an elaborately prepared brunch spread is a weekends-only luxury. But you could (and should) be treating yourself to the quotidian delight of a delicious and Healthy Breakfast on weekdays too. The key to fixing a proper, healthy breakfast in just a few minutes is keeping it simple.
We've compiled a list of 5 easy and most importantly Healthy Breakfast ideas for you. Whip these up at a moment's notice on your busy, weekday mornings.
Basil Feta Egg Sandwich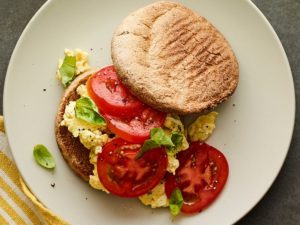 Breakfast sandwiches seem like a major undertaking, but the only real effort involved here is the two minutes you spend scrambling the eggs.
Ingredients
2 large eggs
1 ounce crumbled feta
1 tablespoon fresh basil, chopped
1/2 teaspoon olive oil
Salt ( to taste )
Pepper ( to taste )
1 whole-wheat English muffin / 2 Slices of whole-wheat bread, split and toasted
1 tomato, sliced
Method
In a bowl, beat eggs. Add feta, and season with salt and pepper.
In a nonstick skillet over medium-low heat, heat oil. Add basil and cook until fragrant, about 30 seconds. Add egg-feta mixture and cook, stirring constantly until eggs are set but still slightly runny, about 1 minute.
Spoon over muffin halves / bread and top with tomato slices.
Chia Yogurt Breakfast Bowl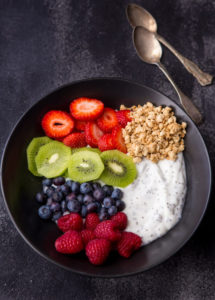 Peel kiwi, dump in bowl with granola, chia seeds, berries, and yogurt, and enjoy this super easy Healthy Breakfast recipe. And don't forget to take a snap because this dish is totally gram-worthy!
Ingredients
2 6-ounce French Vanilla yogurt cups
1 tablespoon chia seeds
1/3 cup raspberries
1/4 cup blueberries
1 kiwi, sliced
3 strawberries, sliced
2 tablespoons granola
Method
In a bowl combine yogurt and chia seeds.  Then layer with fruit and granola.
Add honey ornatural sweetener ( if preferred )
Serve immediately.
Almond Butter Mug Cake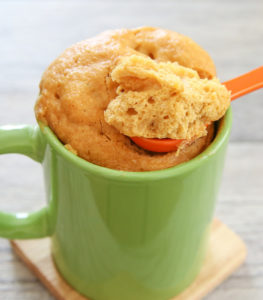 All you need to make this cute little cake is almond butter, eggs, sugar, and a pinch of baking soda. Top with some juicy berries or a sliced banana for some extra fiber and flavor!
Ingredients
2 1/2 tbsp creamy almond butter
1 large egg
3 tsp granulated white sugar
1/8 tsp baking powder
Method
Combine all ingredients into an oversized microwave-safe mug. This cake does rise quite a bit, so make sure your mug is at least 12 oz.
Mix with a small whisk until batter is completely smooth. Make sure you whisk until all the egg has fully been mixed in, otherwise it won't bake properly. You should have an even, brown batter. It really helps if you are using a whisk rather than a fork.
Microwave for about 1 minute 20 seconds. Let cake cool a few minutes before eating. If desired, you can also top with powdered sugar or syrup.
Fried Egg and Avocado Toast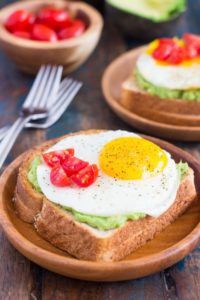 Extremely basic? Yes. But it's a classic for a reason: The fat, fiber, and protein in this breakfast have mega staying power. Top with cherry tomatoes to brighten things up.
Ingredients
2 slices bread any kind
2 tablespoons unsalted butter
1 avocado pitted, scooped, and mashed into a small bowl
2 eggs
¼ cup cherry tomatoes halved
Salt and pepper to taste
Method
Place bread into toaster and toast until it reaches your desired level. While bread is toasting, add butter into a medium skillet and melt over medium heat.
Crack eggs into skillet and cook for 3-4 minutes, or until whites are set but yolk is still runny.
Divide mashed avocado between two pieces of toast and spread in an even layer. Top each slice with a fried egg, followed by tomatoes.
Season with salt and pepper. Serve immediately. So Yum!
Strawberry Mango Smoothie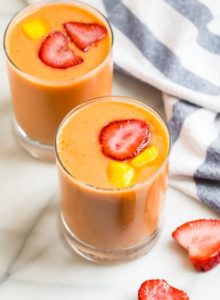 Close your eyes, sip deeply, and feel those island breezes: we're on our way to the tropics with this Strawberry Mango Smoothie. Made with just five ingredients, this healthy breakfast smoothie tastes like vacation in a glass.
Ingredients
2 cups frozen sliced strawberries
1 1/2 cups frozen mango pieces
1/2 cup chopped carrots or baby carrots
1 1/2 cups unsweetened almond milk or milk of choice (plus additional as needed)
1 tablespoon freshly squeezed lemon juice or 1/4 cup freshly squeezed orange juice
Method
Place all of the ingredients in your blender: strawberries, mango, carrots, almond milk, and lemon juice.
Blend until smooth. Enjoy immediately.
Tip : Add Greek Yogurt to make creamier
I bet these Healthy Breakfast recipes have you mouth watering, and that's why you need to try them. They're absolutely delicious, and packed with all the vital nutrients you need to fuel your day. To shop for your essentials to start your Healthy Breakfast plan, shop on Dmart now!