Valentines Day Treat Recipes to Melt your Heart
Now that we're in the final week of January, it's time to start talking about the real treat headed our way in February. Valentine's day, that's right and in keeping the spirit of outdoing ourselves this year, This Valentine's Day is going to top all our past ones. Nothing screams love more than food, and Valentine's Day is the perfect opportunity to get creative with your treats. And boy, have we lined up the most decadent Valentines Day Treat Recipes for you.
Get ready to have your heart melted this Valentines with these heavenly Valentines Day Treat Recipes
Red Velvet Cookie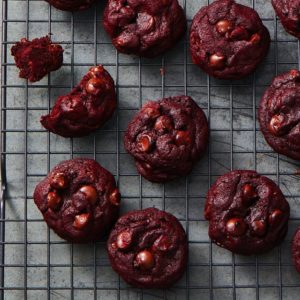 A spin on your classic chocolate chip cookie recipe, these red velvet cookies are studded with rich chocolate chips and colored a vibrant red. This recipe, inspired by a red velvet cake, takes minutes to prepare and bake, and makes enough cookies for the whole family!
Ingredients :
2 c. all-purpose flour
1/2 c. Dutch process cocoa powder
1 tsp. baking soda
1 tsp. kosher salt
3/4 c. packed brown sugar
1 c. (2 sticks) unsalted butter, at room temperature
1/2 c. granulated sugar
1 large egg
1 tsp. red gel paste food coloring
2 tsp. pure vanilla extract
1 12-oz kg semisweet chocolate chips
Method
Heat oven to 350°F. Line baking sheets with parchment paper. In large bowl, whisk together flour, cocoa, baking soda and salt.
Using electric mixer on medium speed, beat together butter and sugars until combined. Add egg, food coloring and vanilla and mix until just combined. Reduce speed to low and add flour mixture until just combined. Fold in chocolate chips.
Scoop heaping spoonful of dough onto prepared sheets, spacing 1½ inches apart. Bake cookies, rotating positions of pans on racks halfway through, until darker around edges, 9 to 12 minutes total.
Let cool 5 minutes on pans, then slide parchment (and cookies) onto wire rack and let cool at least 5 minutes more before serving.
Vegan Chocolate Truffle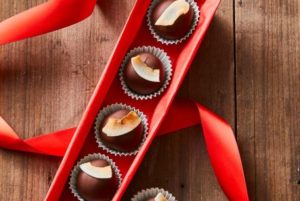 For all you health conscious folk, we're not forgetting you. Love is for everyone and you deserve to indulge this holiday too. Decadent chocolate truffles usually contain heavy cream, but coconut milk works wonders as a substitute. Thanks to its fat content, it adds delicious richness (and flavor!).
Ingredients
20 oz. dark chocolate (72% cacao or higher), very finely chopped
3/4 c. unsweetened coconut milk (well stirred)
Toasted coconut flakes, for decorating
Method
Place half of chocolate in a medium bowl. Heat coconut milk until hot to the touch, then pour over chocolate. Cover bowl loosely with a towel and let stand 5 minutes, then stir until melted and smooth.
Chill bowl until chocolate is firm enough to scoop but not rock hard, about 30 minutes. Scoop and roll tablespoon-size balls onto 1 piece of parchment paper; refrigerate.
Meanwhile, place remaining chocolate in a bowl; microwave on high in 30-second increments, stirring until melted and smooth.
Working 1 at a time, dip balls in chocolate, tapping off excess. Before chocolate has set, sprinkle with toasted coconut flakes if desire
Italian Shaved Ice Granita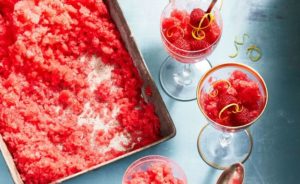 Made with lemonade, limoncello, and raspberries, this boozy, frozen treat is the ideal light dessert after a hearty Italian meal.
Ingredients
2 c. lemonade
1/2 c. limoncello
6 oz. fresh or frozen raspberries
Zest of 1 lemon
Raspberries and lemon zest, for serving
Method
In blender, puree lemonade, limoncello, raspberries and lemon zest until smooth. Pour into metal loaf or square pan, cover and freeze until set, about 4 hours.
To serve, use fork to scrape surface of ice to create large flakes. Divide among bowls. Top with raspberries and zest, if desired.
3 Ingredient Chocolate Mousse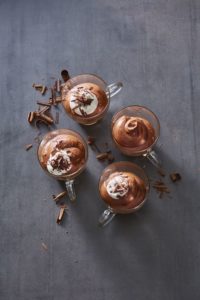 Yep, chocolate mousse can be that easy. This Valentines Day Treat ticks all the boxes. And you don't even need an oven for this silky treat. To all you Chocolate lovers, get ready to have your mind blown.
Ingredients
8 oz. bittersweet chocolate (70% cacao or higher), chopped, plus chocolate shavings
30 regular-size marshmallows
2 c. heavy cream
Method
In large bowl, combine chocolate, marshmallows and 1/2 cup heavy cream. Microwave on High 2 minutes; stir until marshmallows are melted and mixture is smooth (if not melted after 2 minutes, microwave in 15-second intervals, stirring in between). Let cool to room temp, about 45 minutes.
Once mixture is cool, whip remaining cream in bowl until soft peaks form; transfer 1/2 cup to small bowl for topping. Refrigerate.
Stir half of remaining whipped cream into cooled chocolate mixture until fully incorporated, then gently fold in the rest. Spoon into eight 4-ounce ramekins. Refrigerate until set, at least 2 hours and up to overnight.
To serve, top with reserved whipped cream and sprinkle with shaved chocolate, if desired. Yum Yum YUM!
Printed Popcorn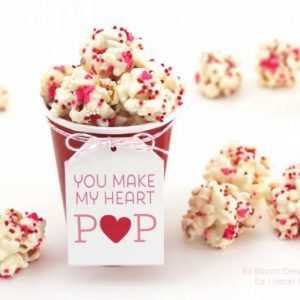 And to top it off, we have the "You make my heart POP" popcorn. This Valentines Day Treat is super easy, delicious and downright adorable. Gift this to your loved ones to make them seriously melt this Valentines day
Ingredients
14 cups popcorn- popped according to directions
16 ounce bag of mini marshmallows
6 Tablespoons of butter
1 cup white chocolate chips or
1/2 cup valentine's themed sprinkles/jimmies/candies
Method
In a large pot, melt butter over medium heat. Add marshmallows and stir until melted. Add in white chocolates. Remove from heat and stir until smooth. Add popcorn and gently stir until evenly coated.
Pour out onto a cookie sheet lined with parchment paper. Sprinkle on half of the sprinkles.
Using buttered hands, form popcorn into one balls for mini bites or two inch ball for regular size. Add additional sprinkles as necessary to each ball to make pretty. Let set until cooled
Hope you're getting ready for the most romantic month of the year. Get your hands on all your kitchen essentials from DMart this Valentines to prepare all your Valentines Day Treats for you and your loved ones!