All your Smartphone Needs This Avurudu at Oppo!
Smartphones have made their way into every moment of our technology-fueled lives. Choosing a smartphone can be overwhelming with the number of choices available in the market, but with Oppo, the right choice is sitting right in front of you. If you want to splurge on a new tech-partner for yourself this Avurudu, Oppo is your no.1 store! Here's why
What is Oppo All About?
Oppo is a smartphones manufacturer based in Guangdong, China. Infamous not only for it's high quality smartphones, but also it's DVD and MP3 players, Smartwatches and more! Oppo provides tech gadgets that cater to a large number of the Sri Lankan market.
Oppo's tagline is to develop "technology as an art form" and the company along with it's 40,000 employees work on technological innovation to create a smarter and better life for people across the world.
What does Oppo offer?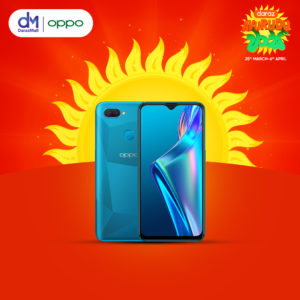 Oppo F17 and F17 Pro
The Oppo F17 and F17 Pro, pictured above are two of Oppo's latest additions to the smartphone series and have all the features you're looking for in your new smartphone.
Design – OPPO F series features the slimmest, lightest phone yet with smooth pebble edges that feel ultra-comfortable in hand. It also weighs in super light and is compact and fits well into your hand
Color – Not only is it perfect on the interior, but is captivating on the exterior too, released in a sophisticated matte black, giving you all the classy feels. Smooth to the touch, soft on the eyes. Experience the new dimension of color called matte.
Camera – OPPO F Series' first ever 6-camera phone takes portrait photography to the next level. Explore all the functionalities that make selfies and portraits more sophisticated than ever. With steady video in the front cameras, and ultra steady video on the back cameras, take seamlessly smooth videos from selfies to landscapes as you vlog.
And more!
Not to mention, a fast charger like you've never experienced before, stellar power saving mode and MediaTek Helio P95 with 8GB+128GB, upgraded chip, faster processing. The Oppo F17 and F17 Pro are the smartphones you never knew you needed.
Speakers are the heart and soul of your headphones and the Oppo Encore headphones are what's currently IT in the headphones market. OPPO Enco Free headphones are designed to integrate seamlessly with your smartphone, optimizing every aspect of your day-to-day listening. Also connects seamlessly to any smartphone, and not just exclusively to Oppo, with these headphones, you will be heard, wherever you are.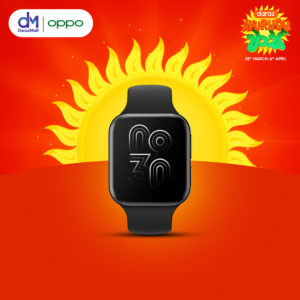 The Oppo watch is your next tech must-have offering you almost all the same things a smartphone does. Equipped with an e-sim, the Oppo watch ensures you never miss an important call, no matter where you are. Along with all the stellar features inside, the Oppo smartwatch is an elegant and classy accessory on the outside. OPPO Watch features a dual-curved flexible AMOLED screen, crisp image quality, and colors that pop!
Why shop at Oppo?
If it isn't clear enough already, Oppo has all the multi functional, updated and advanced tech gadgets you need. And offers them at the best prices in Sri Lanka. From headphones to chargers, find all your smartphone essentials along with the perfect smartphone on the Oppo store!
To shop for all your Smartphone needs, from Oppo and more, shop on the Daraz Avurudu Wasi sale now live on the Daraz app! Get up to 70% Off on all your favorite brands and play exciting games to win spectacular prizes! don't miss out, download the daraz app now!