All your Baby Needs At your Doorstep This Avurudu!
With Avurudu approaching in a couple of weeks, it is a stressful time for new moms and expectant mothers. The shops are overcrowded; items are out of stock, the lines at the cashier are lengthy. Guess what? You can avoid all of that hassle. We have fantastic news for all the moms and new mommy's to be out there. Now you can shop for all your baby products this season and forever after at the Daraz Mall from the comfort of your home. The products will be delivered right to your doorstep in no time.
We have picked some of the favorite baby essentials that you can order online.
Diapers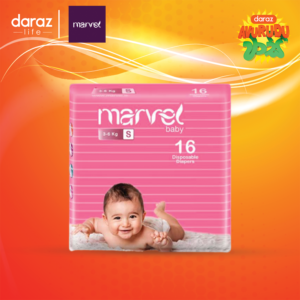 This Avurudu you can visit all your friends and relatives in one peace knowing that your baby will not be wetting their clothes and more importantly your clothes on the way. How do you choose the perfect diaper? It is crucial to shop for the softest, leak-free, and the best when it comes to your little one. If you have not stocked up on diapers yet, it is high time to place an order and get the goods delivered before you get too caught up with the Avurudu rush.
Some of the must-have brands available in our market include Velona Cuddles, Marvel, and Drypers. They are all trusted brands holding expertise in mother and baby care. These will help your kiddo stay comfy as possible for a few hours while you can rest your mind knowing a diaper change is not going to add up to your "Avurudu to-do list."
Wet Wipes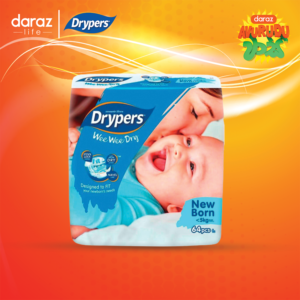 Are you traveling long distances this season? Then a pack of wet wipes is an essential item that should go in your baby's diaper bag. Changing time can stink, that's why there are scented wipes available that can make the diaper changes more bearable. They also convert into great multi-purpose wipes, making them mom and baby essential. They make great stain removers and will get the dust off any surface. Since they are mild on the skin, you can use them as make-up removers or toilet paper if the situation calls for it.
The uses for wet wipes are numerous. If you haven't added a stack of wet wipes into your Avu-ready travel bag, it's high time you add one to your online Daraz cart.
Formula and Milk Powder
If you are a mother with a baby, you probably know by now that "fed is best." No matter which journey you take, whether it is to completely breastfeed your child, mix the sessions with formula, or entirely rely on formula, a fed baby is a happy baby. There are many breastmilk substitutes in the market that you can add to your baby's backpack. These are perfect to use if you are traveling or on the go.
Enfagrow is a trusted brand that offers a range of breastmilk substitute formula and milk powders for your toddlers.
Cow & Gate is another trusted name that has been around for decades. They offer a variety of baby food products, from formula to baby cereal and organic baby foods. Rest at ease knowing that your baby's nutrition needs are taken care of during the long trips and relative visits.
Baby Toiletries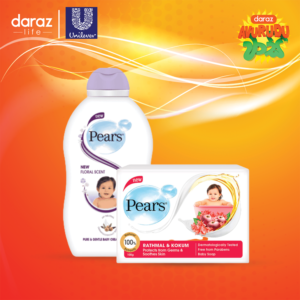 Just like all of us, your babies need their set of toiletries to keep that soft, gentle skin clean, moisturized, and smelling good. A few mandatory items that should go in your baby's bag include shampoo and soap, baby moisturizer, baby powder, and cologne. Now you can get all of these from the trusted local brand Pears. You can shop for all their toiletries up to 30% off at the Daraz Mall. Your baby will be so clean and fresh that you would want to snuggle them all day long.
Baby Clothes
Avurudu is the time to shop for new attire. Make sure your baby has a new outfit to match this year's auspicious color theme. With all the discounts available, this is an ideal time to shop for baby clothes to last an entire year. Dress up your tot, so he/she is comfortable during travel and ensure that they look as good as you on Avurudu day. There is a range of clothes and baby girl's dresses at amazing discounted prices available from trusted brands in the Daraz Mall.
Baby Gear & Play Pen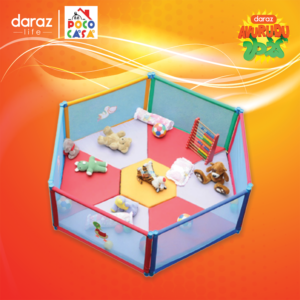 If your little one is a crawler or taking his first new steps, a playpen is heaven sent. You can attend to your daily chores confident that your child is safely within the boundaries of a baby-friendly playpen. A playpen is also a great way to encourage those little crawlers to stand up and start taking their first steps.
New mommies and expecting mommies! With the sales and discounts available in the market, this is an excellent time to shop for all your baby gear. If you plan to travel a lot during the Avurudu season, it would help immensely to acquire a baby carrier, a stroller, a car seat, and a travel cot. Other essentials that you should consider getting would be a high chair, baby swings, and walkers. Your munchkins still don't get around by themselves. So you need to figure out the best approaches to tag them along with you ensuring their safety and comfort.
Have you made an Avurudu shopping list for your baby yet? Download the Daraz app and check out the incredible range of mom and baby products available discounted up to 65%. Get them safely packed and express delivered to your doorstep.