Easy Ramadan Treats to Make With your Family!
If you're looking for a way to make those dreaded hours pass during Ramadan, and get rewarded at the end of it, then you've come to the right place. This roundup includes a beautiful mix of popular, tried and tested Sri Lankan Ifthaar recipes that are not only absolutely delicious, but can also be whipped up in under an hour. Whether you've got friends or family over, or if you just want to spoil yourself, this variety of Ramadan Treats is just for you.
Samosas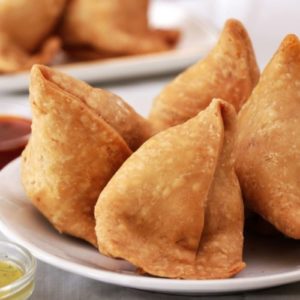 Samosa, a delicious food, and an essential part of the iftar celebration in Pakistan, Sri Lanka, and Bangladesh. The triangle shaped pastry is very easy to prepare and can be stuffed with meat or vegetables.
Ingredients:
4 cups potatoes cut into medium sized
1 cup frozen peas
1/2 tsp turmeric powder
1 tsp garam masala powder
1/2 tsp curry powder
1 cup finely chopped yellow onion
1/2 cup finely chopped carrots
2 tsp grated fresh ginger
1 tsp salt
1/2 tsp red chili powder
1 egg
2 minced garlic cloves
1/3 cup chopped fresh cilantro
Wonton wrapping paper (large)
Canola oil
Cooking Procedure:
In a medium sized pot, boil potatoes in lightly salted water until tender.
In a large frying pan, sauté the onions, carrots and garlic in 2 tsp olive oil. Add the spices (Curry, red chili, garam masala and turmeric powder, ginger and salt) after just 30 seconds of sautéing.
Let the onions cook until translucent and the carrots tender, about 5 minutes.
Meanwhile, mash the cook potatoes.
Mix the mashed potatoes with the spiced onion mixture before adding the peas.
Get the Wonton wrapping paper and begin stuffing, continue until the wrapping paper or filling gone.
In deep frying pan or work, heat oil then placed one by one the prepared samosas, cook until golden brown.
Serve hot or cold
Spring rolls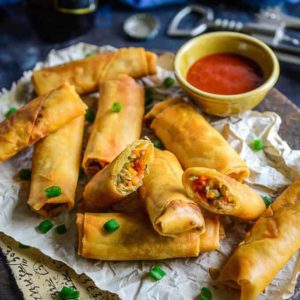 Ingredients
1/4 cup canola oil divided
8 cups napa cabbage sliced thinly
2 cloves garlic minced
2 carrots sliced thinly
8 ounces bamboo shoots sliced thinly
2 tablespoons mirin
1/4 cup low sodium soy sauce
2 teaspoons sesame oil
2 tablespoons cornstarch
24 8″ square spring roll wrappers
canola oil for frying
Cooking Procedure
Add half the canola oil to a large heavy skillet on medium high heat and add in the napa cabbage cooking 8-10 minutes while stirring until almost all the liquid it releases has cooked off.
Add in the garlic, carrots and bamboo shoots and cook for 1 minute while stirring before adding in the mirin, soy sauce and sesame oil and stirring again then let filling cool completely.
Mix cornstarch with two tablespoons of water.
Lay out the spring roll wrapper, brush cornstarch slurry around the edges to moisten and add about 2 tablespoons of filling in a long rectangle shape, folding in from the sides and rolling the wrappers closed tightly.
Heat 3 inches of oil in a dutch oven to 325 degrees and fry the spring rolls until golden brown (about 2-3 minutes).
Cutlets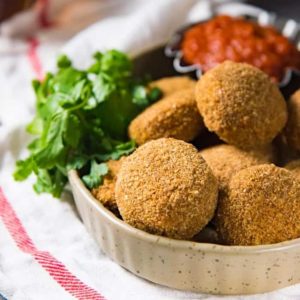 Ingredients
150g  Mackerel or Tuna fish cooked or canned, but drained and bones removed
8.8 oz / 275g Potatoes ( boiled ) 
2 green chillies ( chopped ) 
5.3 oz / 160g onions red or yellow finely chopped
1 tbsp finely chopped ginger garlic paste
2 tsp salt
1 tsp curry powder
½  tsp ground cumin
½ tsp turmeric powder
1/2 tbsp pepper
Salt – to taste 
3 tbsp oil ( to temper ) 
Oil for frying
2 – 3 tsp lemon juice
For outer layer 
2 eggs 
250g dried bread crumbs 
Cooking Procedure
 Boil the potatoes with 1 teaspoon of salt in a saucepan for 10 minutes or cook until tender. Peel off the skin and set aside. 
– heat oil in a wok and add cumene seeds and ginger garlic paste. Fry for one minute. Add green chilies and onion, cook until the onions start to Brown.
-Afterwards, add chopped leaks and sauté for three minutes. Add the tinned tuna, Red chili powder, turmeric powder, black pepper powder and salt. Stir until well combined. 
– Add boiled potatoes and mash until smooth. Add the lime juice to taste and mix thoroughly. Make into small ball shapes and set aside. 
– Whisk the egg in large bowl and set aside. Dip each fish cutlet into the beaten egg. Coat in breadcrumbs and place on a tray. 
– Fill a deep wok one third – full of oil and Heat until a cube of bread turns golden brown. 
– Once the oil is heated, deep fry the fish cutlet in batches, until crisp and golden all over. Remove with a slotted spoon and drain on a paper towel. Ready to serve!
Faluda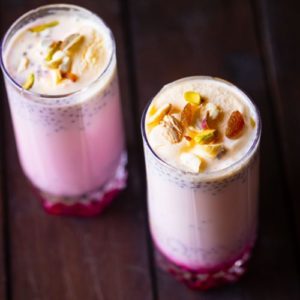 Sharbat is a refreshing milk drink from Pakistan and India, and always prepared for Ramadan. The drink is so good that you should definitely consider adding it to this year Ramadan menu.
Ingredients:
1 cup cashews crushed
1/2 cup pistachios crushed
1/3 almonds finely crushed
1 gallon whole milk
8 cups sugar or to taste (superfine)
2 teaspoon vanilla extract
1 1/2 cup Rose syrup or to taste
Cooking Procedure
First thing to do is grind the cardamom seeds in a mortar and pestle. Crush then get 1 teaspoon of it.
Next, dissolve in the milk the Rose syrup and sugar. Take note, taste the drink before adding more sugar just to make certain the sweetness is enough for you.
Mix into the milk mixture the vanilla extract, nuts and cardamom powder.
Refrigerate overnight before serving.
Egg Sandwiches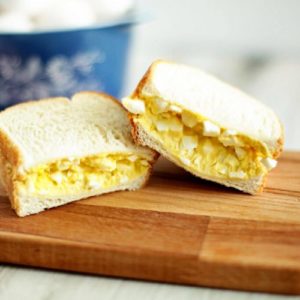 This egg sandwich recipe is a godsend for those who are always clueless about what to make for breakfast. This filling and healthy egg sandwich recipe is perfect for those days when you don't want to prepare an elaborate meal. If you think that making it at home is difficult, this boiled egg sandwich recipe will take all your doubts away.
Ingredients
12 egg
3 tablespoon butter
1 and 1/2 teaspoon mustard paste
3/4 teaspoon black pepper
water As required
3/4 cup mayonnaise
3/4 teaspoon salt
18 bread slices
Cooking Procedure
Boil, peel and chop the eggs
To prepare this easy recipe, take a deep-bottomed pan and add enough water to it along with eggs. Let the eggs boil for 10 minutes. After the eggs boil, drain water and let the eggs cool a little before you start peeling and chopping the eggs.
Add the seasoning and sources to the chopped eggs
Take a bowl and add egg, mayonnaise, salt, mustard paste to the bowl and mix thoroughly. Stir in pepper to the mixture.
Spread the egg mixture on toasted bread & cover with another slice
Toast the bread slices. Then, take a bread slice, spread butter on it and add the egg mixture on the bread. Cover it up with the other bread slices. Serve!
If you're looking to shop for all your Ramadan essentials in one place, look no further than Dmart! Dmart is your convenient, affordable onling shopping store and will deliver all your goods right to your doorstep, You can also get crazy grocery discounts. Don't miss out! Download the Daraz app now