6 Different Ways To Dress Up your Jeans!
It's no secret that jeans are one of the ultimate foundation outfit essentials you need in your wardrobe. They're easy to dress up or down and complement all body types. But the key isn't in just the pair of jeans you own, it's the base pieces that really pull the whole outfit together. Whether it be a classic tee mix, trench coat cocktail or even denim on denim, it's the pieces you pair that bring out the best in your jeans. And they can also be worn in all seasons without any reason, which means they'll never go out of style! So here are the TOP 5 Ways you can Dress up your jeans!
She Means Business!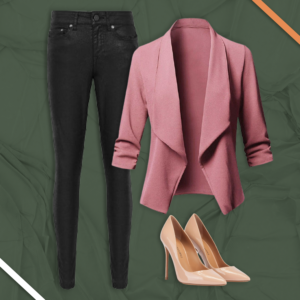 The Classic power woman combo is a Blazer over a simple Jeans and T-shirt. This combination adds a semi-formal essence to your outfit and can immediately transform it if you have a brunch but afternoon meeting. Pair solid colored blazers with black jeans to give a sophisticated touch for evening events and for the day, you can't go wrong with the classic blue. To Top it off, add some stilettos or kitten heels and you can't go unnoticed. #BossLady
Bold And Beautiful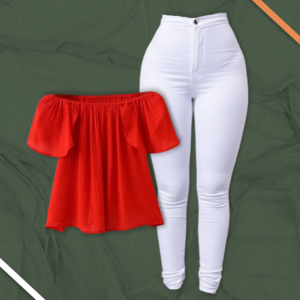 White jeans for summer are a perfect neutral backdrop for bold colors and prints. Top your go to white jeans whether they're high waisted, shorts, or a white mini, with a bold color. This combination of Jeans and Top pairs perfectly for a lunch with your galpals, or a simple shopping day, or even if you just want an excuse to dress up. What's even better is that you can go nuts with accessories, bold necklaces, gold hoops, a watch you name it.
When thinking of what shoes to wear with white jeans and a bold top, go neutral! A brown leather sandal or neutral espadrille works perfectly.
All White? ALRIGHT!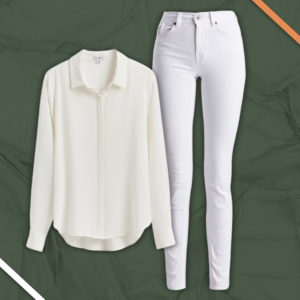 When all else fails, just go all white! It's so easy to do. Add a white linen shirt to your favorite white denim jeans. Or choose a white eyelet blouse. So many ways to do this. Easily add in a bit of color with a brown leather belt and sandals. Or just go head-to-toe white with white sandals instead. Either way, it always looks put together when you go monochromatic. All white is the perfect combination for a summer day ( if you're careful).
This outfit serves a bright sunny day out by the pier, a shopping day with your friends, or even a beautiful picnic on the park. This ensemble screams #summervibes and we are living for it. Go big on accessories to really complete the look.
Other Looks To definitely try out are :
Denim on Denim
Can't go wrong with our all time favorite, Denim on Denim Look!
To pull it off, go for similar denim tones paired-back with classic wardrobe staples like a black skivvy or a white tee (this will keep it looking clean and chic). Accessorize with a belt (to break it up) and your favorite shades. Add some simple black booties, or small block colored bag to the side to really class up the look.
To help match the similar jean shade, look for rompers. Jean rompers are absolutely adorable and have been worn by some of our leading fashion icons this year, not to mention comes in all your favorite colors too!
Dress' It Up
This outfit calls for some serious experimenting with your tops. Try layering a dress or tunic over your jeans for a completely new look. Bonus tip: asymmetric styles work well (but this one's all about trial and error!). For a more casual look, try tying your shirt up in a knot (à la Coachella). If you're knot so keen to show your midriff (see what we did there), pair it with high-waisted denim styles.
Casual First!
Boyfriend shirts and jeans are a match made in heaven. The shape and fit of the shirt can completely change the outcome. A fitted, buttoned-up shirt full tucked in reads 'preppy cool', while an oversized shirt half-tucked reads 'put-together without trying'. Boyfriend jeans have made a heavy comeback over the last few years mainly due to it's comfort.
Traditional jeans bare the dreaded feel of a tight fit and it sunny days, that can be a total headache and thus came boyfriend jeans, and not to mention it has a unique cut allowing it to be paired with almost anything.
Don't forget to also experiment with scarves, around your neck, hands or waist. This adds a squeeze of badass into your simple jeans and top outfit.
Shop your favorite jeans and top combos from top brands in Sri Lanka at the best prices this month on Daraz. Daraz is bringing to you the Million Desires Sale, so you can shop all the products your heart desires at the best deals. You don't want to miss out! Download the Daraz app, switch on your post notifications and stay tuned!