6 Essential Motor Accessories For Your Vehicle!
For a lot of people, personal vehicles are the mode of transport used on a regular basis. And when you factor in work hours, lunch hours and school hours, the traffic is unbearable and you end up spending a lot of hours behind the wheel. Whether it's keeping interiors and exteriors clean and tidy, charging your devices on the go, connecting your smartphone to your vehicle, or saving your life, these creative Motor gadgets and accessories will have you covered on your motorized travels.
Puncture Repair Kit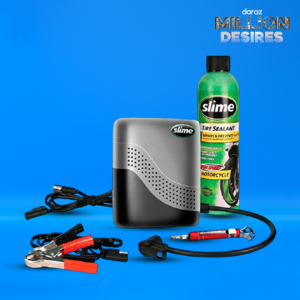 It is one thing to not know what is wrong with your car and hence, unable to fix it. It is quite different from the part that you do not care what goes wrong with your car and bother about getting it fixed. While none of us feels like belonging to the second category, we all would prefer to tighten up that loose screw or bolt to ensure a part/panel does not rattle. Which is why it's mandatory to learn and hold on to a puncture repair kit, especially for when you're on the go and don't have access to AAA incase of an emergency.
Get your locked and loaded puncture repair kit for the best deals right now on the Daraz Million Desires Sale
Car Cover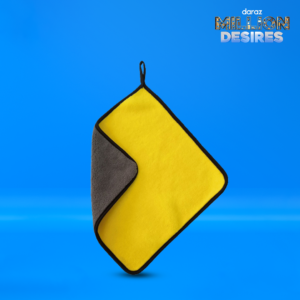 Car Covers and Cleaning cloths are a Motor necessity, especially if you use your personal vehicle on a regular basis. If you do not own a garage, chances are you would spend a lot of morning doing nothing but ensuring your car is clean. However, very few of us actually bother with keeping our cars protected from dust, dirt, Mother Nature (diarrhea-struck birds, caterpillars taking a walk, and so on. In such a case, if your car could be covered, all you would have to do every morning is take the cover off, sit in the car and drive off.
A cleaning cloth is the kind of accessory that would come to your rescue as cars get dirty standing in parking lots too. By using a cleaning cloth, you would be able to wipe off the dirt, dust, etc. from your car and would not need to put up with a car that is not as clean as it was when you drove it from your home to office.
Jumper Cable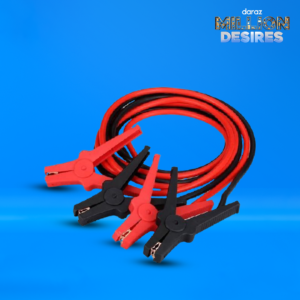 We have become so used to waiting at red lights, especially in peak hours and usually, many of us prefer to turn off our car's engines. But shutting down of car's engine is not followed by shutting down of car's accessories too, leading to unnecessary drain of your car's battery. If you are unlucky, your car may also refuse to fire up. Now that is one time you would not want to face ever. This is one of those times when having a pair of jumper cables can help you in getting out of a fix right away.
Air Freshener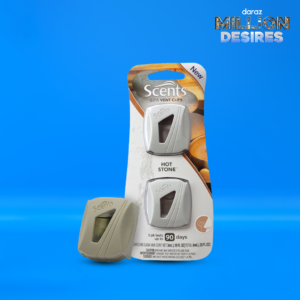 The unspoken essential your car needs. The weather entangled with the consumption of food, beverage, application of perfumes can all heavily influence the fragrance that your vehicle emits. Disclaimer : It's not the smell of berries and flowers. And after you go through all the trouble of maintaining and upgrading your car to it's best version, you wouldn't want a small insignificance like the smell to be it's downfall. Trust me, you'll love your air freshener more than the passengers you take will. Shop from a range of Air fresheners on our Motor Accessories page today.
Parking Cameras / Sensors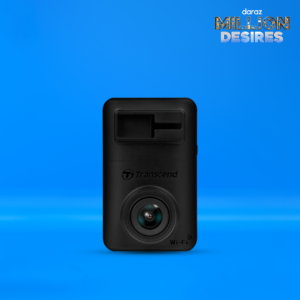 With parking spaces becoming more and more crowded, it is becoming an even bigger challenge for us to park our cars safely in parking lots. I know traditional drivers love to pride themselves on their reverse skills and years of parking experience, but you can never be too safe. Parking sensors and cameras have been able to save us from a lot of mess, not to forget bumped cars and repair bills. Some cars come fitted with their own, but if yours doesn't, what's stopping you from getting one fit for your vehicle today. A Motor Accessory you need today!
GPS Navigators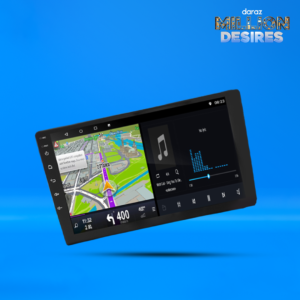 We've all been in the position where we've spent hours looking for a location based on an address. And it's worse when the roads get smaller and the addresses are fainter, and that's when you realize that GPS Navigators are a life saver. Unlike maps on your phone, GPS navigators don't run out of battery and are also directly satellite connected, so they don't lose their connectivity in unknown locations either. That's right. So the next time you're heading into the woods or swamp, better grab this first!
Grab all your favorite Motor Accessories from top brands in Sri Lanka at the best prizes at the Daraz Million Desires Sale Happening right now! you can get up to 65% OFF, Crazy shipping deals and more on all your favorite lifestyle products all delivered right to your doorstep. Don't miss out, download the daraz app now!